Wound on gold gourami :( please help!(pics)
---
I have a ten gallon freshwater tank with one gold and one blue gourami. I just looked in to feed my fish and sudden there's this large mass or wound protruding from the gold gourami's side! I'm sorry I did not test the water parameters yet but I will after I finish typing this. The aquarium has been set up for about 9 months, with the same fish. There was a mild algae problem which has recently been cured. Tank temperature is 77 F. No live plants. Filter is a "Whisper 10i" I believe. No sunlight, and flo-light has been off due to getting rid of the algae growth. Last water changes were 3 weeks ago where I removed 20% of water every day or so for a week, and used a gravel filter. I feed them once a day at 5pm: color enhancing tropical fish flakes. I have been noticing a decrease in appetite where he nibbles the food and kind of floats away from it. Then comes up for another nibble or two. Right now he's rocking back and forth with this crazy large lump with "fuzzy" looking stuff around it.
What is this?? And what do I treat it with? This was my first aquarium, I love my little gouramis. :( I would greatly appreciate your help!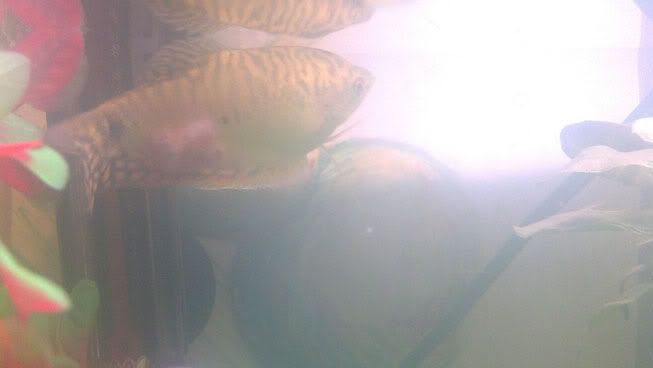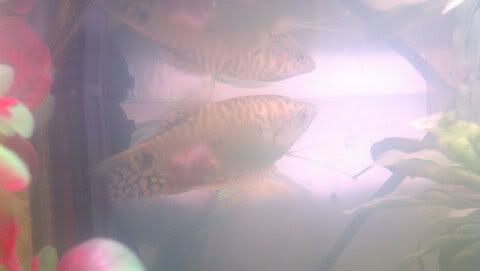 This is a view from the other side of him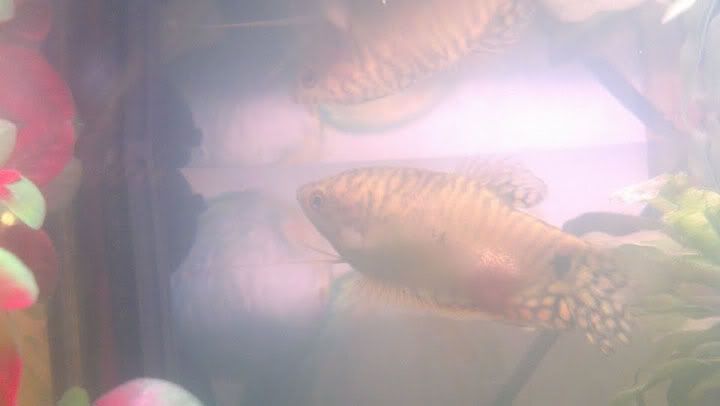 This is a top view (sort of)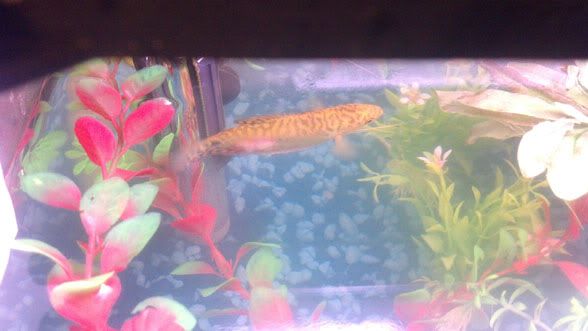 gourami s are known for that it"s a fungus remove him from tank ASAP Quarantine before he infects the rest of tank mates , from looking at him it's already spread and he probably wont last the week , You need to do a 1/2 water-change right away and change your filter media add lots of carbon to help clean the water. Treating your fish at this time will just kill him the fungus already took over medicating now would just cause him more stress .

Sorry to break the news


---
37 gal bow front (saltwater)
octopus 150 skimmer
external penguin bio wheel 150 packed with cheato
ETH 200 watt inline heater
3 power heads 500gph
in line UV sterilizer
30 gal (brackish)
bio filter
under-gravel 2 power-heads 250gph
30 gal hex (freshwater)
bio filter
under gravel 2 power heads 170gph
Who ever said keeping fish was easy should have there head examined
It's more like a full time job !!!!
Posting Rules

You may not post new threads

You may not post replies

You may not post attachments

You may not edit your posts

---

HTML code is Off

---