Discussion Starter
•
#1
•
I have a ten gallon freshwater tank with one gold and one blue gourami. I just looked in to feed my fish and sudden there's this large mass or wound protruding from the gold gourami's side! I'm sorry I did not test the water parameters yet but I will after I finish typing this. The aquarium has been set up for about 9 months, with the same fish. There was a mild algae problem which has recently been cured. Tank temperature is 77 F. No live plants. Filter is a "Whisper 10i" I believe. No sunlight, and flo-light has been off due to getting rid of the algae growth. Last water changes were 3 weeks ago where I removed 20% of water every day or so for a week, and used a gravel filter. I feed them once a day at 5pm: color enhancing tropical fish flakes. I have been noticing a decrease in appetite where he nibbles the food and kind of floats away from it. Then comes up for another nibble or two. Right now he's rocking back and forth with this crazy large lump with "fuzzy" looking stuff around it.
What is this?? And what do I treat it with? This was my first aquarium, I love my little gouramis.
I would greatly appreciate your help!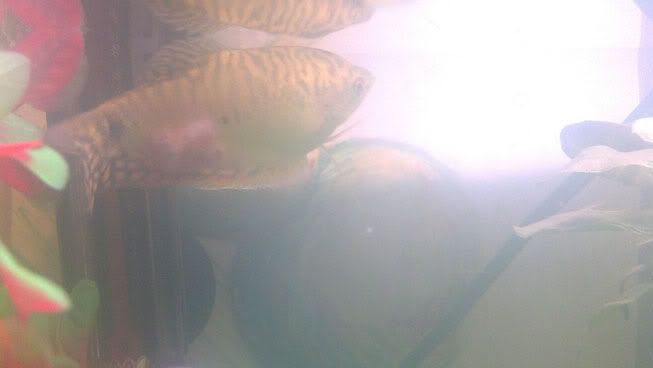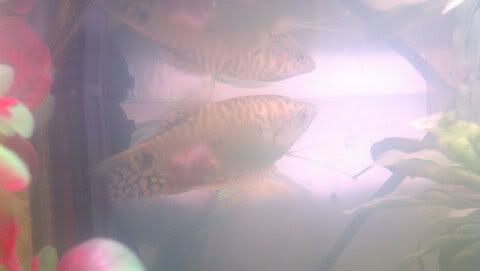 This is a view from the other side of him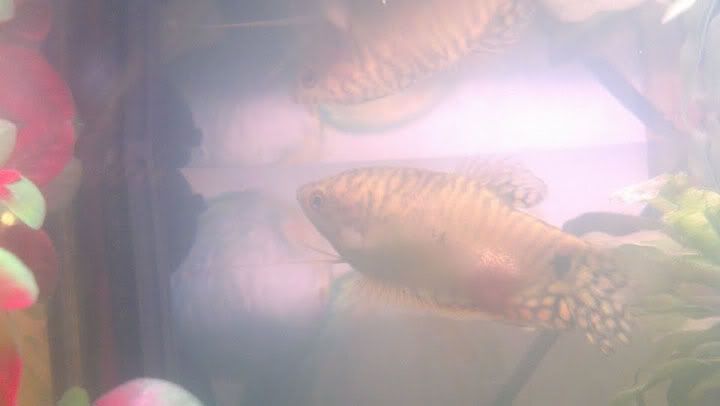 This is a top view (sort of)