Discussion Starter
•
#1
•
My Fiancé absolutely adores her Mountain Horned Dragon. So much, that it, and it alone will soon inhabit a 36x36x18 vivarium. So yeah, that is going to be a lot of room for one lizard.
She decided that she wanted half to be dry, and half to be water. The water side, she wanted a waterfall. Okay, so why not get one of those waterfall kits from the LPS? Because they aren't 3 feet tall. So my mind starts ticking, and I design one using a canister filter. And because I need attention to things I make to make myself feel good... haha... I am posting what I did on here.
The tank is the X-Large Tall from Exo-Terra. Three feet tall, three feet wide, and 18 inches front to back. The tank came with a foam background that I cut in half, and the half only goes on the "wet" side. I got the canister filter, figured out the hose dimensions, and got the correct fittings to adapt it to PVC. Some people have suggested I use CPVC for my aquatic DIY projects, however PVC is cheaper, and typically allows for the odd fittings that I need in order to make my projects a success. So I made two pieces that go up and over the back of the tank. At first I planned on running PVC all the way to the bottom for the pickup tube, but I quickly realized that if I did that, all of my cuts and dimensions would need to be perfect, and that would require too much effort on my part. Instead both the inlet and outlet pipes end just below the screen, and attach to hose for the rest of the way. The outlet is about 6 inches down the back and comes through the foam background. It flows straight out into one of those Mag-Naturals rock decorations. Then from there, the water flows onto another and down to the bottom. There is a terrarium decoration tree where the water lands.
As for the separation between the sides, I used Plexiglass. I cut a piece that was the length of the tank front to back and 4" tall. I then cut another piece 12" long and 4" wide to use as a ramp. I scuffed up one side of each, and coated it with silicone. I then covered them with small pebbles to give it a more natural appearance. After the silicone cured, I silicone the two pieces into the tank. I gave it several days to cure and make sure everything was solid before I continued.
I had no idea how much water it was going to hold, so I used a one gallon jug and took water from my 150 gallon tank and filled up the wet side. It ended up needing 5 gallons. Once it was filled, I waited about an hour, and there were no leaks to the other side. Now that I was fairly certain that the silicone was going to hold, I installed the waterfall equipment and the background, and primed the canister (quite a pain to suck the water up and over that initial drop). I plugged it in, and it was good to go. I put the Mag-Naturals back in place, and put some fake plants in, and this is how it went: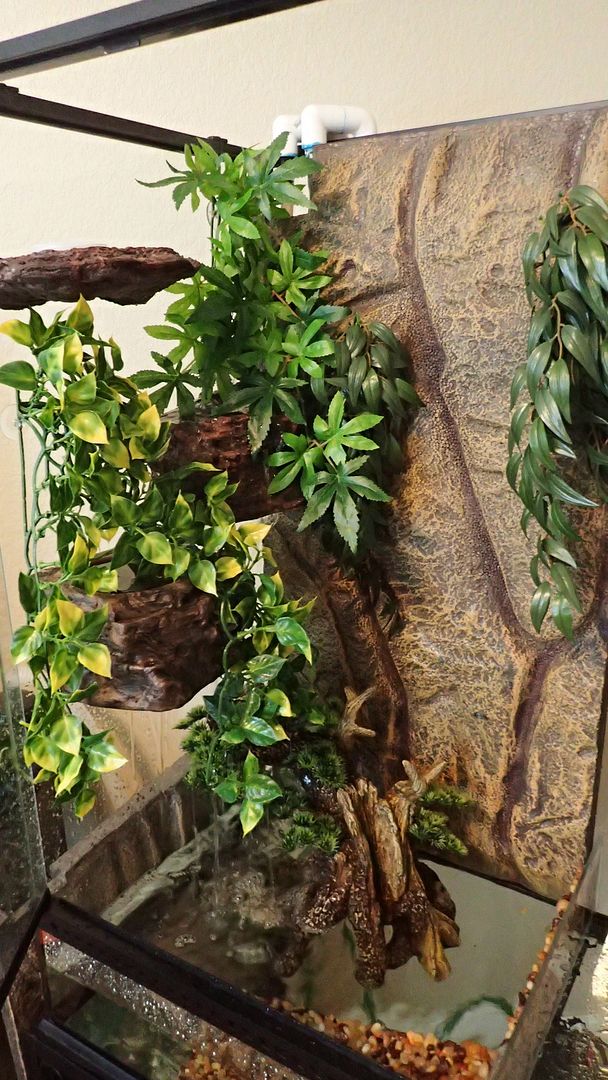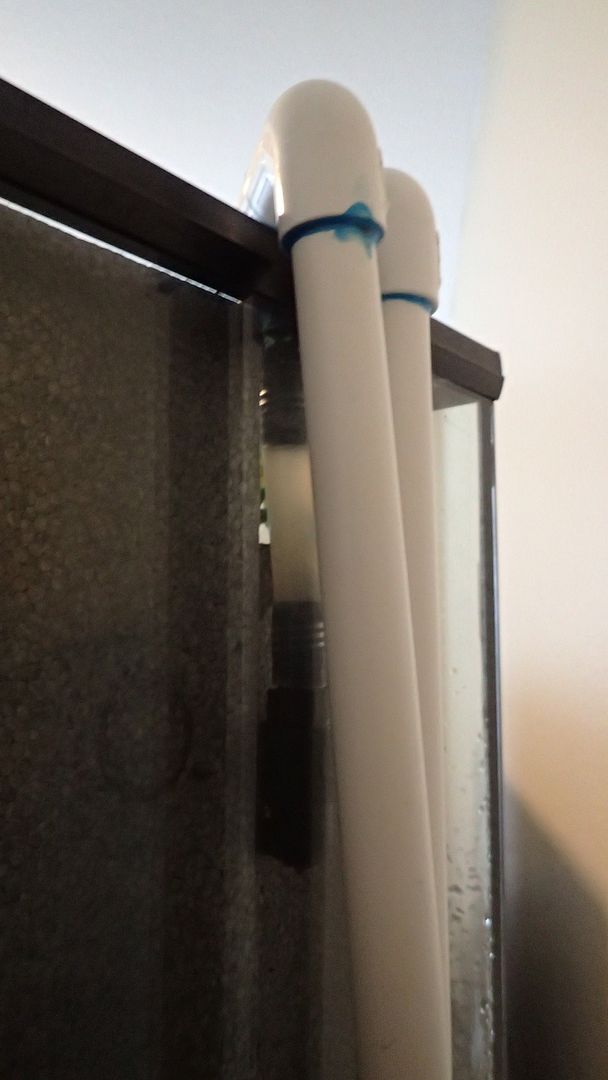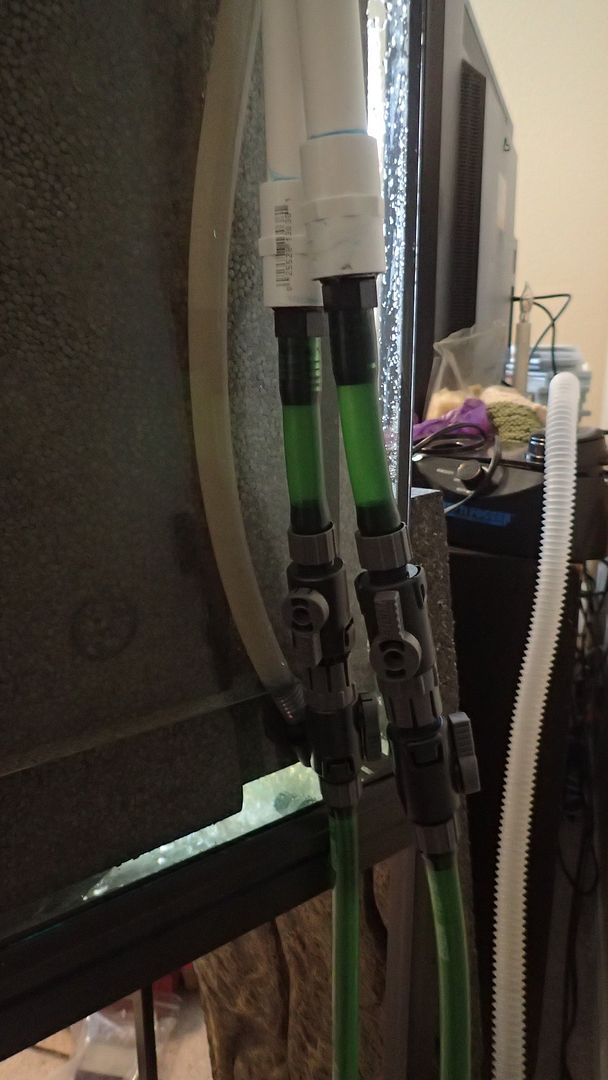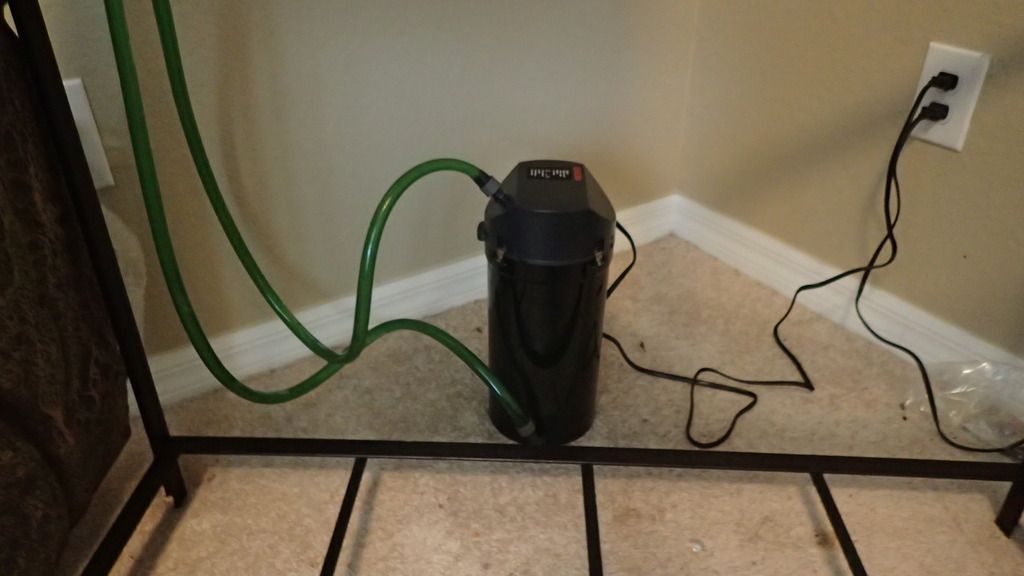 And a quick video of it in action:
http://youtu.be/RVs9oZxEMFI