Discussion Starter
·
#1
·
I've got my 125 gallon up and filled. The rocks and sand are in place. Wood will be here in a few days. The only thing left to decide is whether to go with S.E. Asia or South America. Biotope might be too strict a description but I'd like to stay within a single region with the stocking.
There's a picture at the end of this novel if it helps you understand the following description. I'm planning on the left of the rocks being a lagoon type area with floating plants and some smaller foreground plants right up front. and taller ones along the sides and back. On the right side of the tank I have a couple longer pieces of wood coming in that I'd like to just kinda prop with lots of foliage on and around them. Through this I'd like to maintain an almost river of sand from one side to the other that is corralled or contained with rocks, plants, and wood. There is a light current.
I love the idea of South American (Brazil Primarily) but I'm having issues putting together a plant and stocking list that I like. I love Zebra Plecos, but that's not practical or likely to happen. I saw a tank (300g) a while back with about 200 Ottos and a big fish (pike looking thing). The Ottos were amazing in that big of a school. Obviously 200 is a bit much for this tank, but I love the idea of a huge shoal of them. Additionally, I'd have to have an established food source (algae) for them, so I wait or I supplement. I don't know if supplementing is good for them. I love tetras as well. What kind of centerpiece fish could I stock (that's Brazilian)? Then there's the matter of plants. I've discovered that pretty much anything with the name Echinodorus would work, and Bacopa Australis, Bacopa Myriophylloides. Are there any mosses? What are some other options from that region?
S.E. Asia is appealing because it offers a much wider variety of colorful fish and locally, SE Asian stock seem to be more readily available. Admittedly, I've only given it cursory research but noted that there was an array of "sharks" and shoaling fish. The plant list I have includes: Broad Leaf Giant hygro – hygrophila corymbosa v. 'siamensis broadleaf'; Giant Hygro – hygrophila corymbosa; Limnophila aromatic; Orchid Lily – Barclaya longfoilia; Rotala rotundifolia (Rotala Indica); Rotala wallichii; Temple Plant – Hygrophila corymbosa v. 'Stricta'. For the most part they all look nice and are readily available. I just haven't seen anything that really blew me away. I'm looking for suggestions there.
Here's a picture of the tank as it sits right now. The wood that's coming in is pretty long. I also have some smaller pieces soaking. They're from my Texas tank, but I let them get dry so they're floating again. Grrr. Don't mind the dry erase, it's how I plan stuff. You should see my bedroom mirror lol.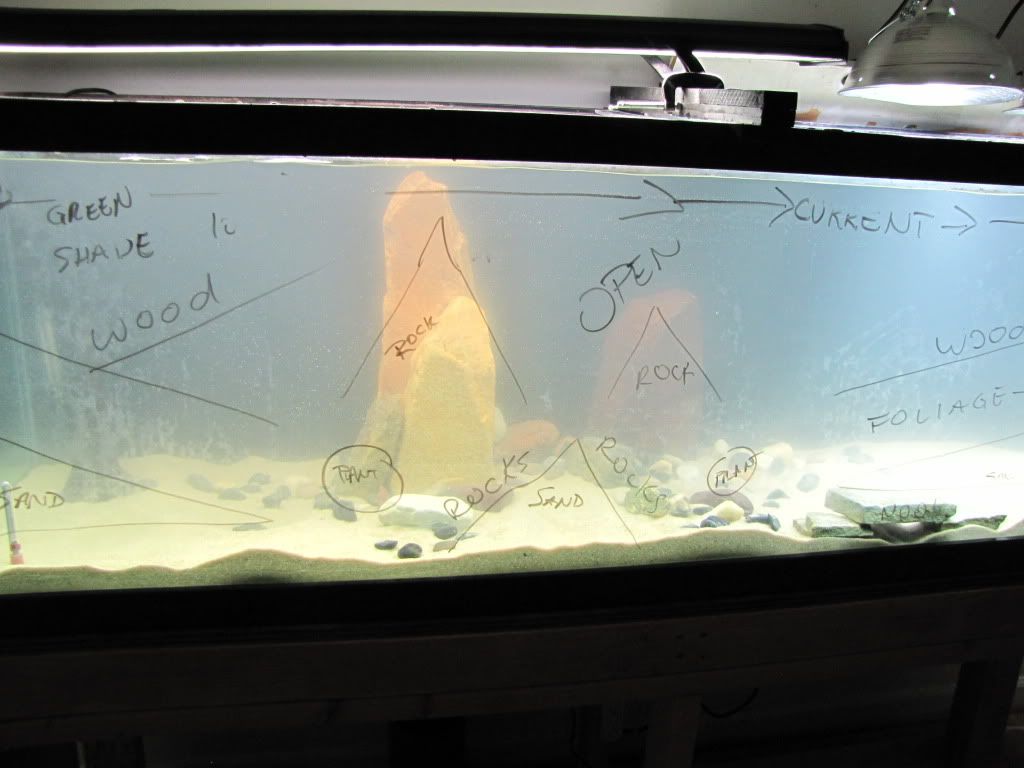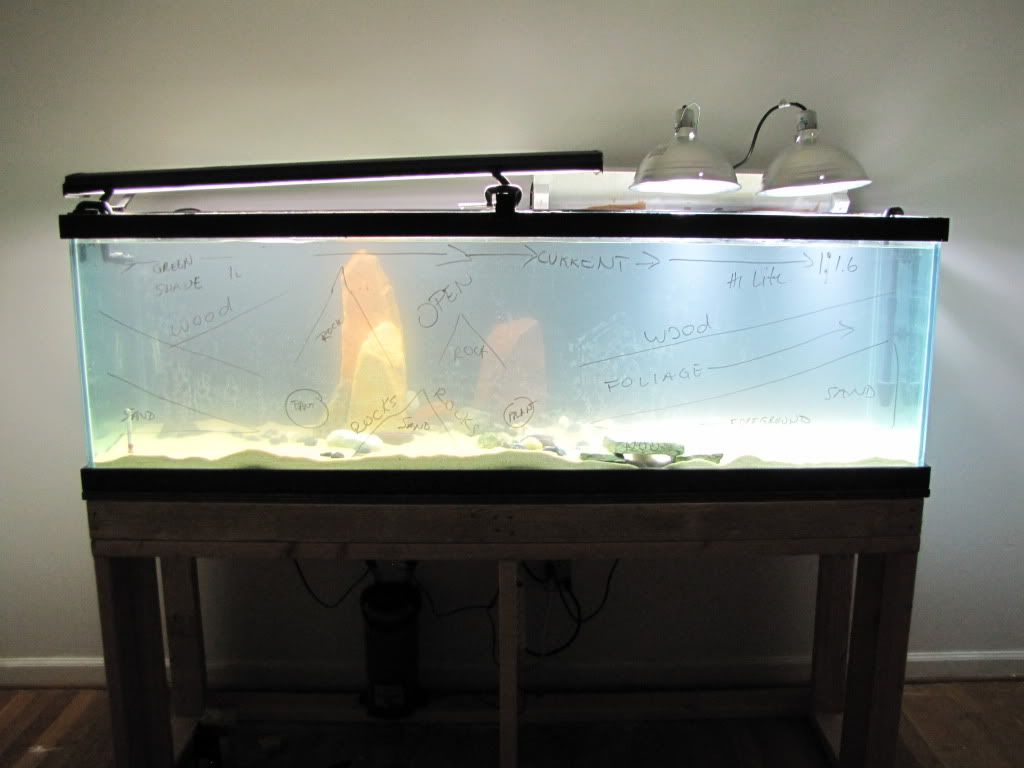 What are your suggestions?:hmm: As far as lighting & filtration if I need more I can do that. I'm building the light fixture next. My city's water parameters fluxuate a lot, so I'll probably have to maintain them artificially just to keep things even keeled. That said, the sky is the limit.