Hi,
Sadly my 64G tank is look bad - it is not like all fish dying, but it looks bad... You know, gravel, plastic plants and maybe overcrowded with guppies. Due to this tank being in the family/living/main room, it an eye sore. So my parents have suggested that i might be able to make it in to a real tank, well, a show tank!
The Tank:
It is a corner pentagon 64/65G: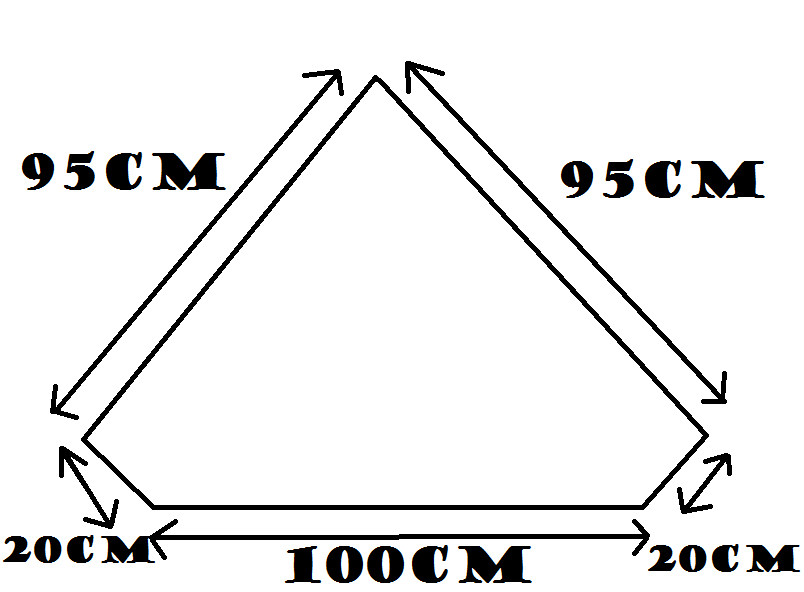 So, the front part is 1m (100cm). The back triangle part is 95cm on both sides and the two smaller bits at the front is 20cm....
Lighting:
60cm Heto Reflector with light for plant growth (I might look into getting waterproof LED's around the rim of the tank...)
Fliter & Heater:
Fluval 303 (Yes, I know, old model... But this works great!) I forgot the heater type, but it is very trustworthy for me and is set at 24c.
Fish List:
- 4 Angels (juvenile, once one pairs, get rid of others)
- 8 Colombian 95 Tetras (or other peaceful tetras that wouldn't get eaten)
- Pair Bristle-nose Catfish
- 1 Clown Loach (I know, they need a bigger tank and buddies, me and parents were sucked into the trap of getting one for the snail "problems. Does wonderfully in the tank and has grown 3cm since I had him/her. Regularly feed with snails to keep it happy!)
- 3 ****** Loaches (Will like to up the school to 6, but don't know if it will be an overload)
Could I add more? What about a small school (6) of cories? Maybe some surface dwelling South American fish??
Substrate:
It is going to be a mix between sand and gravel. About 5:2 (sand:gravel) ratio...
Plant List:
- Java moss (already growing)
- Duckweed (Seems slow growing, fish must eat it)
- Java Fern
- Anubias
- Vallisneria
- Water Sprite
- Amazon Frogbit
- Cryptocorynes (Need to look in to these)
- Banana Lillies (love these!!!)
- Subwassertang (looks interesting)
- Amazon Sword
- Chain Sword
- Riccia
Most likely it will include a fert of some sort (besides fish) for the plants...
Ornaments:
- Rocks (Got a nice covering of algae)
- Bogwood
OK, think that is it :-D What do you guys think???