Discussion Starter
·
#1
·
Greetings and Felicitations one and all.
Returning to the hobby after a 25 year hiatus. Beginning of June, my little girls brought home an eastern painted turtle from my parents' lake, saddled with the ill omened name of "Swirly". I determined that it would not take it's last ride to hades on the procelin express, and so began to accumulate the know-how and equipment to ensure this. Well, one thing has lead to another, as tanks have been outgrown and craigslist plundered, and, at the moment, my tanks are:
75 gallon - The house of Swirly - 1 Eastern Painted Turtle, 1 Bulldog Pleco, 1 Banjo Cat, Many Feeder guppies. Fake plants.
55 gallon - Southeast Asian - 1 Pearl Gourmai, 12 Harlequins, 8 Cherry Barbs, 5 Striped Loaches, 5 Kuhil Loaches, 2 Bristlenosed Plecos (migrant labor). Heavily planted with Crypts, Rotala, Java Fern and Moss, Wisteria, Water Sprite, Anubias Nana (African, I know). (The picture is a couple months old - it's grown out a lot since then.)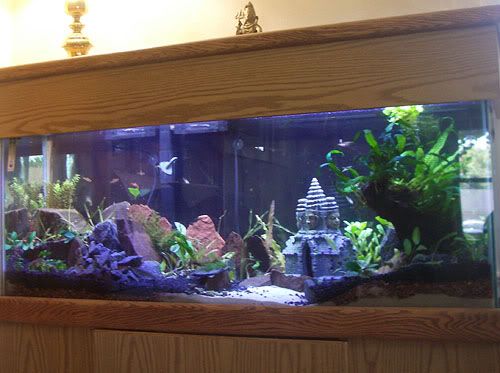 20 Gallon - Amazon - 5 Black Neons, 6 Glow Lights, 4 Sterba's Corys, 1 Leopard Cory, 1 Clown Pleco, and 1 Bristlenose Pleco. Heavily Planted with Swords, Pennywort, Cabomba, and dwarf Hairgrass
20 Gallon - Brand New - 12 Pygmy Corys, 7 Otos. Planted with Java Moss, Java Fern, and Swords
10 Gallon - My Little Girl's tank - Fancy Guppies
10 Gallon - hospital - Baby Fancy Guppies
Idle Tanks - 40 gallon Flat Back Hex, 46 Gallon Bow Front.