Discussion Starter
·
#1
·
I have been injecting CO2 for a few weeks and have enjoyed the growth of my plants. It's been fabulous.
I had done a large water change and basically stopped using dosing liquid fertilizer. I noticed that growth was not what I wanted. Today will be the third weekly dose of FlorinMulti and FlorinAxis. However, my swords' leaves look a little thin and not green but still very nice and big. The crypts have done way better too but I noticed that they're kind of yellowing. I am thinking an iron deficiency. Because I don't know how long it has been (I didn't mark it on the calendar) I am going to be replacing root tabs. Will this take care of the iron deficiency or should I add some as well? I have Seachem Iron but it doesn't say if it is daily or weekly. Any thoughts? I also have potassium if needed. I'd like to just start with the Flourish Tabs for a week or two and go from there. Also, I have A TON of algae. It's just green specs on the glass and some on the leaves of swords and crypts and on the older leaves of stems. I have no staghorn algae since doing CO2. I think what is causing it is the hornwort (I hate the darn stuff). I have it planted and the stuff that isn't at the top near the light dies and falls off causing decaying plant matter in the tank. I am not a fan of floating but I don't want to throw it away so I will float it for a bit and see what happens. I noticed that the part of the plant closest to the top thrives with little work but the stuff toward the bottom just dies. Currently my lights are on for 8 hours. If I float the hornwort will I have to increase the duration?
This leads me to the plant ID. I had gotten these and forgot what they were. They are stem plants.
This one grows very quickly but the bottom that's planted tends to get brittle and decay causing it to break off.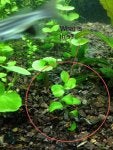 This one I LOVE. I like the big broad leaves and it started growing like mad with the CO2.
I am reworking the tank and hope to put up a new picture soon.