Sooooo.... I'm here to tell you about Klaus! My coworker is having some life changes and can no longer keep her 2 year old pearscale goldfish. She brought him into work and of course I was dying at how cute he is. She was telling me that she really wants him to go to a good home and that I should take him. So I go on my break... mulling over where I could even put him. I would probably just adopt him out after he gets settled into a home much more experienced with golds. I came back from break to discover that she had released him into the koi tank... and they were torturing the poor thing. They literally vacuum suctioned out a chunk of his pearls and tore his fins bloody.
Sooo I brought him home. My family fell in love with him and asked me to set up the small tank downstairs so they could watch him. I agreed since I will have to treat him anyway, and dosing a 10 gallon is much easier than my 20long. This is temporary. If I keep him I will be upgrading him (promises). So. He's sitting in the 10 gallon moping around. I put in some of his plants that my coworker gave me and then I added in some wisteria and watersprite of my own. I'm going to be putting in gravel for him as well so he can dig around in it.
Now. Treatment. I gave him a dose of AQ salt, used some stress coat and a dosage of paraguard (I don't trust the koi tank and I don't want him catching anything parasite wise). My plan is 50% changes daily with AQ until I see him getting a good chunk of healing. I've read that the pearls pulled out will not grow in as pearls but as regular goldfish scales. Is this true? Poor baby. He is also sitting at about 68F. Is there any benefit to raising the temp as he is healing or is it better to leave it alone? Is there anything else I can do to make him more comfortable for now? ( I can't drag the 20 downstairs unfortunately since I have two rams in it as a QT, its sitting at 82F and I dont want to kill him!) I gave him a slice of cucumber to munch on (Its elastic'd to a rock at the bottom) and some tropical flakes (I knowww!!! I'm bad! I hopefully should be getting his NLS goldfish food today). I will be picking up some anachris for him and possibly some other plants to give him more hiding spots. Definitely attaching them to a rock though. He's enjoyed uprooting everything I've put in so far. It's quite adorable. With my research thus far I've learned that I wish I had done a goldie tank over my complicated tropicals to start.

Also, hoping for clarification here.
Fancies usually get from 6 inches to 10 inches?
They live 10-20 years?
Omnivore scavengers? (peas work on them!)
Sensitive to digestive issues?
How can I tell if he's obese, underweight or just right? They all look chubby and cute to me... >.<
They are...social? I read this somewhere... If this is true and I keep him I will be getting either a 30g or a 45g to get him a friend... Same type or same speed to avoid competing.
Bearing that the 20g is minimum and its additional 10 gallons per goldfish after that?
Should I add the bubble bar for extra surface disturbance? (more oxygen...somewhat I know it doesn't help much)
Gravel or sand? Or a mixture? I can do a mix as well.
What do they prefer to dig in?
They remind me a lot of horses. Silly, qwerky, constantly eating and loving. Now to complete the day, pictures! I have some of him in the bag before his torture and then after I got him home and set up. I also love it when he swims through his branch hoop and sits on it. I lose myself at the adorable fat chub of Klaus!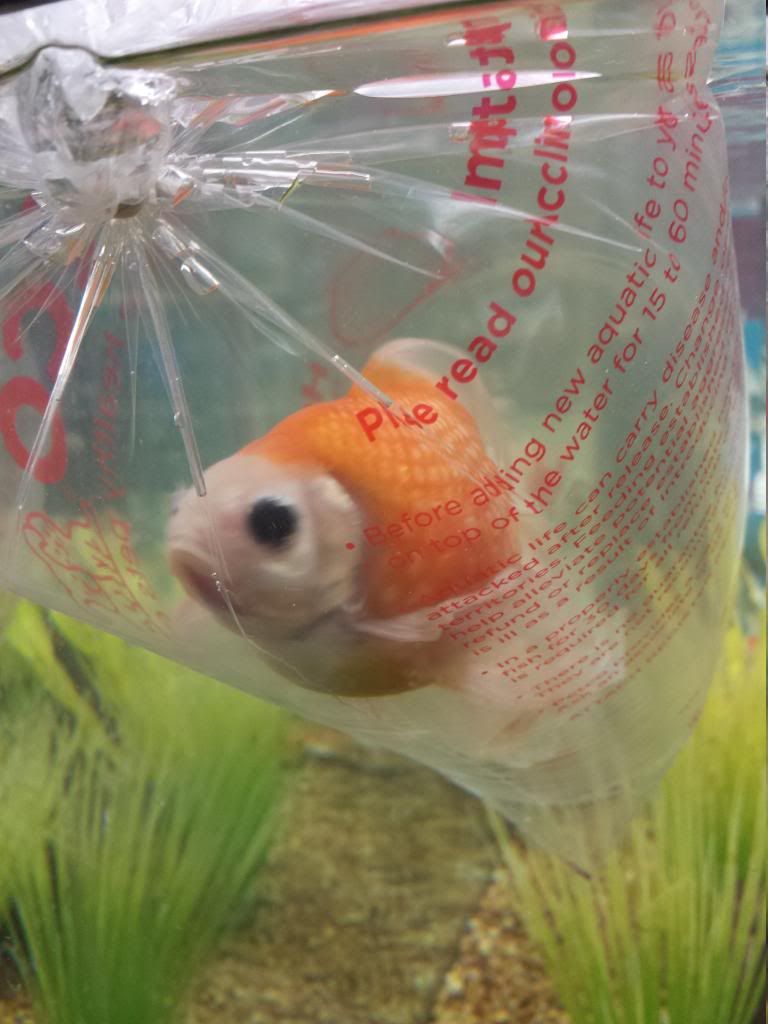 ​