Discussion Starter
·
#1
·
Got the camera replaced. Took a bunch of pix tonight. Some are in Track my tank, and I'll post the rest here. Enjoy.
My Bigger little girl's tank. 20 gallon high - fake plants (except for duckweed; that's real) - 5 male guppies, 5 panda cories, and a whole lot of pink and purple gravel (over sand).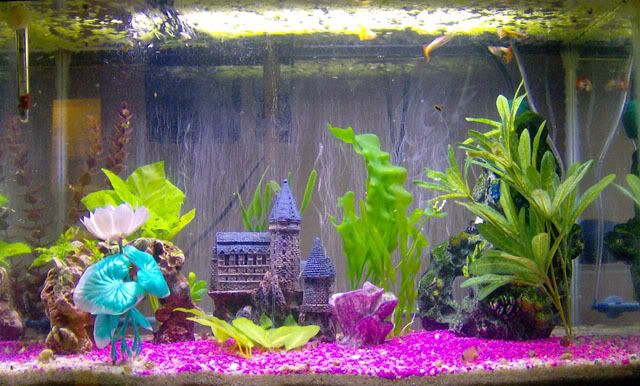 My littler little girl's tank. 5.5 gallons, planted. Currently cycling with 2 male guppies. Going to put in a male betta, dwarf cories, and a couple of ottos. (maybe not the cories). My first real go at Iwagumi. The 3 rose quartz were collected by my late grandad. Plants are Rotala indica, Ludwegia repens v. Red, Cryptocoryne retrospiralis, dwarf hairgrass, and Java Moss. haven't gotten 'round to putting a background on it yet.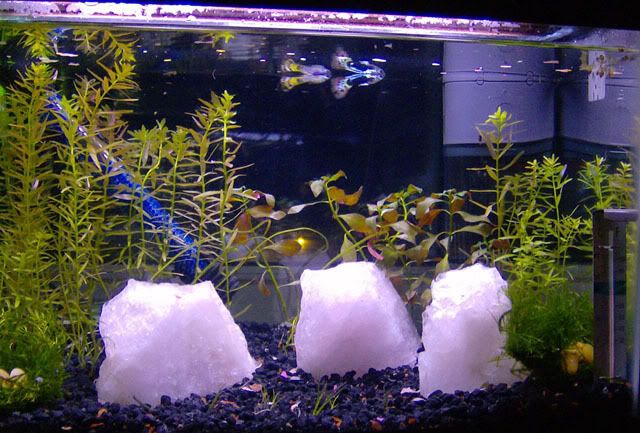 Last and least, this one is a 10 gallon, cycling with guppies, that's going to be Dwarf puffers and ottos. Lots more planting to do. The white grid has java moss under it. It's just starting to grow through. Put in some Hygrophilia today, along with some wisteria and I had some baby java ferns tied to the top of the moss grid. Also, need to get some small, branchy driftwood or dried bamboo and maybe a potted compacta sword or crypt wendetii to break up the sight lines a bit.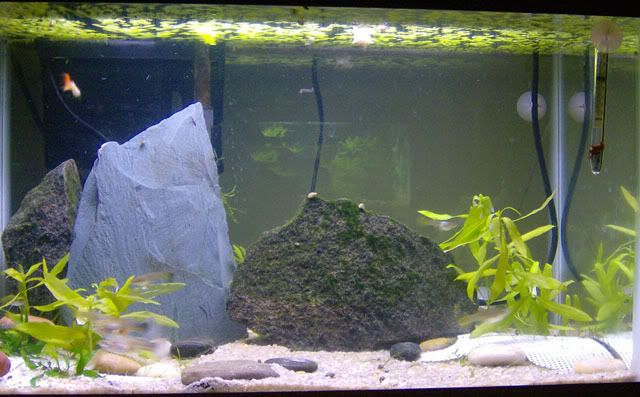 That funky reflection in the center of the tank is the loach motel on the far side of the room.
Links to the new pix in Track my Tank:
Little Amazon
- New and Improved with White Cories.
The Loach Motel
- Fully stocked and growing out nicely.
The Waystation
- Installed a beach so the cories had somewhere to grub around.
Lilliput
- the aftermath of trimming back a massive foliage explosion.