After a 2+ year break I finally bought another tank. A 29g. It's still in it's beginning stages as far as everything being in it's place. (Plant placement, driftwood, lighting, etc.)
Plant list:
Java Fern
Java Moss
Corkscrew Vallisneria
Amazon Sword
Duckweed
Hornwort
Brazilian Micro Sword
Crinum Calamistratum
Marimo Moss
Current stock is 10 Harlequin Rasbora. (From what I can tell, that's what they were sold as)
I set this up as a low maintenance starter tank to get me back in the game. I was planning on doing Rasboras and tertras with, possibly, some Cory's. Now I am thinking I will only do Cory cats so I can have more of them. 10? I'll need input on that and any other suggestions you might have.
pH 6.5 - 7
GH 75ppm
Ammonia 0
Nitrite 0
Nitrate >25ppm
Temp hovers at 72 without a heater.
Current lighting is the T8 that came with the tank (17w), and two T12's (20w each), 1 sunlight and 1 planted. In a custom hood I plan on redoing soon with LED lighting.
Since we all like pictures...
I just did a partial WC so it's a bit cloudy. The blue in the corner is a HMF. I'm also running a low flow HOB but plan on removing it once the HMF gets up and running.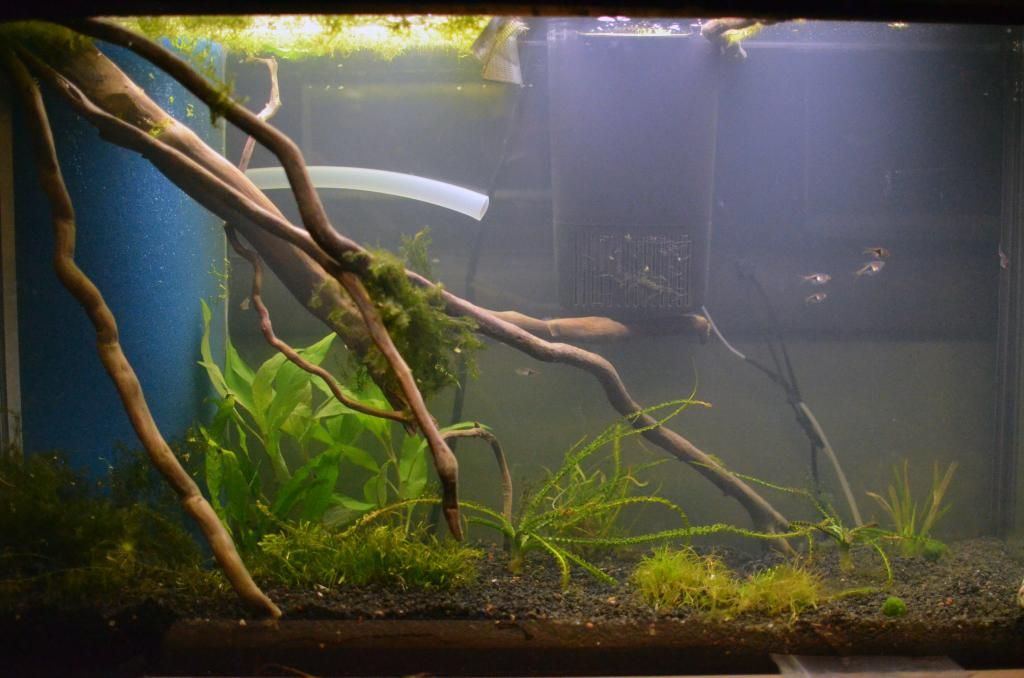 Yes it's a mess right now. I have a 3D background on it's way so I haven't put much time into making it look pretty. I'm moving the higher light plants to the far right and leaving the low light plants under the cover of the duckweed on the left side. Once the driftwood gets water logged I'll be placing it running down like roots in front of the HMF and attaching the Java Moss to it. Then once everything is in it's place I'll add a layer of black sand over the flourish substrate. (Yes Byron I know I should have just stuck with sand, I've forgotten some things on my little break!)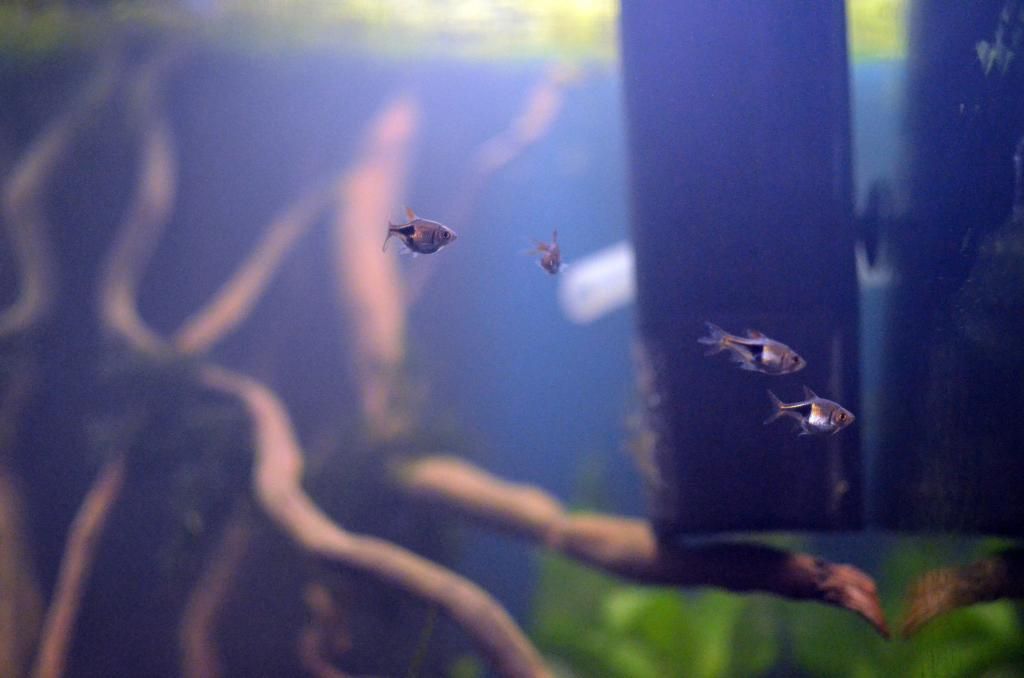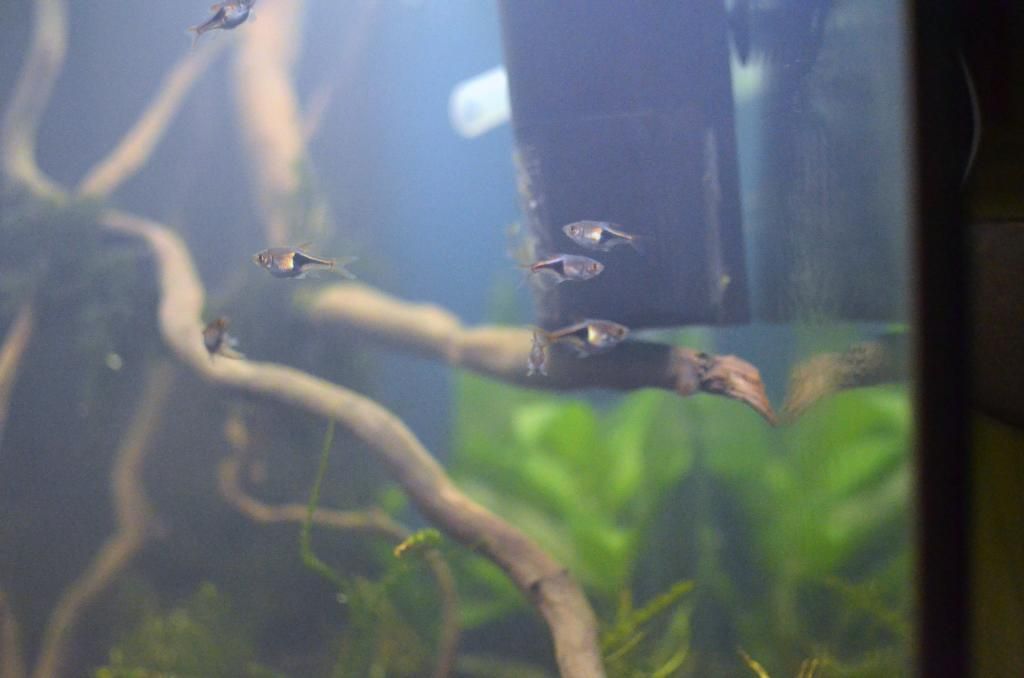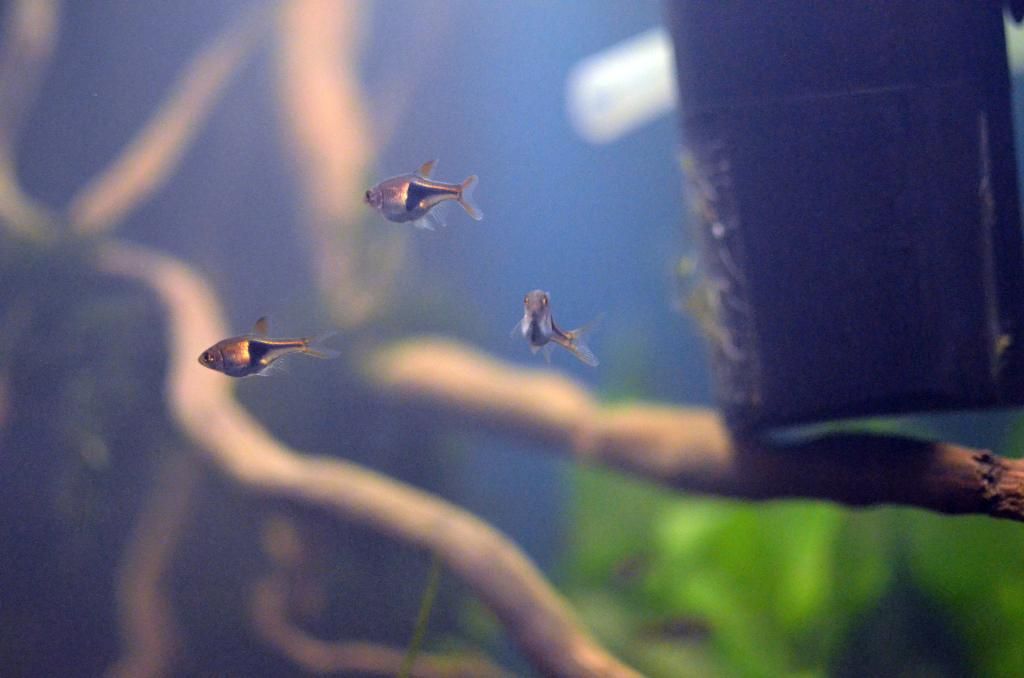 These suckers are hard to take pictures of. I'm sure most of you know this. They seem very happy in the tank, always "schooling" around. I'm happy with them for sure.
So should I just stick with a larger group of Cory cats? I'm not set on a specific type of Cory. I'll be ordering them from
The Wet Spot
since they are pretty close to me and would be an easy 1 day shipment. They do have a bunch of wild caught Cory's. Their stock changes weekly. I don't mind waiting it out to get a specific kind based on recommendations. I'm not opposed to adding more Rasboras either. I definitely do not want to over crowd the tank or fish. I just want to have them as comfortable as possible. That's why I thought of just getting a larger group of Cory's and stick with 2 species.
What about shrimp? I've seen one pond snail that hitch hiked in. I plan on adding some nerite snails at some point.
I think I covered everything. Let me know!