Discussion Starter
•
#1
•
Well after I decided that i really wanted some fish and doing a bit of research I went out shopping today for the tank and supplies. firstI stopped at the local flea market looking for a tank. I found a pretty nasty looking 10g that looked like it probably had some kids goldfish it it because of the little rainbow gravel and lack of heater/filter and that it wsa being sold at the flea market. So I asked how much he wanted and he said $1 I was so happy. I willingly gave him my dollar and walked away.
Then I went to the local Petco to get the rest of the setup and ended up picking up a starter kit that had a Tetra Whisper filter, Tetra submersable heater, a pump with a bubble rock thing, 3 plants, and water conditioner. I also bought some decorations and some gravel.The thermometer that it came with appeared to suck so I am using the digital thermometer I was using for my geckos. Ive set it up and put the conditioner in. Petcoo said I can take some water there for them to test.
Now I just have to wait for the water to work itself out right? My real question is what kind of fishshould I put in there. I would prefer one two medium fish than 4-5 little guppies. I also am not very fond of "normal" looking fish, like black mollies and such. If I cantfind anything better I will probably just get a betta butI was hoping for some cool ideas. I was going to get a few dwarf puffers but they might be a little
too
small. and Im not sure if I can care for them properly.
Now after all the delay heres the pics: Its hard to see but there is a plant in front and behind both column things.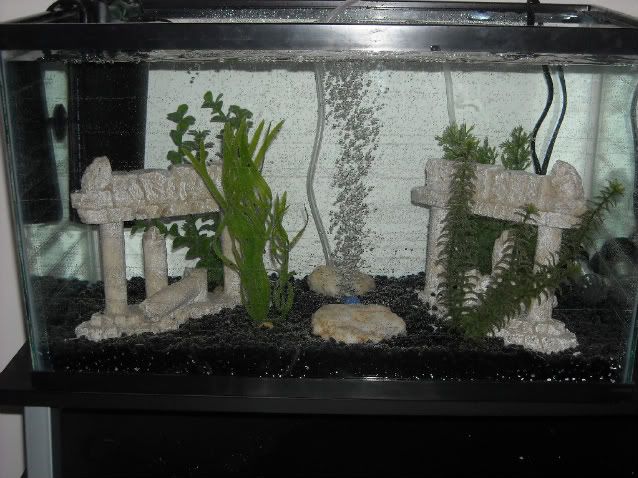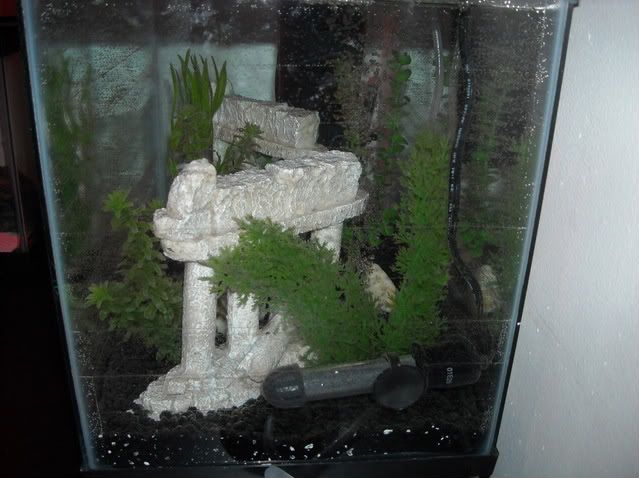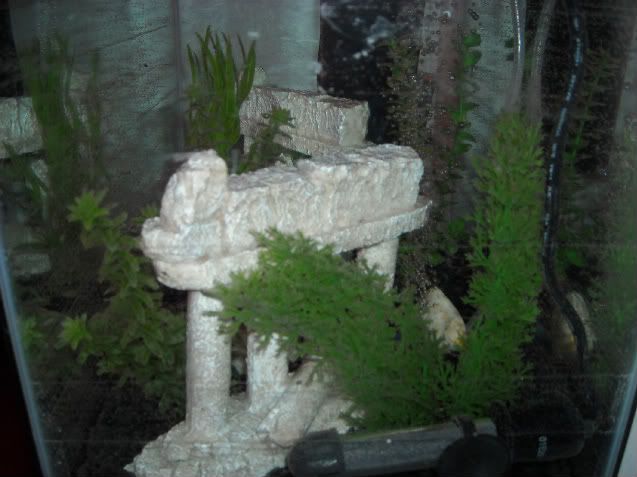 Ohh and when do those crappy bubbles that are covering everything in the tank go away.
Edit- I noticed it looks like the plants have brown stuff on them in the last pic, its just the bubbles on the plant+crappy pic quality.