Discussion Starter
·
#1
·
For the past couple of months I have been doing maintenance on a local nonprofit's aquarium. The aquarium had severely deferred maintenance before I started doing it. Also, one of the goldfish was suffering from what I suspected as fin rot when I first started taking care of the aquarium. I treated all of the aquarium with maracyn II andi t seemed to clear up. Now, I suspect that one of the goldfish has mouth rot. I've posted pictures below. The fish has also experienced scale loss on one side of its body (maracyn II treatment was about 6 weeks ago)
Would you think that this is mouth rot? What should I use to treat it? (I've kept aquariums for many years, but never had to deal with any illness other than ich)
1. What is the size of your tank?
55 gallons
2. What are your water parameters? State the brand of test kit used.
All within normal, safe limits.
3. Is your aquarium set up freshwater or brackish water?
freshwater
4. How long the aquarium has been set up?
5 years -- deferred maintenance for the past two. Began doing regular, monthly water changes 2 months ago.
5. What fish do you have? How many are in your tank? How big are they? How long have you had them?
3 goldfish. Approx 5 inches in length each. 5 years
6. Were the fish placed under quarantine period (minus the first batch from the point wherein the tank is ready to accommodate the inhabitants)?
NA
7. What temperature is the tank water currently?
Within normal limits for goldfish
8. Are there live plants in the aquarium?
no
9. What filter are you using? State brand, maintenance routine and power capacity.
Pengiun 500 biowheel filter.
10. Any other equipment used (aside from heater and filter which are two very important components of the tank)?
no
11. Does your aquarium receive natural sunlight at any given part of the day? What is your lighting schedule (assuming you do not rely on sunlight for our viewing pleasure)?
no, lights on for 8 hours a day
12. When did you perform your last water change and how much water was changed? How often do you change your water? Do you vacuum the substrate?
3 weeks ago, 50%. Yes, substrate is vacuumed.
13. What foods do you provide your fish? What is the feeding schedule?
SInking pellets once per day. frozen green peas once per month
14. What unusual signs have you observed in your fish?
Previous fin rot; now mouth rot?
15. Have you treated your fish ahead of diagnosis? If so, what treatments did you use? State your reasons for planning ahead of proper diagnosis.
previously treated with maracyn II for fin rot.
Previous illness that I diagnosed as fin rot and treated with maracyn ii. This has since cleared up, but is now reappearing in a different fin.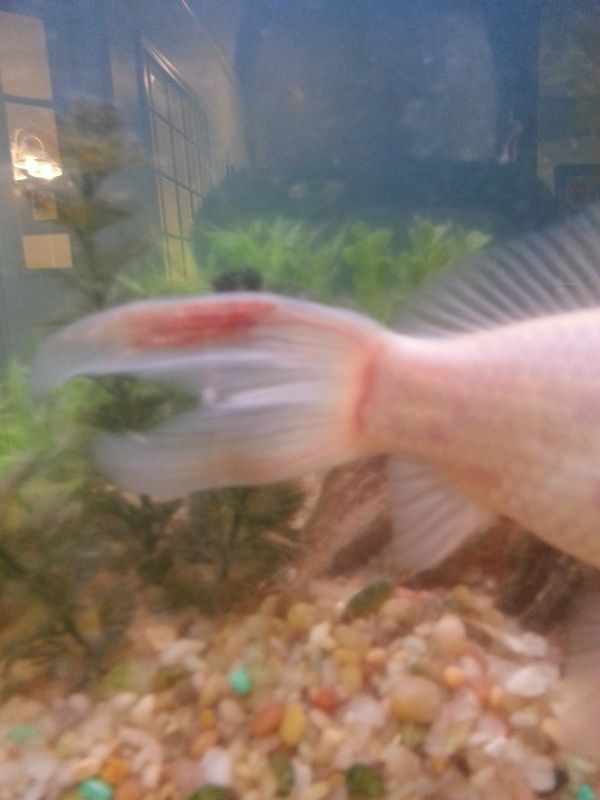 new symptoms: