Discussion Starter
·
#1
·
I looked through the list of illnesses and I didn't see anything that looked like this. I just tested the water in all my tanks today and his was perfect so I don't think it's the water.
He's in a 2 gallon hex tank that stays in the 80-82 degree area. I've had him in this tank for about 6 months and he's by himself. No filter because it's such a small tank but he gets 25% weekly changes and he does have a heater. He is getting over a swim bladder problem that was my fault I was using flakes and must have over fed him so now he gets one Omega One Betta Pellet every morning and once he can swim normally again he'll get two twice a day.
I didn't see the sore when I fed him this morning around 10am but when I went to do the water test at around 4pm I saw it. The only things I can think of is he got himself on a plant (mine are plastic and because of this incident I have some silk ones on the way for him), or it's a dried out patch from sitting at the surface of the water. It is the highest point on his back and it does sit just above the water and because of the swim bladder he's been at the top a lot. Otherwise I have no idea what this is.
I did give him a dose of API Bettafix and Stress Coat+ shortly after I saw it.
This is the picture I got when he was resting on his hammock a little bit ago. His fins are still a little messed up because the swim bladder had him really stressed and his fins were clamped up tight for a good week.
He's acting as normal as fish recovering from a problem with his swim bladder does I suppose. He eats his pellet, swims around the top, breathes normal, doesn't seem stressed, uses his hammock like he always has.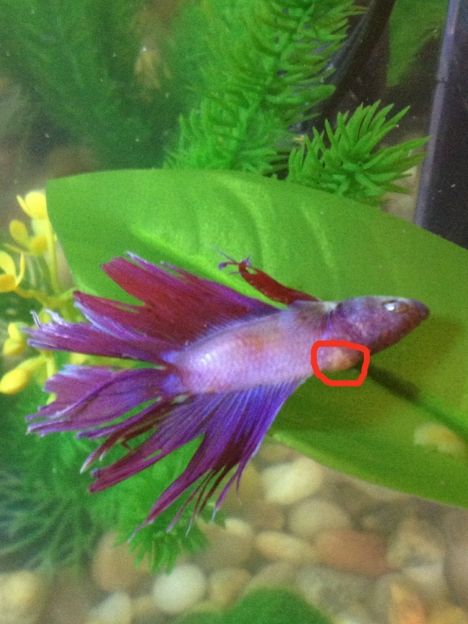 The green lump on his hammock is a piece of frozen pea. I had heard it could help empty his system out so his swim bladder could return to normal.