Discussion Starter
·
#1
·
So I've had some bad luck with the bettas that lived in my 5 gallons lately. One died of what i
think
was columnaris, the other was a fish I'd only had for a month, and literally just...shriveled up and died.
The 5 gallon (actually like 5.5 or whatever) tank where the fish died from columnaris, I'm planning to leave as is, and set up. It houses snails currently, and some nice looking plants. I am hoping if I leave i fishless for 4-6 weeks (websites I've read said 32 days was enough for the bacteria to die), then it'll be safe for a new betta. The snails will be happy for awhile anyways, and plants will grow.
but the
other
5.5 gallon, boy do I have plans for. Currently, it houses one African Dwarf Frog, and it's relatively boring. Here's a fairly bad picture of what it looks like right now, took this right before Asher the betta died. I also removed a fairly large amount of the water sprite.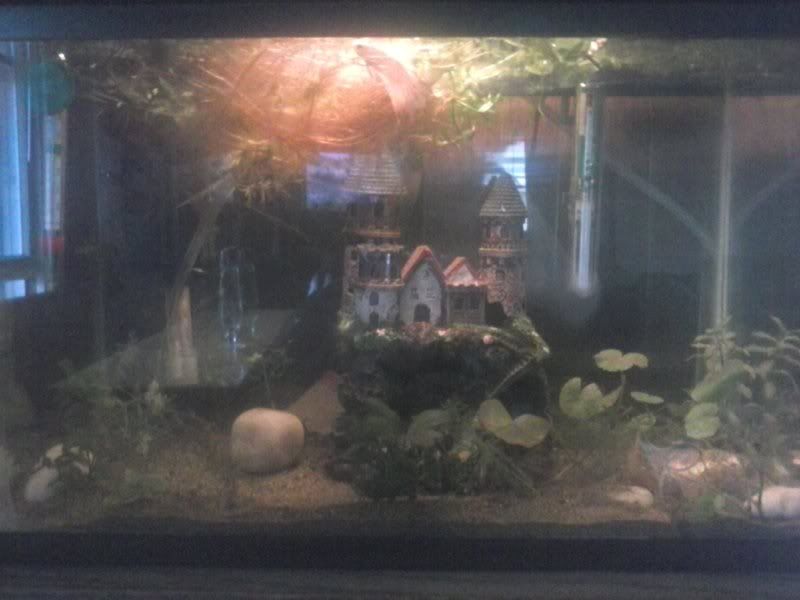 So, like i said, my tank houses an ADF. they seem to have high-ish bioloads, and I don't think I want to have the abundance of bettas I used to enjoy. Time to branch out!
First thing I'd like to do is plant plant plant!
i have this genius idea for moss/subwassertang mats- shaped plastic canvas. As a craft store employee, we've been asked for shaped plastic canvas a lot (which we carry NONE for some reason). And I found some at walmart! I might actually buy them tomorrow, put some moss i already have on them (sew it together with thread or something). I'm hoping it adds a fun touch, while still looking natural.
i also love me some stems and crypts. in my other 5, the stems seem to be doing very well, and the crypt i moved from the 29 gallon has taken off (c. red wendtii, for interested parties. but it totally isnt red). I'd like to try crypts in this 5 gallon as well. There are a few stems already in this 5, i think it's all ludwigia that i got from trit0n awhile ago, and they're still green and happy.
I also like rhizome plants. i want to take the castle out, and add a driftwood and tie my anubias and some of my java fern babies to it. Hopefully it will take off.
Any other plants i need? its just got a plain old florescent hood, with not a particularly great bulb. Suggestions are ALWAYS welcome.
Another thing I want to do is replace the filter. right now it has a tetra 3i stuffed with a sponge that seeded in my 29 gallon for a couple of months. It kinda seems...wimpy...i'd like a sponge or box filter. the other 5 has a sponge filter and it works great. If i found a cheap box filter (Tolak talked about them one time, that's where i've heard of them), i could just shove my already seeded sponge in and it'd be just fine.
Finally- stock! I decided adding a betta might stress someone out, especially one i didn't know the personally of. And since the frog has a high bioload...why not do shrimp! i'm planning to stock some yellow n. heteropoda in this tank. Hopefully they make lots of babies. Also I'm adding a single mystery snail.
Alright...that's all I've got for now....tomorrow I may or may not buy plastic canvas shapes. I'll let you guys know!