Discussion Starter
·
#1
·
So I, like so many of us, have gotten into things with a little more plants and a little less fish and water. Mine has taken a more sinister turn. I have carnivorous plants! This thread is going to be part journal and part educational. These plants are insanely interesting and closer than many of us might think
Now for the pictures of my current setup.
Your eyes aren't deceiving you. All of these plants are outside, and they stay that way year-round. Most of the famous carnivorous plants don't come from steamy jungles. They come from the eastern US. Venus fly traps are only found on a small stretch of land roughly 60 miles around Wilmington, NC (google it if you don't know where it is--nice beaches). The pitcher plants have a larger spread going from Canada down to Texas, following the coast. So if you live in a coastal Atlantic state, there is a chance these guys might be growing in a bog near you!
Now let me introduce you to the species and cultivars I have.
Venus fly trap (
Dioneae muscipula
)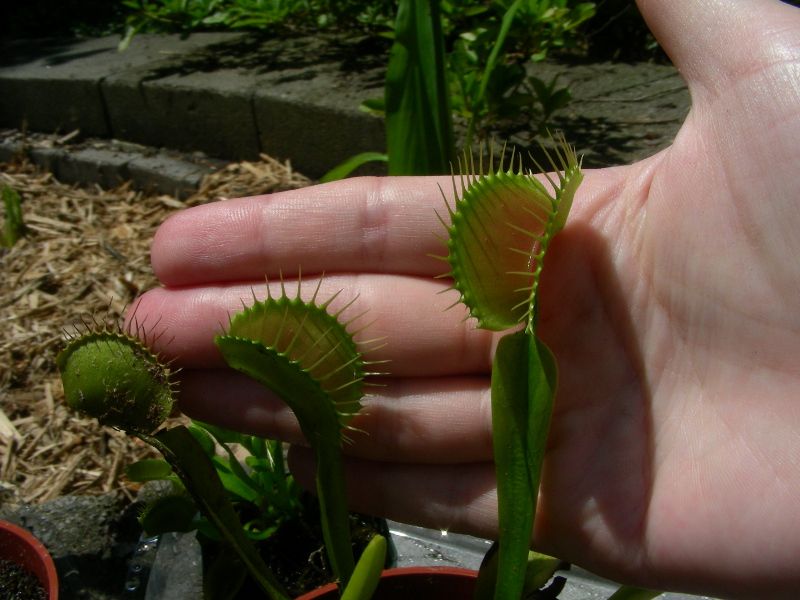 I have about 8 of these now. There are certain cultivars with interesting traits, but I just have the basic plants right now. They are surprisingly easy to grow if you have the right conditions. They need 6+ hours of direct sunlight and moist, acidic soil. They DO go dormant in the winter; this is one of the reasons they aren't recommended as house plants. They expect a cold winter and will actually die if they don't get dormancy.
I have six cultivars of Sarracenia (pitcher plants). They all have about the same basic care. Keep outside, need lotta sun, and need dormancy. Three species are found with flytraps. (These pictures are about 2 months old, but the plants still look the same).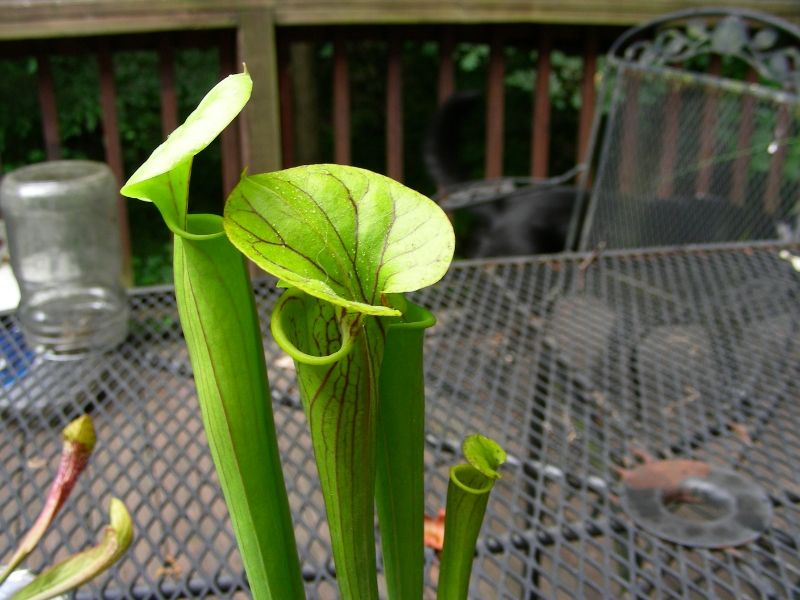 Sarracenia flava
, the yellow pitcher plant. These guys have a rather wide distribution, ranging from Virginia down to Alabama. These plants have the potential to get about 3 feet tall. Mine isn't nearly that size this year, but when I get it into a bigger pot I can expect great things!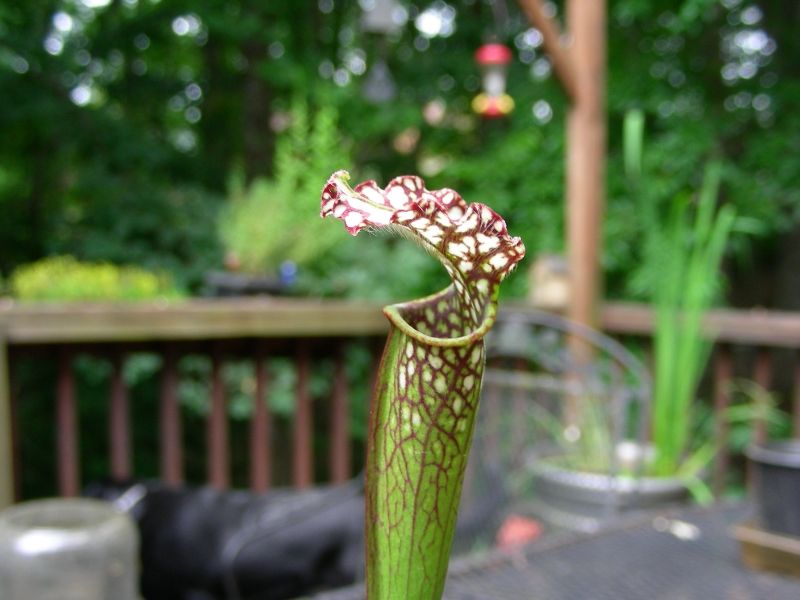 S. leucophylla
, the white pitcher plant. Widely regarded as the most showy of the pitchers and my personal favorite. These guys are found on the Gulf Coast and are often hybridized with other species for their beautiful colors. Oh.. Forgot to mention. All of the Sarracenia can hybridize with each other and produce fertile offspring. Plants are funny like that.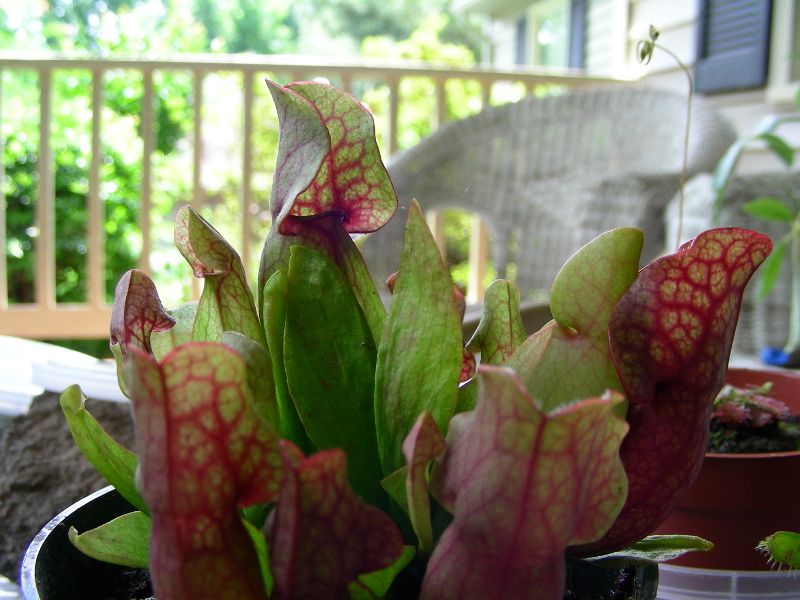 S. purpurea
, the purple pitcher plant. This is the most wide spread of all the pitcher plants. They are found along the entire eastern seaboard of the US, the Great Lakes region, and in most of southern Canada. Because they are so widely distributed they are one of the only Sarracenia that aren't imperiled from habitat loss.
Now we get into the hybrids. Time to get funky...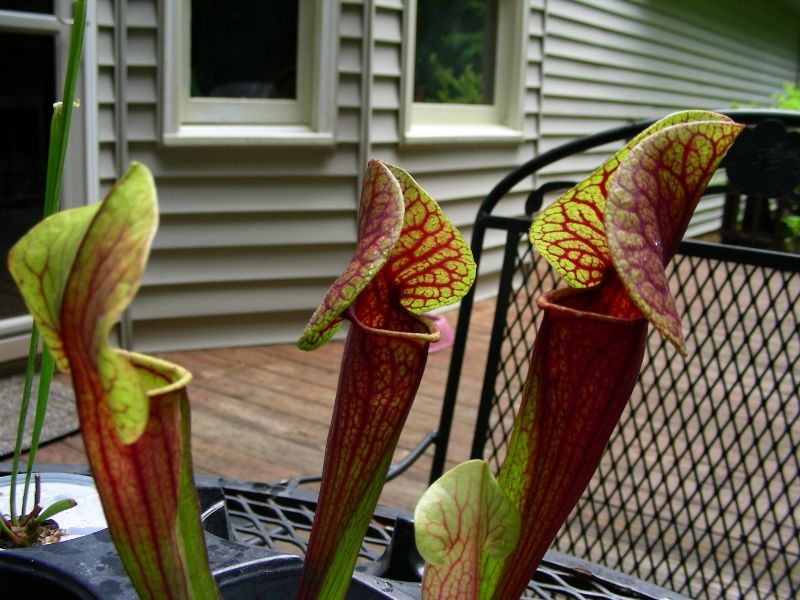 S. x catesbaei. Sorry. This is also where we lose common names. This is actually a natural hybrid of purpurea and flava. It was thought to be a separate species for a while until someone got smart (I dunno who--wasn't me). They are found in the wild but can be rare.
S. 'Mardi gras' This is an ornamental hybrid. I don't remember the exact parentage and I doubt it's important to you guys. Interesting thing about hybrid Sarracenia is that they tend to be more rigorous than the species. Scientists and growers don't really know why that is.
S. 'doodle bug' This little cutie is another complex ornamental hybrid. It has a slightly different pitcher shape than the others because it is crossed with a Sarracenia that uses a different method to catch bugs.
I also have an S. 'frogman' but don't have pictures of the plant at the moment because it's in rough shape. It was shipped to me recently. Takes these things a bit to recover from shipping.
Now for the sundews. Of which I have two species and only pictures of one.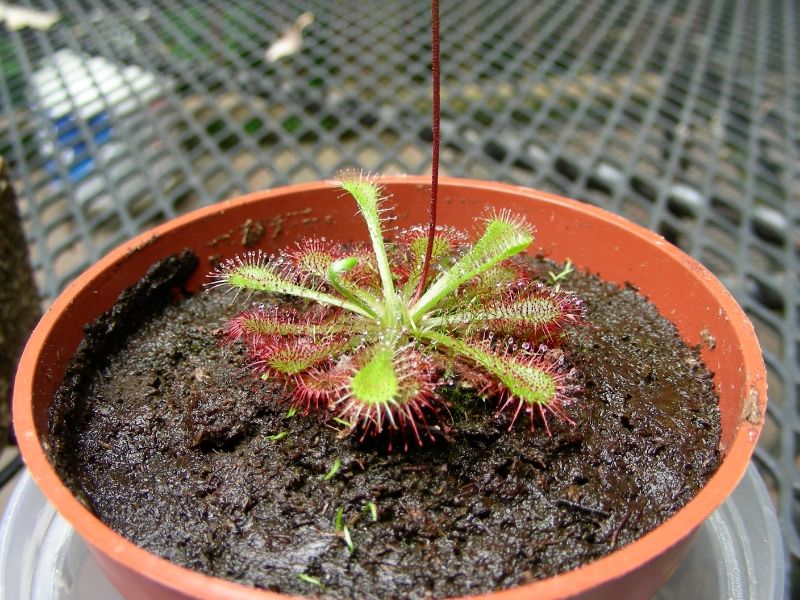 This is
Drosera tokaiensis
. Sorry. Common names ... well aren't.. with these guys. This sundew (not mine specifically but the species) has a funny history because there are two varieties. A fertile and a non-fertile hybrid. This plant is a natural hybrid that has become a species. You can cross the original two species and get a non-fertile offspring, tho. What I have is the fertile variety. These guys (I have two of them) have already flowered for me. Maybe I can get seeds!
They don't do too well with a lot of rain and clouds (which I've had a lot of this summer), so the smallest tokaienis is now inside with me. Hopefully this full spectrum bulb will help it rebound.
The other sundew I have is the cape sundew. It's extremely hardy and a great beginner plant, but it was beat up in shipping (it came in with the S. 'frogman'). Neither the cape sundew or D. tokaiensis are native to the US. I'm working on getting the species that are.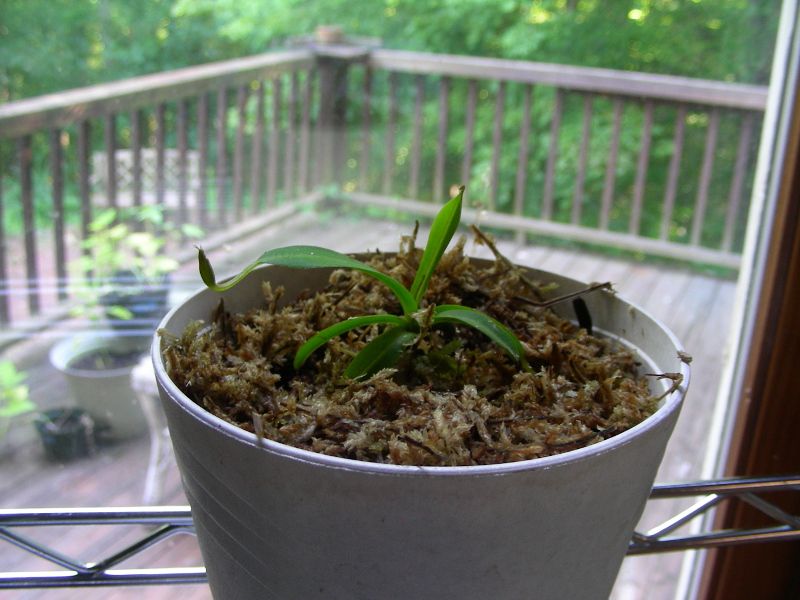 This is the other plant I have that isn't native to the US. This is a
Nepenthes tobaica
. These are the types of tropical pitcher plants that BWG wants to have in his setup. Normally these plants require higher humidity and better light, but this is a species that is hardy enough to survive on a windowsill.
My collection is in its infancy. I plan to get a LOT more sundews and flytrap cultivars as they are my favorites. More Sarracenia are certainly in my future, too. I also plan to get some butterworts. Come early spring (Feb/Mar) I will be building a small, potted bog for species native to Wilmington, NC. Stay tuned! I'm also happy to answer any questions you have about my plants or carnivorous plants in general!
PS. I also have some succulents and orchids now. Orchids aren't blooming so there is nothing interesting there right now. Might post up some pictures of the succulents when I get my new camera.