Discussion Starter
•
#1
•
Hello everyone! I have been out of the fish keeping game for about 2 years now. I wasn't able to move my tanks with me when I moved from Florida to Texas, thankfully I am getting tons of tanks for Christmas this year!
I got into fish keeping because I like everything about it, simply put it fascinates me.
I have a bachelors in Marine Sciences from JU in Florida, through college, my focuses were brackish communities and phytoplankton activities. I even still have my microscope from college at home, which almost makes diagnosing sick fish fun. Most of my studies were done along the St. John's river, so I have a special place in my heart for a brackish tank.
I am currently the Lead Pet Care Associate at PetSmart. If you want some top notch bettas, come to my store. Aside from supplier issues, my bettas are pristine! All healthy, eating real diets and NO fin rot. <3 I also LOVE that I get to educate people about how to care for their new pets. To be honest, I have worked with both NOAA and Florida Fish and Wildlife, and I have killed a lot less fish at the pet store. Daily saining trips would mean bring back around 200-500 samples of fish to be examined for research. They are just thrown into plastic bags alive without water and tossed in a cooler. Then frozen as soon as we get back to the lab.
I like weird tanks. I like science experiments. I like to try new things. I am not one for the bleeding hearts; I accept fish death as a part of the process. Though I do try to put my fish's health as a top priority, and never kill a fish intentionally,unless of course it needed to be euthanized humanely. I will fess up to the horrid practice of "flushing" in the past, but have recently learned about the clove oil method. So things will be improved in that department. Yay learning!
I hope to learn a lot from you all, as well as get occasional chances to share my own experiences! I hope you don't hate me for always pushing the limits, but maybe at least you have a better insight as to why I do it.
Favorite Aquarium Fish List
1. Green Spotted Puffer; adorable, bubbly, personable and often quite friendly!
2. Ballon Mollies; I know, I know they have scoliosis and breeding in those genes is 'unethical'. But they are just too cute with their pudgy little bellies, and I adore them. Also, I have yet to see any issues from mine. Where as I have has issues with MANY DTHM bettas, and that seems generally accepted.
3. Bettas; so much personality!, and every one is different. I love to meet all the new bettas at work!
4. All other mollies and platys; less cute pudge, 100% cute little faces that are always eager to meet me at the glass as soon as I get home.
Past tanks:
55gal Oscar ciclid with Plecostomus
100gal saltwater predator tank with cat shark
5gal Fluval Chi with small mollie community
20gal brackish long with green spotted puffer
10gal goldfish feeder tank (for the oscar)
20gal semi agressive tank with random fish all the time
10gal wild caught brackish community from St. John's River (was a required school project, all fish were released after the semester.)
1000gal tilapia aquaphonic garden (this was a project that my dad and I worked on together, super fun and tasty!)
Current tanks:
20gal brackish hex with green spotted puffer and mollie community
5gal Fluval Spec V, my first planted aquarium, trying some aquascaping and then moving in a betta with some ghost shrimp.
2.5gal Back to Roots Garden (coming soon)
1gal betta bowl (temporary, until the 5gal has sufficient plant growth. Also Baxter has SBD so he has to get better before he can live in a cycled tank. he gets sucked to the filter if he is in there now
)
Here of some pics of the crew and gear:
Fluval Spec V
5gal, planted, freshwater
Just planted last night! No fishies yet, but Baxter will live here if his SBD clears up. I'm a little nervous about adding fish while I am learning to use the CO2 booster.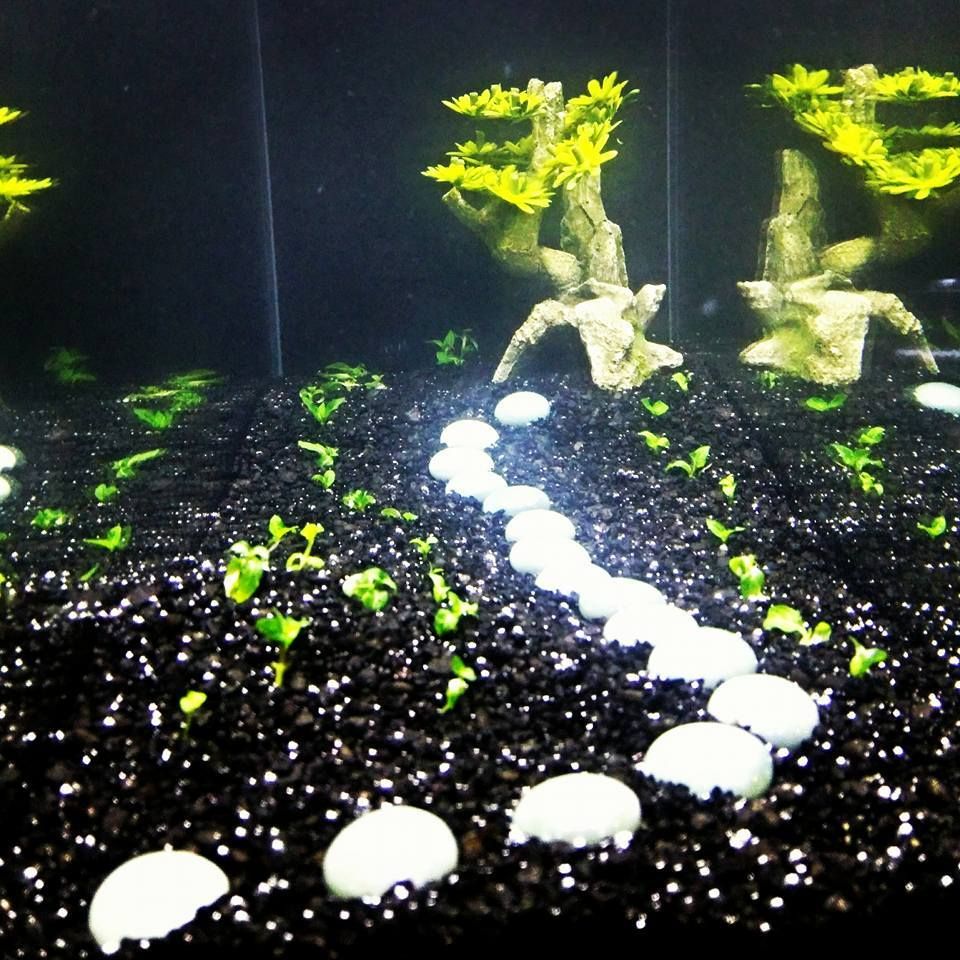 Aqueon Hex 20
20gal, brackish water
Got this one for my birthday a couple months ago. Everyone has been going strong. I have 1 green spotted puffer, 4 mollies, and 3 mollie fry in a TopFin 2 way breeder.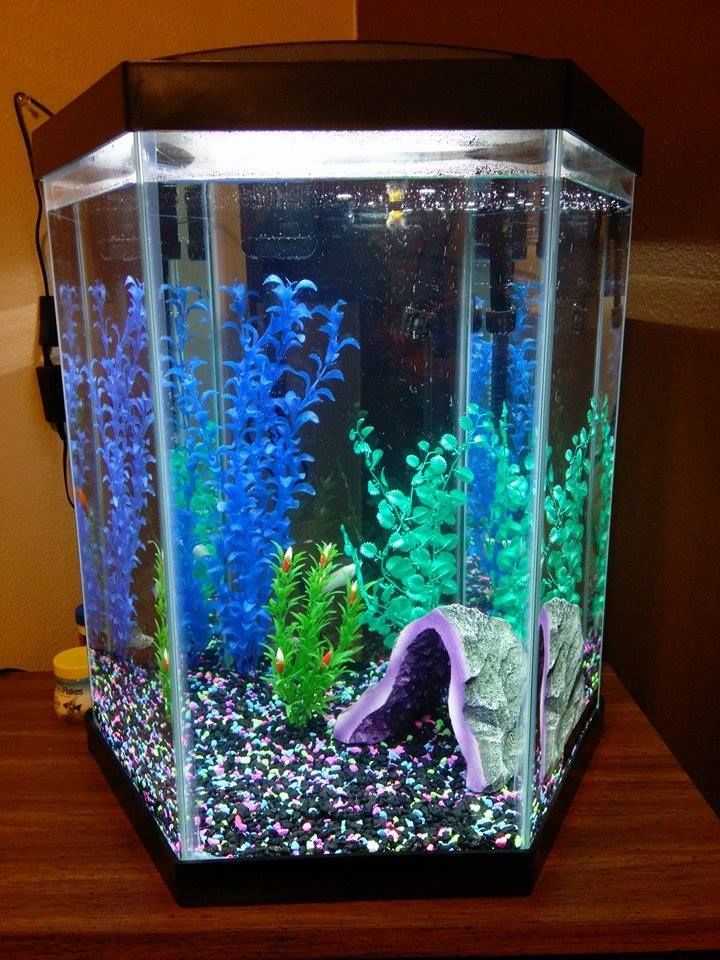 Baxter's Bowl (or "the hospital" in normal situations)
1 gal glass bowl, Aqueon betta bowl plus
This is usually just a hopital tank where I apply salt bathes and medicines to isolated fish. But since Baxter has such bad SBD, I adopted him from PetSmart to try to isolate his diet and treat him. Progress is happening, but it's been slow.
and of course, Baxter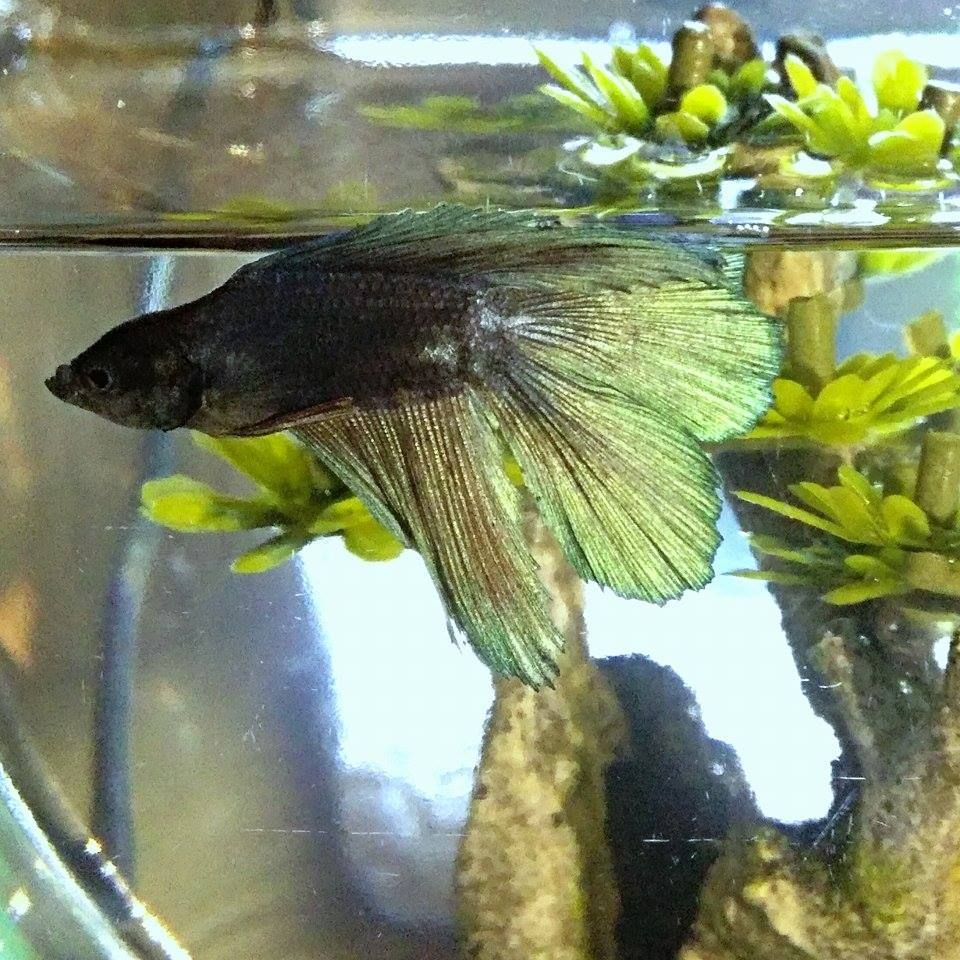 This is Lorada my green spotted puffer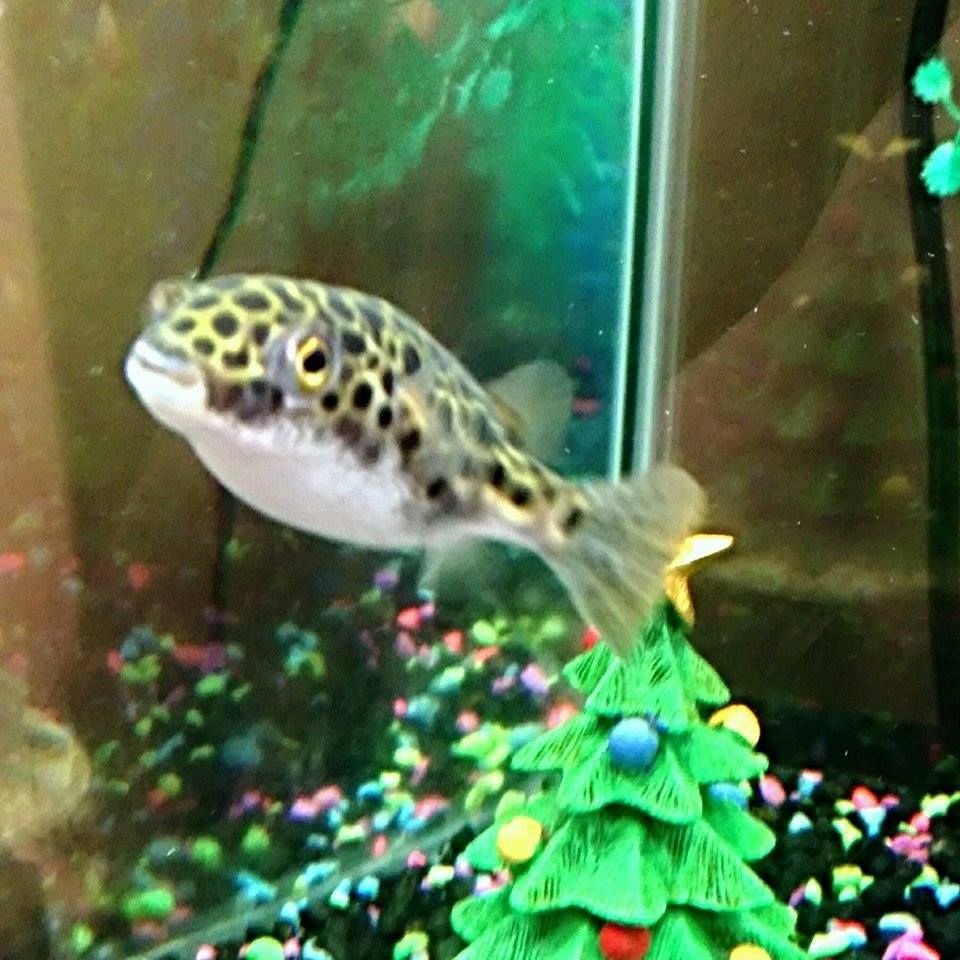 Pudge is the gold balloon mollie, and Solid and Stripe are blurry behind him.
This is Casper, the Alpha mollie of the tank. (who looks incredible under the blue LED)