Can someone tell me what meds I can add to my aquarium to help one of my fancy goldfishes.
He has this huge tear in his tale. Its all red. This happened maybe in 1 or 2 days. He is in there with another fancy goldfish. They have been in my 25 gallon freshwater tank for about 3 years together and never any problems. They are not aggressive towards each other at all. What is this infection.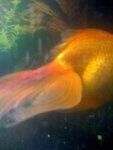 2nd Pict
More Info
Freshwater
Last water change a week ago
Ammonia 0
PH 6.5-7.0
(Cant test for anything else)
Temp 70F
Size 25g
Filtration : Hagen 70 Aquaclear with charcoal and bio max
Plus Power head with aerator set to max
Some plants in the tank.
Currently treating with maracyn 1 and 2
Also added some aquarium salt to help
The other goldfish seems unaffected
I feed them once a day with a combination of spirolina disks, blood worms, and simple Hagen goldfish flakes.
This aquarium is 3 years old with the same fish in it. Fish are about 3.5 years old total.
His behavior has been sluggish and sitting at the bottom of the tank.Rest of body seems fine.