Discussion Starter
·
#1
·
I had 3 fan tail goldfish in a 20 gallon tank. One of my fish has been to hell and back because my younger sister had him in a 2 gallon tank for 2 years before i got a hold of him, he was just gorgeous. I set up a 55 gallon and had him in it, well i ended up giving the other goldfish i had in there away but i kept the old guy. Well once i took down the 55 gallon i had no other tank so he got put back in his original bowl for a few days, i seen he was not doing good so my freshman year in highschool my bio teacher set up a fish tank and i asked her if i could bring him in, so he was in a nice clean 10 gallon for monthes. Well when the school year ended i set up the 20 gallon and he lived there for about a year with 2 other fan tails (much smaller than him). Well my next door neighbors young daughter won a fish at the carnival and they had him in a bowl so i told them i would take them, i put him in my tank with my 3 healthy fish. 2 days later the fish died (the new one).....1 week later, my 5 year old fan tailed died. I was devistated that i killed my beloved fish over a carnival fish. Before he died he got very inactive and i knew the night before he died that he wasnt going to make it to the next day. He would hide behind plants and in plants and wouldnt come out even when i turned the light on when he usually comes out. Well when i found him dead the top of his head was very skeleton like...it was white and its hard to explain. Well another week goes by and my other 2 smaller fantails turn very RED, they completely lose their color, they looked horrible. Well one died then when i had one left that looked the worse. He has been a gorgeous shiny orange, he turned into a very dull orange, had a white tint to him, fins were ripped up, very red between his body and his fins. This disease killed all 3 of them within 3 weeks. Does anybody have any idea what this could have been? I still feel horrible ending the fishs lives over a carnival fish, but their gone now so im just still confused on what this was. I did a complete water change after the original carnival fish died, but the disease had already got to the fish. =( So be very careful when adding new fish, you may not think much of it but it could lead to a bad ending.
heres the 5 year old fish before the carnival fish was involved...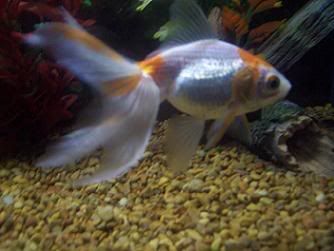 one of the fan tails...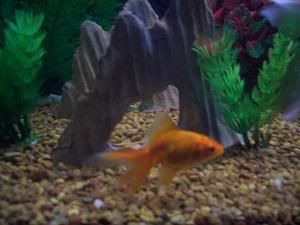 all 3 of them...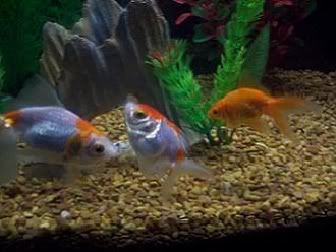 the tank BEFORE it was infested!!