Discussion Starter
·
#1
·
So I've been having some issues with crypts in my 29 community. There is an area where they (and other plants) just won't grow. Normally I would attribute it to light or water movement but there are plenty of plants growing around this area, and its in the center of the tank. Let me start from the beginning.
Maybe 2 months ago I noticed a sudden and severe melt of crypts in that area. The leaves were fine, but the plants fell apart from the stems. One spiralis and one green wendtii melted. After waiting a few weeks to see if they would rebound if I put more root tabs there, I moved a pondertifolia plant there and put another root tab with it. A week or so after I moved it there, the same thing happened despite the fact that just a few inches away another C. pondertifolia plant was thriving.
I'm at a loss here. My boyfriend now calls this zone the "bermuda triangle." I know there is something wrong, but I don't know what. I want plants back in that area of the tank; it looks like a massive hole in my 'scape.
A little more details on the aspects of the tank:
- lighting: single tube 24" T8 6500k full spectrum
- ferts: once weekly flourish comprehensive, root tabs seachem
- fish and plant list found in aquarium profile
Pictures of the "bermuda triangle."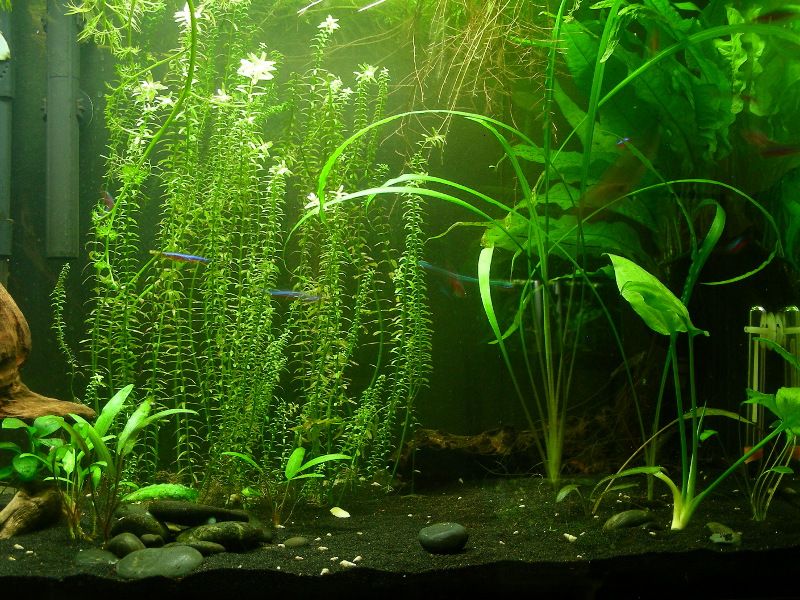 Pardon the fish blurs.
These pictures were taken about a week ago. I have since cleared the massive water sprite from the top.