BETTA FIN TYPES​
Originally created by Christinaross (October 1, 2009)
Edited by the TFK team
Plakat is a name used for short finned bettas. They originally had round tails with 2 rays. Nowadays they come in all fin types except veil tail - round tail, delta, halfmoon, crown tail, comb tail, etc.
Traditional round tail plakat with 2 rays.​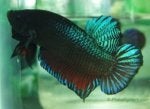 HMPK has a 180° caudal spread with 4 – 8 rays, forming a "D" shape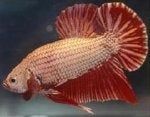 OverHalfmoon Plakat (OHMPK)
​
This is characterized by the caudal spread that reaches more than 180°
Excessive ray branching causes this type's caudal to be "ruffled"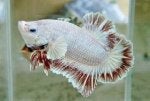 Double Tail Plakat (DTPK)
​
Double Tail (DT) is named after the two caudal lobes (what ever shape). They also have long dorsals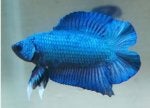 This is a cross between a DT and a CT
​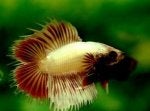 Crowntail
Plakat
(CTPK)
The name "crown" is derived from the elongated rays, giving it a spikey appearance of a crown. Ideally the web reduction should be 50% of fin's total length. CTPK can be in the form of HM (180° spread), Delta (less than 180°), or round tail.
​
This type of tail is long, with a long anal and dorsal fin also, and droops down from the caudal peduncle. When young the tail is rather oval but as it ages and the fins grows longer, it droops down.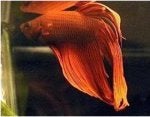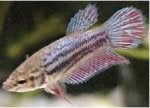 This type has an equal spread on either side of the fin, similar to a Round Tail, but with tail finishing in a point rather than a rounded edge.
This is another traditional version of the long finned betta. The fin shape is round, rather than the straight edges of a Delta, but fuller and longer than that of a Plakat.
Delta
(DeT)
These are the beginners of the Halfmoons, very similar to HM's but have less than a 180 spread when flared
Super Delta
(SDeT)
These are the next step to achieving HM - nearly HM but not quite (about 160° +), Deltas are far less than an HM.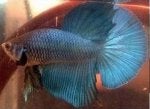 Halfmoon
(HM)
It is characterized by having 4-8 rays and the full 180 degree spread when flared, forming a "D" shape with straight edging. Dorsal and anal fins are also dramatically larger than those on other fin types.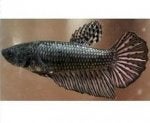 Over Halfmoon
(OHM)
This is the extreme end of the Halfmoon where the spread when flared is over 180 degrees.
Rose Tail
A Rosetail is an extreme Halfmoon with excessive branching of the rays where the rays over lap itself, giving the tail a flower effect.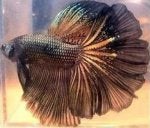 Feather
(FT)
"Although it is an extension of the rosetail effect, the feather tail has much more than a ruffled appearance, the excessive branching occurs at the top and bottom of the rays which gives it the look of feathers, with a kind of zigzag effect edge" -ibbledibble
Double Tail (DT)
The main characteristic of DT is the 2 caudal lobes and the extra long dorsal. DT comes in all forms, from the traditional veil tail, halfmoon, to the crown tail.
It is a genetic trait that can be crossed to any fin type to make a DT version of that type.
Double Tail Veil Tail
(DTVT)
This is a cross between a double tail and a veil tail.
Double Tail Halfmoon (DTHM)
​
Crown (CT)
Like the PK version, this long finned CT also have elongated fins.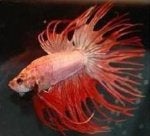 Halfsun
(HS)
It has the spread of a Halfmoon with the slight crowning of a Crowntail. The halfsuns have the tips of the rays protruding beyond the web, but not enough to be a crowntail or combtail.
Comb Tail​
Are by products of CT - Other type crosses. It is not the typical CT but it has slight web reduction on all fins.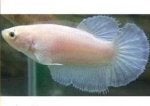 DT Comb Tail
A by product of CT – DT cross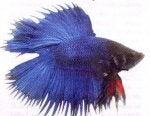 Elephant Ear / Dumbo Ear / Big Ear
​
A relatively new strain that has extra large pectoral fins.