(update at the bottom of this post!)
SO I got myself a new tank today. 55 gallons, and currently it's sitting on the back porch. I'M SO EXCITED!!! I spent a whopping $15 on it at Goodwill. It was marked as $30, but the guy I talked to was concerned about this.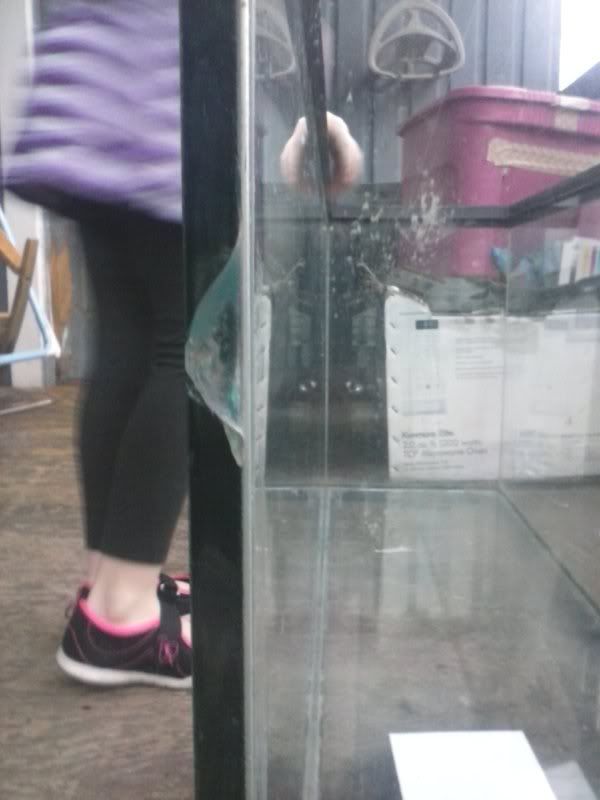 the weird thing is that that, right there, you touch it and it doesn't feel like a crack, just like smooth glass, mirror solid surface. Inside, it just looks like a regular old seam, the weird crack thing doesn't seem to go all the way through. SO, I took it, and I'll be leak testing and possibly be resealing.
SO!!! I'm Sooooo excited. I've been talking about this tank since sunday, and I'm absolutely ecstatic it was still there for me to get today. I've got some ideas for stocking, and how i'll set it up with filters and such. Lighting is up in the air, not sure how that will turn out. but basically: EEEEEE!!!!!!!
*****UPDATE 1/16/2014*****

As many of you know, this original endeavor did not turn out the way I had hoped. But never fear! Good things happen to those who wait


Those of you who are NEW to the thread, or want to see why it didn't work out may want to read the whole thing anyways, but if you're like me and want to skip to the good part, you can find that here.

I hope you enjoy the read, and can get excited with me as I *FINALLY* get this show on the road!

**~**Bekah**~**