Well, I was cleaning out my twenty gallon nursery tank about a week or so ago and found these odd little things on the top of the tank just under the lid...I removed two thinking that something had gotten in and laid eggs, like a spider...since it looked like spider eggs through the wet glass. lol Anywho, upon further research I found out what they actually were: My mystery snails had laid eggs! I was so excited...I almost killed the eggs though. When I took two of the four nests out I could clearly see they were NOT spiders, and I thought I had let the water get too low and killed someones babies. I just wasn't sure who they belonged to! I put them in water in a breeding net, and found out only minutes later what they were and removed them from the water. I've been keeping the two nests on top of the breeder where they stayed moist, but not wet. This is a series of photos of how it ended up! Oh, before that, the two I left alone, one of them hatched and has vanished, the other is still working on it.
First off, the day of finding...and almost killing unfortunately: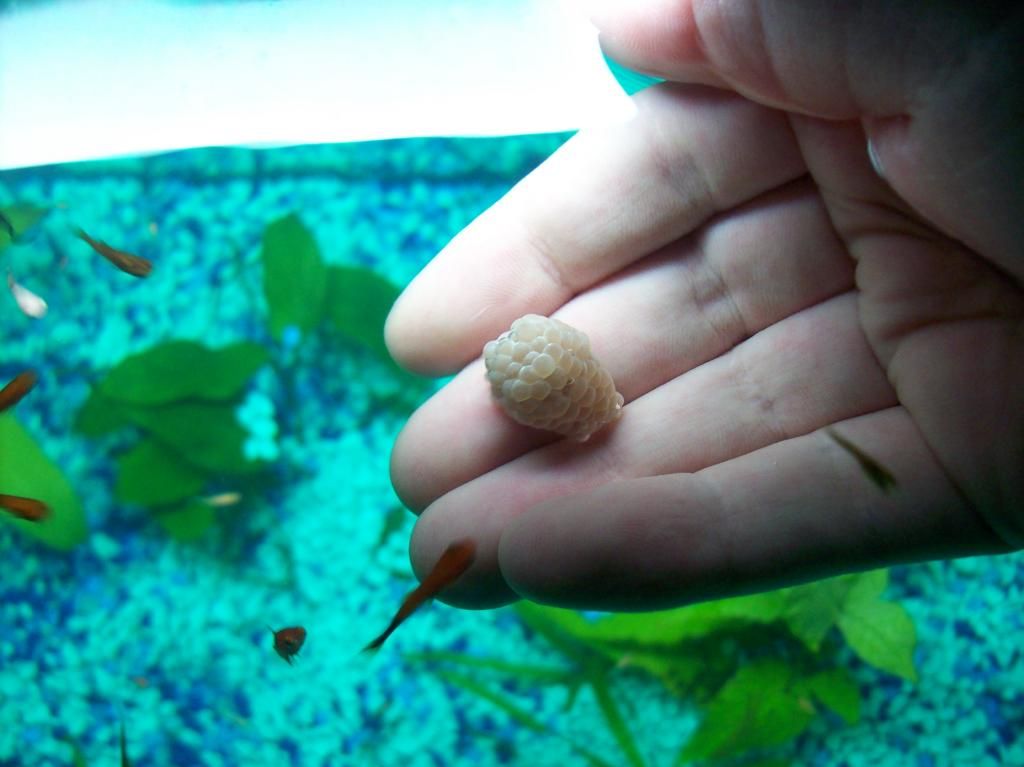 And then, one of the smaller of the two nests decided to drop a few babies, which got me very excited. It slowly vanished over the next few days and I found a few babies. Unfortunately fairly hard to see in this photo: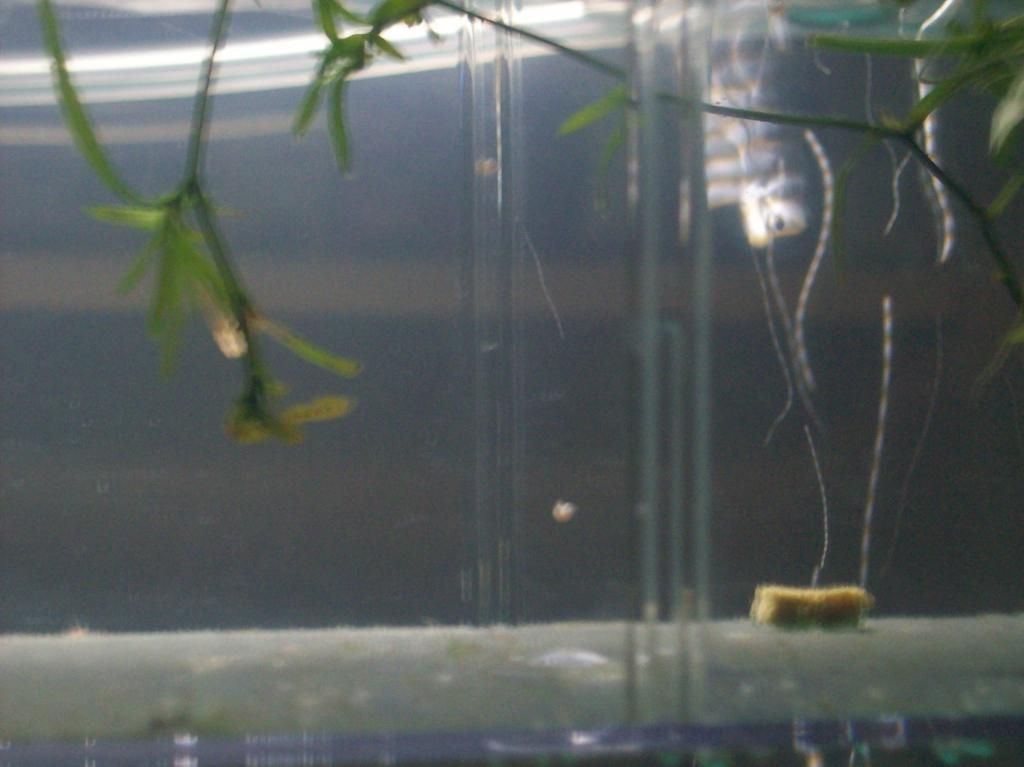 And then last night, I noticed the leftover nest looked like it was getting pretty gross. I was ashamed thinking I had killed the poor babies in there, but I decided to leave it alone for a bit since it was out of the water and wouldn't hurt anything, I was hoping that yucky dark lookingness was actually babies and not rot, but it looks like it, eh?
And today, this is what I woke up to: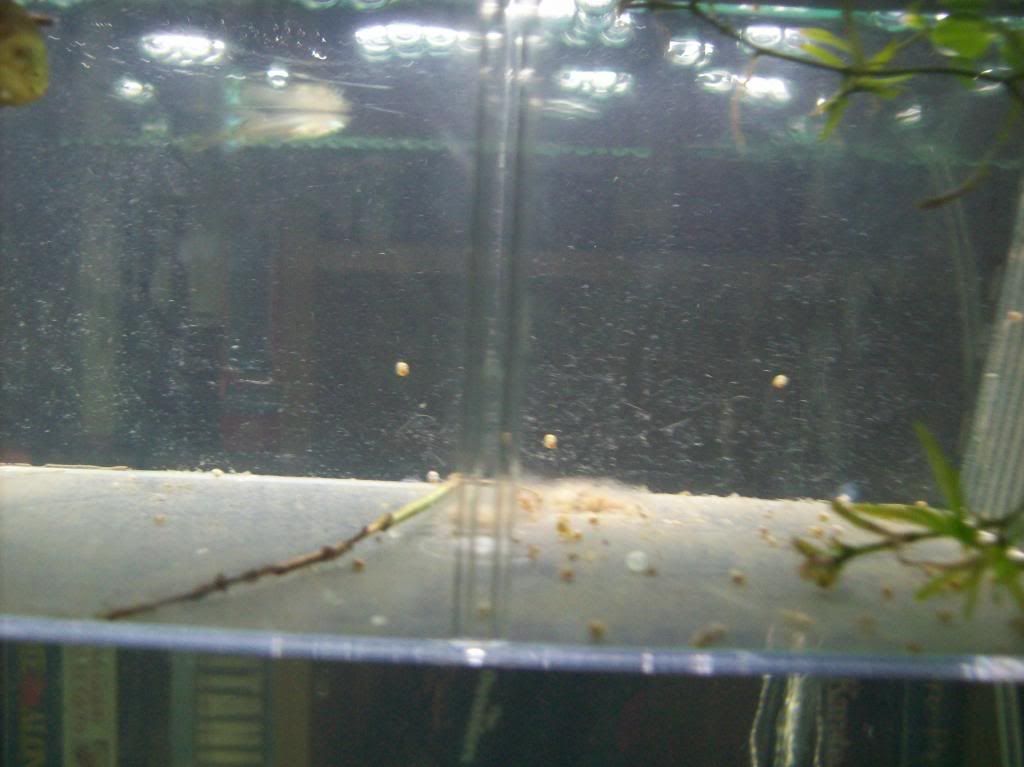 Yes, babies everywhere. Many fell into the main tank...but I am sure they'll be alright.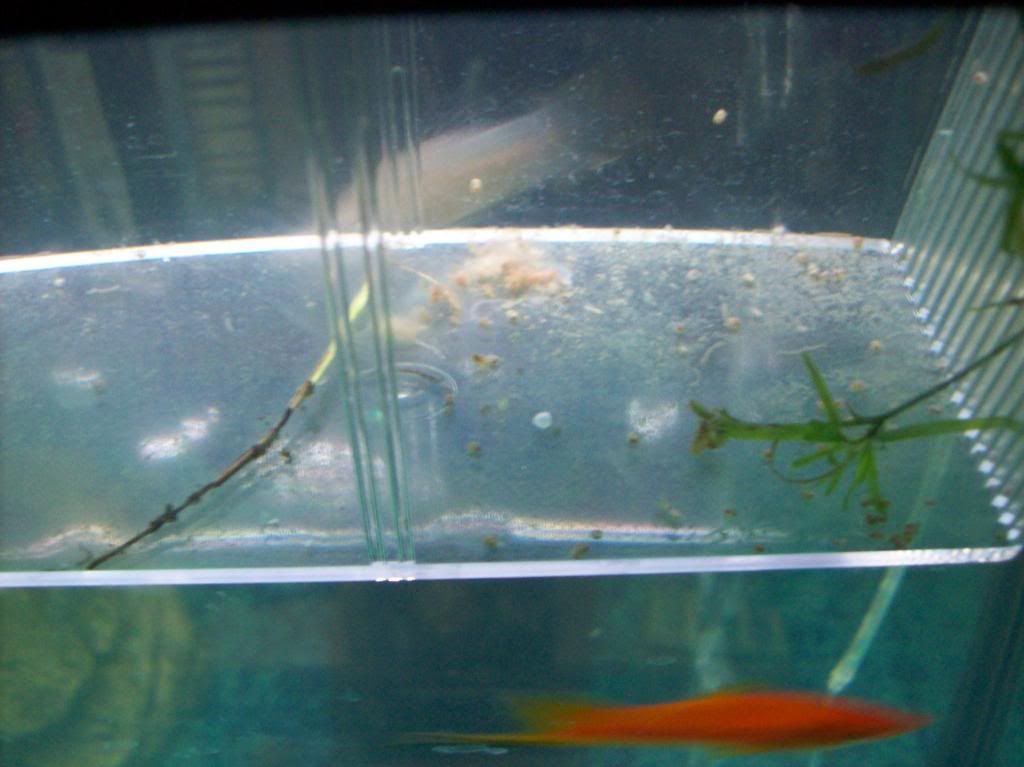 So, we know I have babies now. Isn't that awesome? I'm excited and now know better than to mess with the nests. I got very lucky is all. lol That other stuff in there is bits of an algae wafer and also some veggies out of the emerald entree I usually give to my fish, so lot's of veggies in there like kale, romaine lettuce, spinach and the like...Any other things I could put in for the babies? I haven't cleaned the place up much since I got babies, I'm afraid to. >< So many tiny babies. So any tips of light cleaning without risking harming the babies? If I suck them up with my normal cleaning of such things: Turkey baster, I can't see the babies if I got any like I can with baby fish! =( But I certainly don't want the place to get too gross. x.x
Ah yes, the mother, far as I know, is my dark striped purple. I saw one of my blues "Dancing" with her about a month or so before this. I initially thought they were fighting. lol My purple didn't look or act happy about her buddy.