Discussion Starter
·
#1
·
We are soon going to start the beginning phase of the 240g ! Finally
I'm going to be painting the wood like trim either black or deep brown and the stand as well . That should be fun .. *hands paint to Jaysee * ;-)
So here it is .. Haven't even moved it out of the previous owners house lol. But he's really nice and doesn't mind. In fact offered to assist moving it ! He just wants to drool over my fish .. ( he will be here on TFK soon to share his amazing array of previous fish !)
So here's out new tank.. I might have to dive in to do the planting in this beast .. Hopefully I still have my snorkeling goggles lol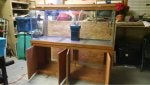 Will put all the fish from the 75 in there for now till Josh moves and the tank merging madness begins .
I want 10x turnover rate so umm.. Thank god we both have lots of filters . I know I'll put my XP 4 on this tank.. Perhaps one of my AC 110s for a bit then eventually a few other canisters .. Oh and that XP in the picture as well.. It's a bit small though. I'll get maybe another SunSun 304 or 2 of them.
Here are some of the fish going in at first . Then we need to brainstorm the final stocking .. Many ideas bouncing around
Of course Baybay my ornate bichir who thinks he's an itty bitty pleco . After much practice he's learned how to sit on the glass like his clown pleco BFF haha
The new tiger pleco
And of course my daughter wouldn't allow me to do much of anything when she set up the QT for the tiger pleco . She really did everything except turn the faucet on to fill it.. Because she couldn't reach . Mini slaves are great!!
Plants !! I'll be moving these over when I finally get the tank set up .
Pretty sure I'll have to use media from every single filter in this house to properly seed this tank lol
Sent from Petguide.com App