Discussion Starter
·
#1
·
I started to talk about this tank in my other photo log, but decided it needs its own thread. Let me backtrack a bit to explain how this tank came to be.
In January blackwaterguy showed me that a favorite seller of his had the coveted farlowella catfish. I'd been searching for these for a while and didn't hesitate to buy them from a trusted hobbyist (her website is msjinkxd.com if anyone is interested). As a split second decision I decided to order some red cherry shrimps with him knowing that I wouldn't have a lot of movement or color in my tank with just Java loaches and my farlowella. Well long story short, I fell in love with them. They are insanely interesting to watch move around the tank and eat everything. I love their long feelers and how they poke everything with them.
The more I researched the more I realized that my tank might not be the best for these little guys. Gourami are known shrimp eaters (I can vouch for that), and tetra will take a swipe at the babies. If I wanted a strong colony I would have to change something. I had a betta tank that was showing terrible growth on the plants and struggled with algae. I decided to break that tank down and set up one of my spare 10 gal tanks as a shrimp-only tank.
I just got around to doing this on 27 Feb. This is how the tank looked on the night I set it up.
Today, I received an order of plants for my tanks. Some went in my community but others went in my shrimp tank. I added Bacopa and Myrio to this tank. This is how it looks now.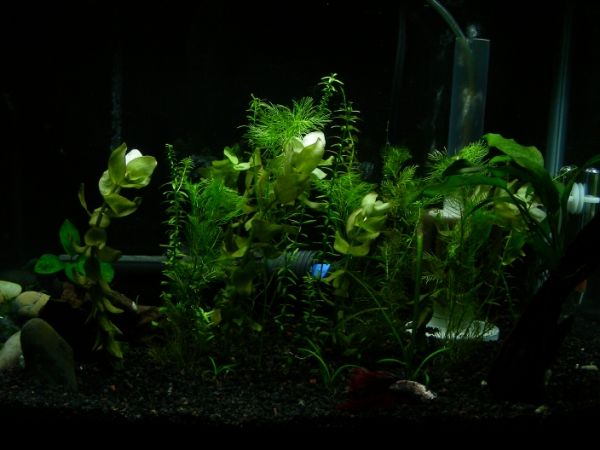 The substrate is eco complete. The lighting is a single T8 6500k daylight tube. I use Equilibrium to raise my GH as I have very soft water. I also dose with flourish comprehensive once a week (might be upped to twice later). It does have a small amount of copper, but not enough to harm shrimps.
The plants in there are anubias spp, subwassegtang, riccia,
Rotala rountidifolia
,
Bacopa carolinia
,
Myriophyllum mattogrossense
, and dwarf sagittaria.
I'm going to try to take weekly pictures to track the growth of the plants as well as the growth of the shrimp colony. Right now I have have four shrimps left (you can thank the gourami for that...) that will be moved to the tank this weekend. The female is carrying eggs, so I should at least have some babies in a couple of weeks. When the shrimp go into the tank, the betta will be removed to a breeder box until I can find him another home.