My salty history...
---
My first tank was a D-D 24 and I found it the perfect tank to cut my salty teeth on.
It went from this
to this
in 8 months with lots of trials and thankfully not so much in the way of errors.
I modified the tank to have a mini fuge in the back with lr rubble and a permanently lit lump of chaeto in the back and I had absolutely no issues with nitrates or phosphates at all. I increased the stock pump to an mj1200 and also added a flexi strip of moonlight leds to the hood to great effect.
It was with this tank that I grew to love acans and most other lps corals
Even the coral goby Norm was impressed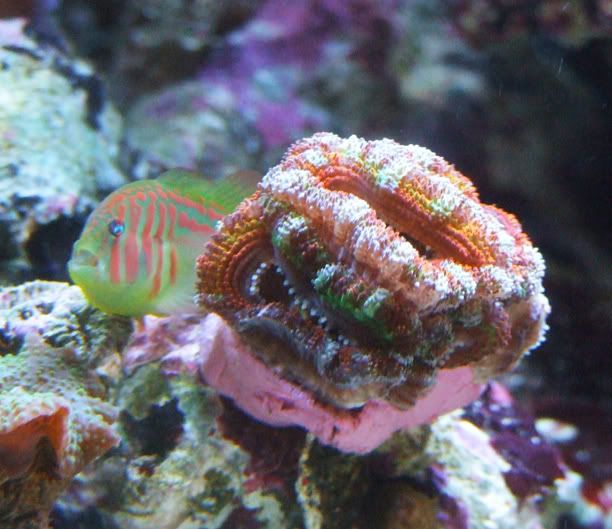 I had 2 percs, a coral goby, a starry blenny and a possum wrasse in the tank, only failing with a tiny ycg.
I then decided to set up a 30L nano in the bedroom and kept it totally basic. That went from this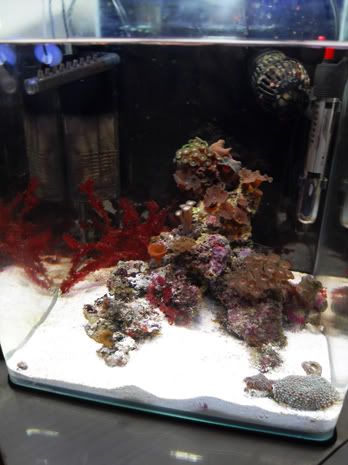 to this
in a couple of months. It housed a hifin banded goby and pistol shrimp (Ken-obi and Goby-wan) along with 2 tiny coral gobies, a black one called Darth and a green prickle faced one called Tequila - because it was lime green and lived in harmony with salt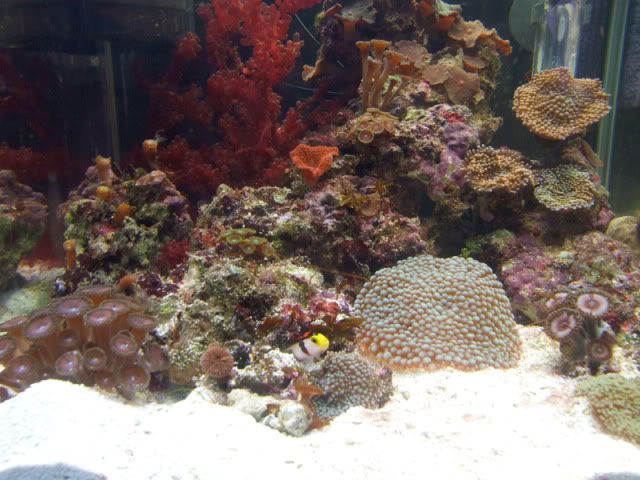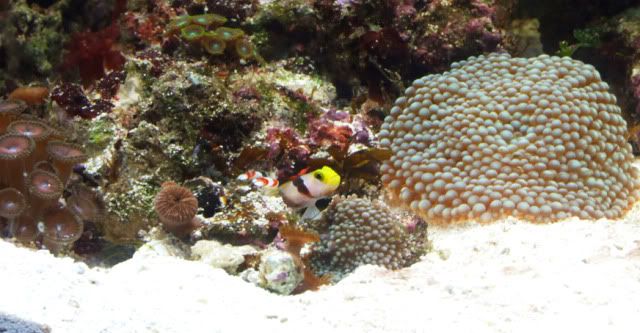 I just had simple lighting of a small pc tube and weekly water changes to keep the levels tip top.
Sadly I had to shut it down before it came to much as it was in my south facing bedroom and a heatwave was upon us
I've run two fluval edges as marine tanks...it was a love hate relationship that eventually broke me due to having to take water out each time you needed to go in and the lack of access for cleaning.
It was new to the market when I decided to try my hand at marine and it was successful until a snail got into the pump impellor and stopped it running. It happened while I was away overnight and I lost all my stock!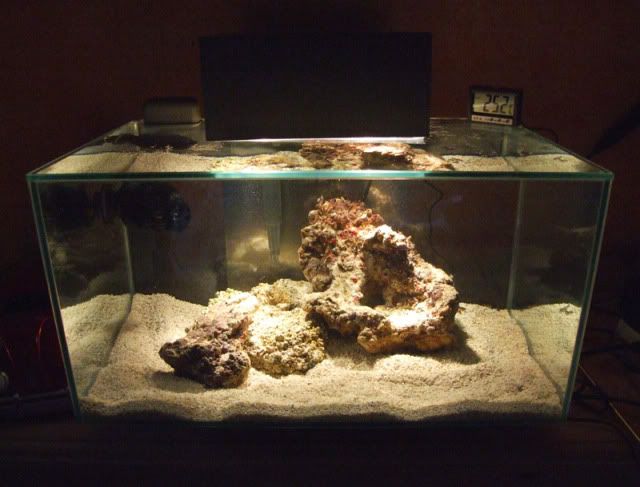 I ran an led unit in the hood to improve the stock lighting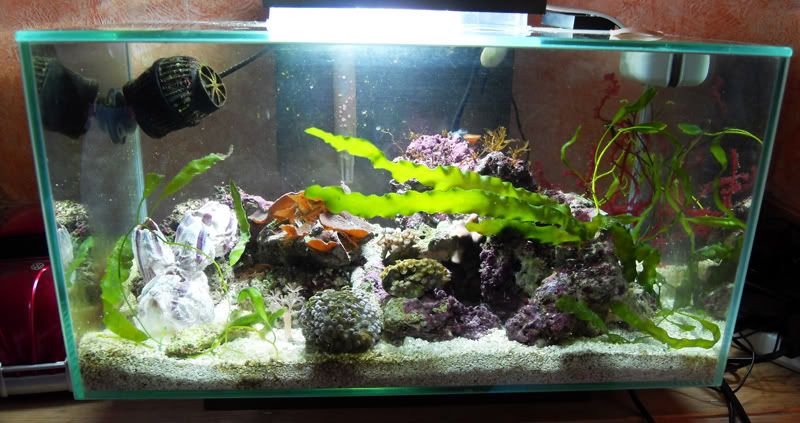 barnacle blenny
some pom pom crabs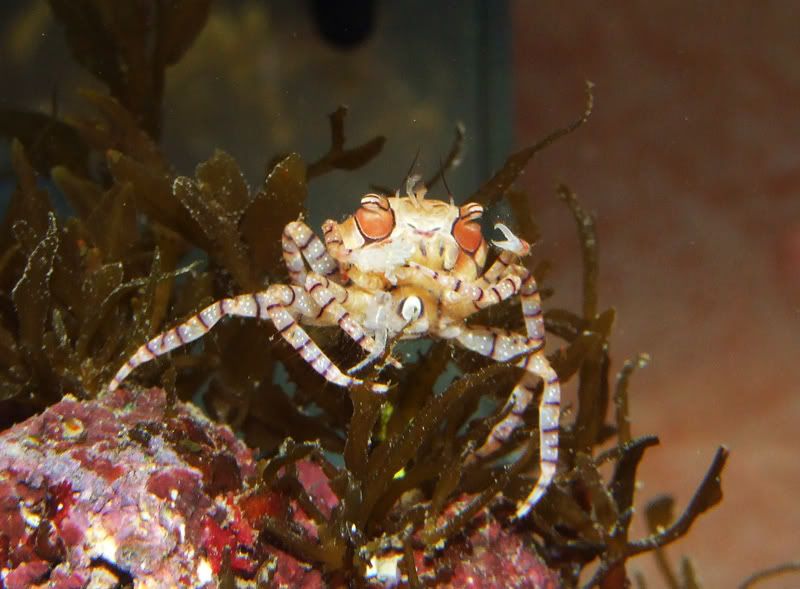 and one giagantic sexy shrimp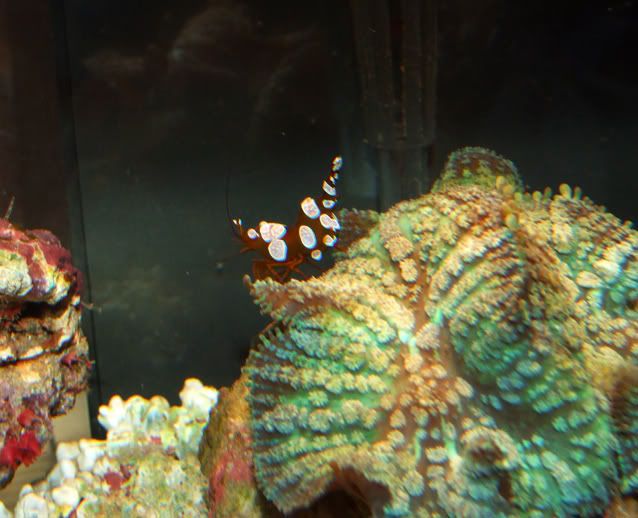 I then tried to keep mini maxi nems - successfully too - with sexy shrimp and anemone shrimp.
Now for the D-D 24 gal upgrade tank. Mid June this year.
I always said when I first got the nano that I'd not be going larger than that. A trip to an Aquarium down at Hastings made me realise how good my corals could look in a bigger tank so I decided to go large.
Enter the Osaka 155
I wanted to put the new tank in the same place as the od one so with the help of Roger (whipitup) I got a plan of action sorted out and off I went into the longest day of my life
I emptied the D-D and stored all the fish, corals and livestock in buckets and boxes and spare tanks with pumps and heaters and lights everywhere. It wasn't a pretty sight in my house and neither was I...hot and sweaty, how attractive.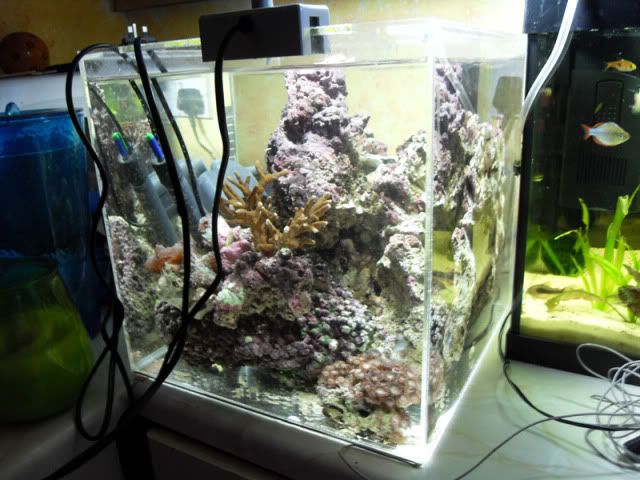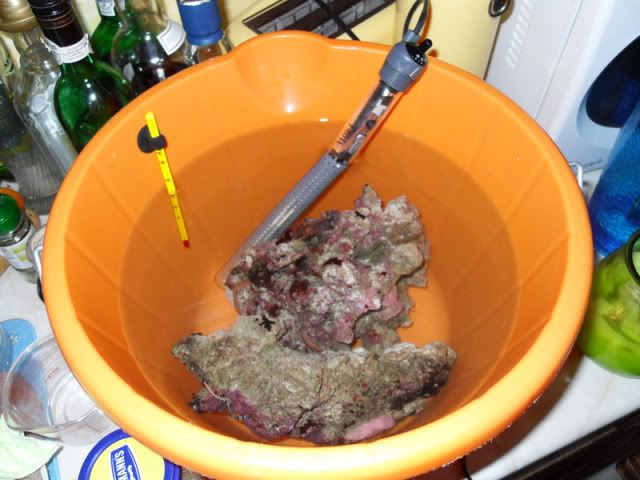 and finally, from this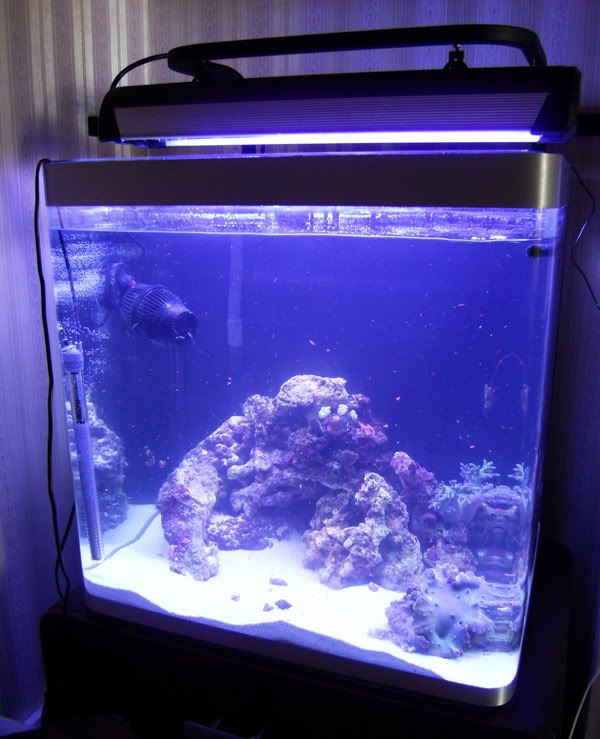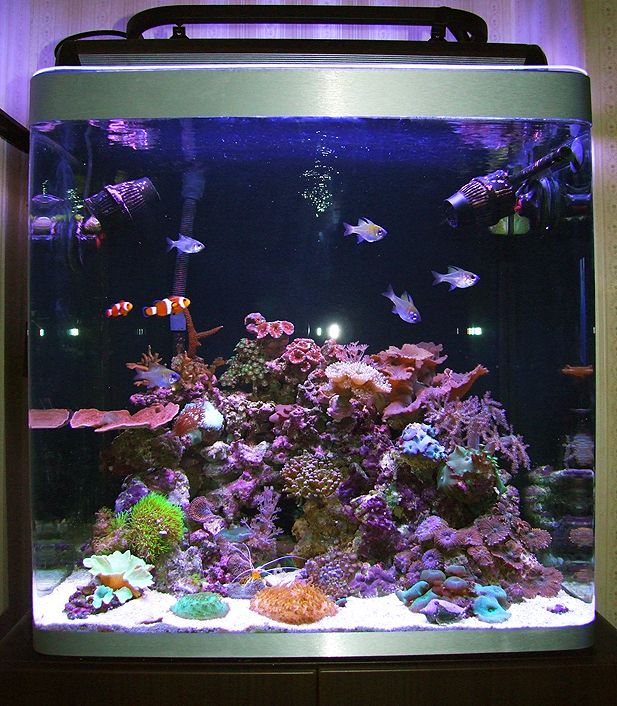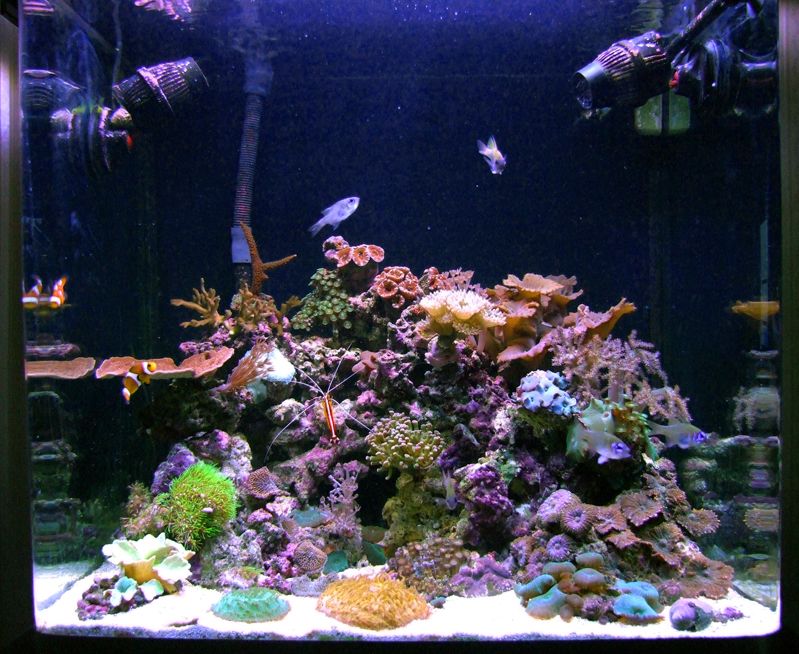 Livestock...
2 tank bred percs, 2 coral gobies, 2 watchman gobies, 1 high fin banded goby and pistol shrimp, 1 possum wrasse, 5 blue eyed cardinalfish.
1 big black and white brittle starfish (Big leggy) hitch hiker, a sand conch, a million small brittles, dwarf hermits, a concoction of snails, mythrax crab. Various zoas, mushies, kenya tree, xenia - elongata and red sea pulse, 2 plate corals, acans, torch/frogspawn, duncans, montipora - digi and plating, acropora, 2 types of gsp, 2 cabbages, rics and I think that's about it for now
A few pics of livestock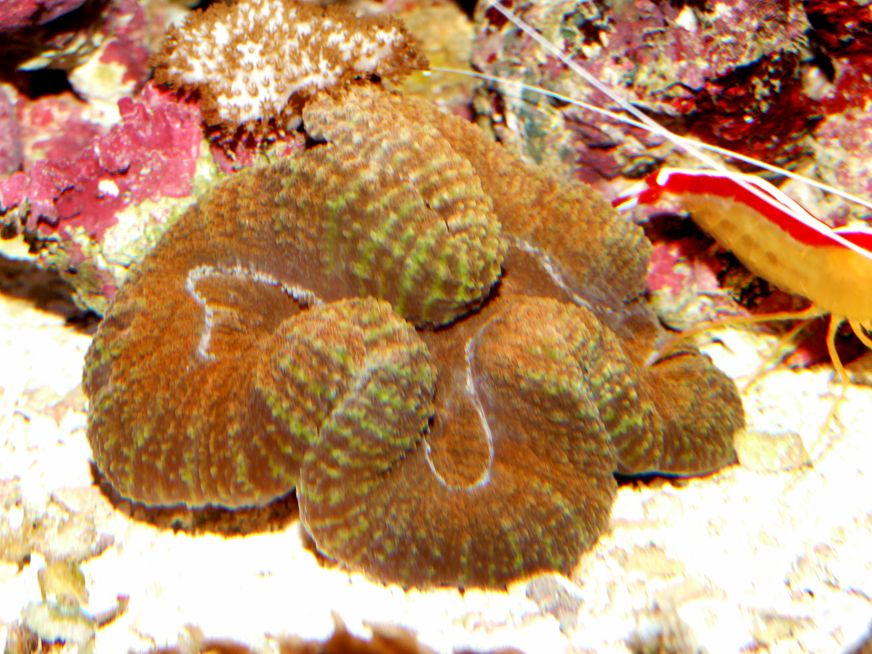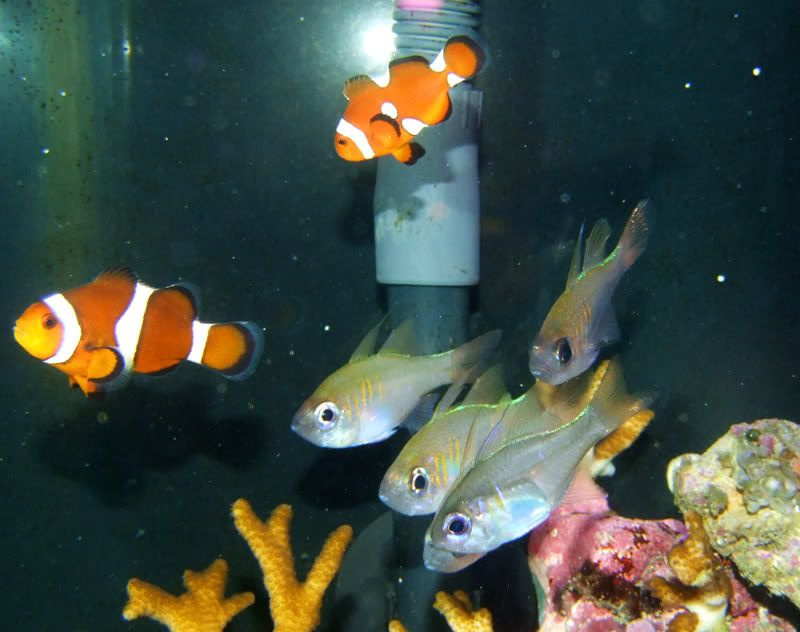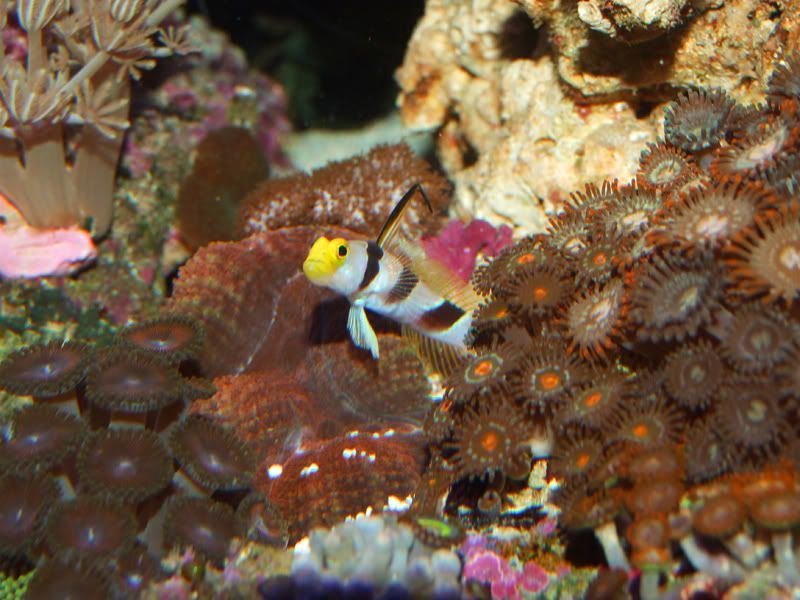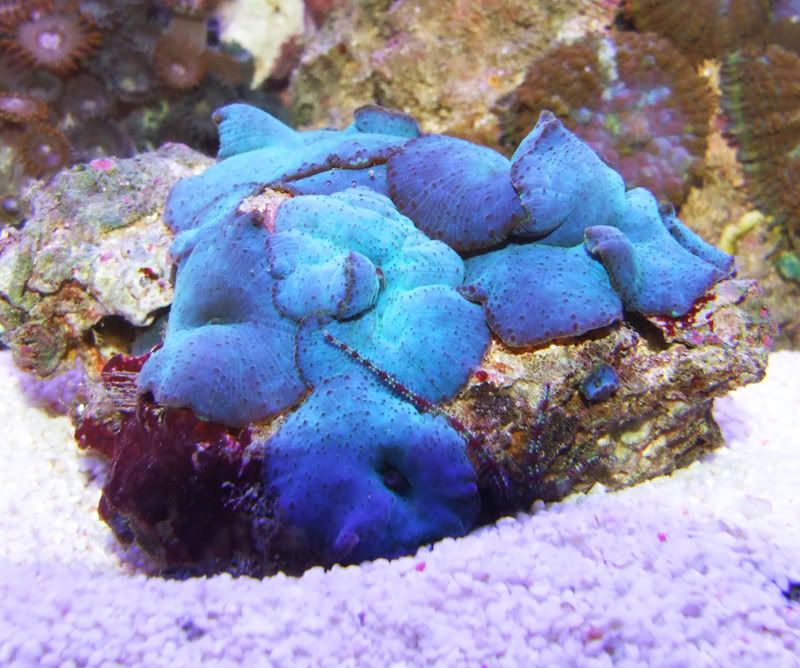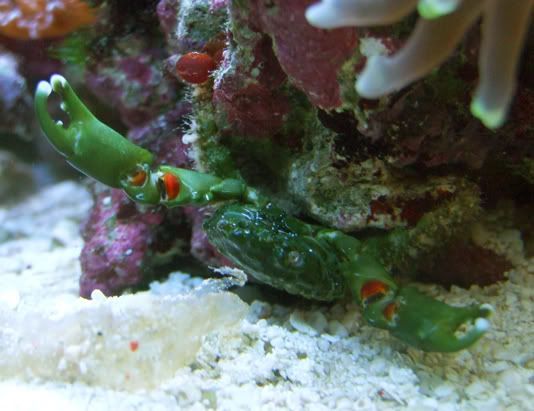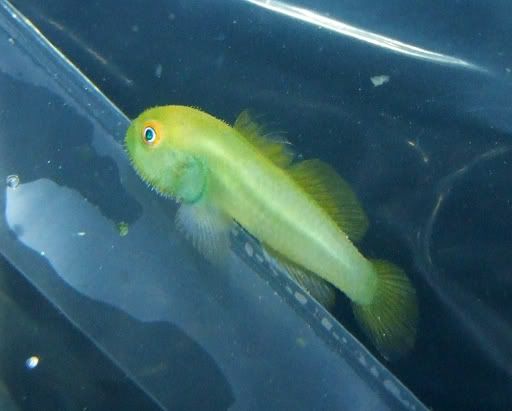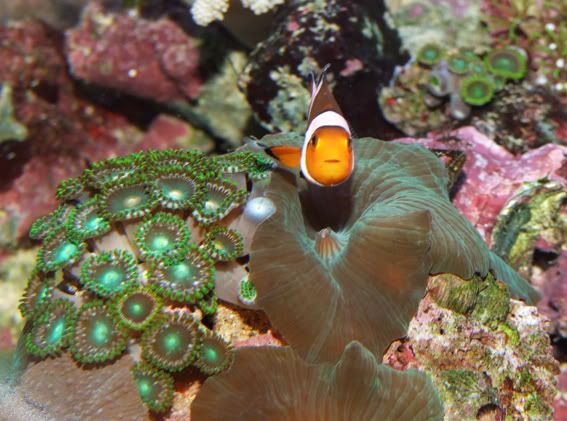 the candy cane (not yet fully open)
a gigantic 2.5-3 inch long citron goby - as yet to be named
A few more pics of the cardinals
tired?
I haven't managed to capture the deep blue in their eyes yet as they think they're getting fed whenever I go near the tank
Jacques the ever faithful cleaner shrimp
this green cabbage is actually growing after doing nothing for ages!
torch or frogspawn? The latter I think. It's now got 3 heads
my gsp loves the faster flow in the corner of the tank and I'm hoping both types will spread to cover the rock they are on
when cropping this photo I couldn't help but notice the cyano that appears to be growing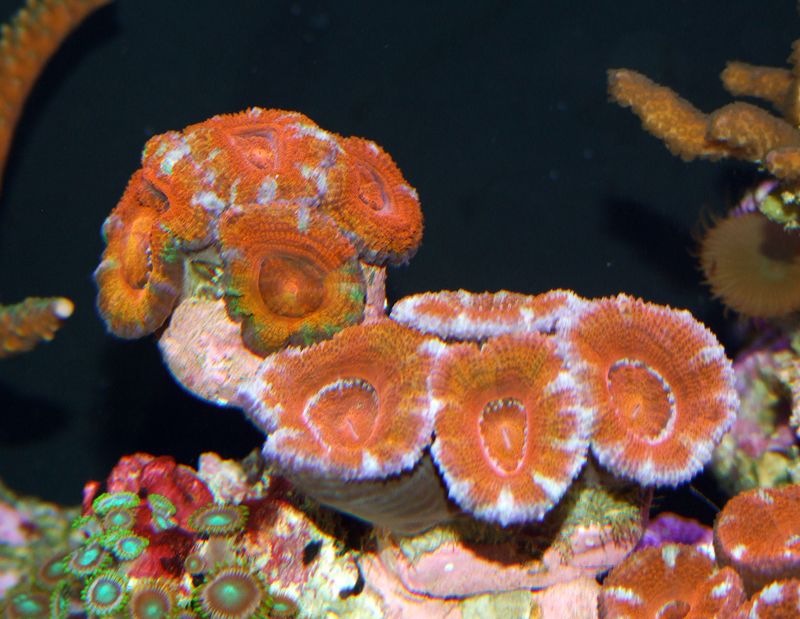 trying my macros with a new technique of balancing but it's not quite there yet as it hurts
a bizarre shot under the moonlights!
I need some different hues of acans now methinks
Love these mushies and zoas. Had them for ages now
I love this plate but capturing the true colour of dynarod orange is so hard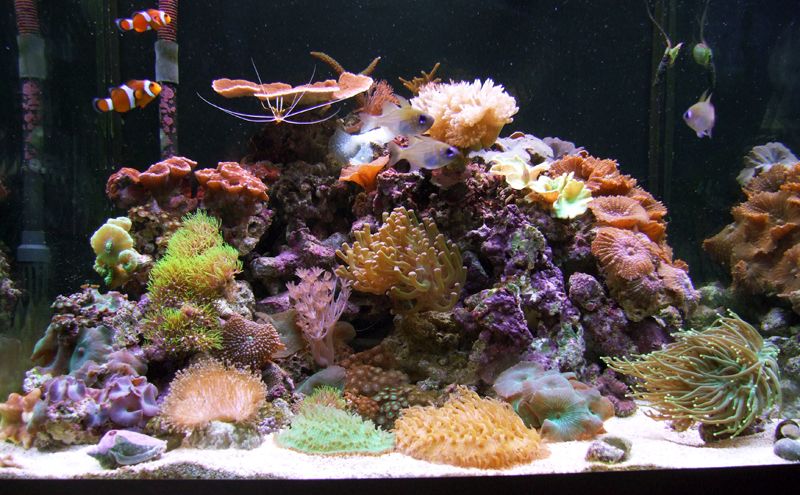 stupid conch!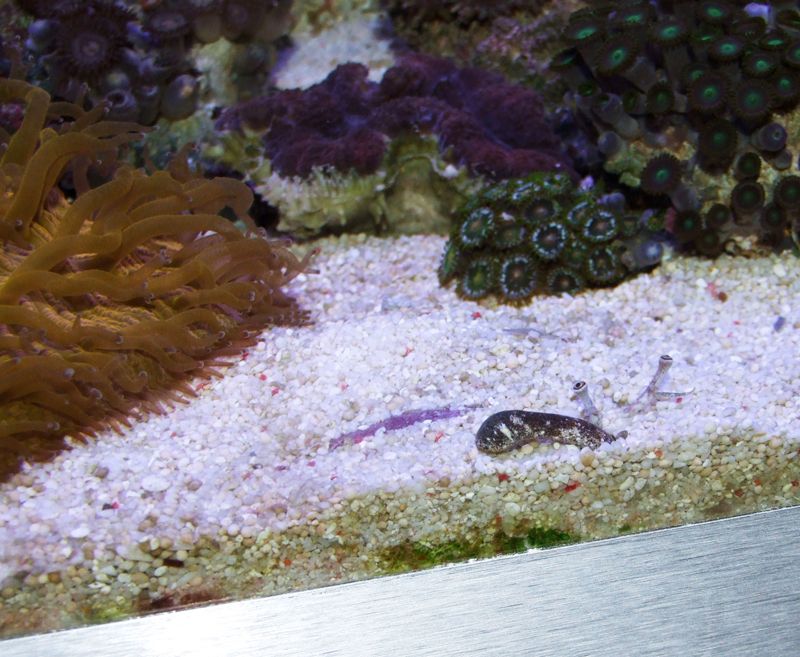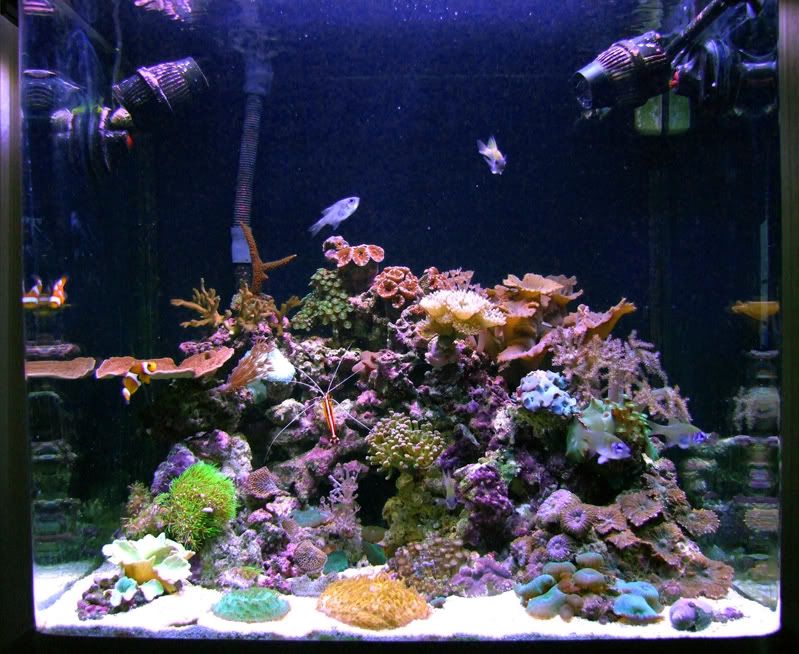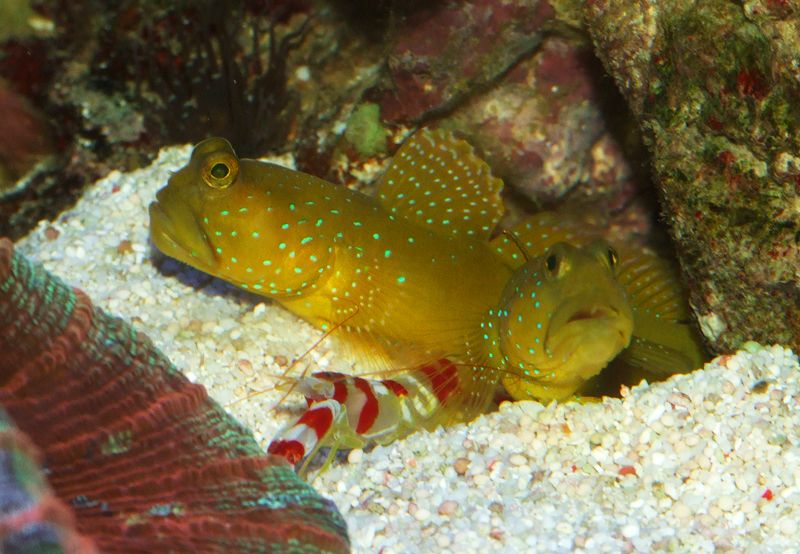 I ran the edge as a coldwater tank for a while with beadlet nems in. That was fun...they went from 5 to 40 in a matter of weeks
Then I shut it down and moved them to my AquaEl bowl
The mini maxis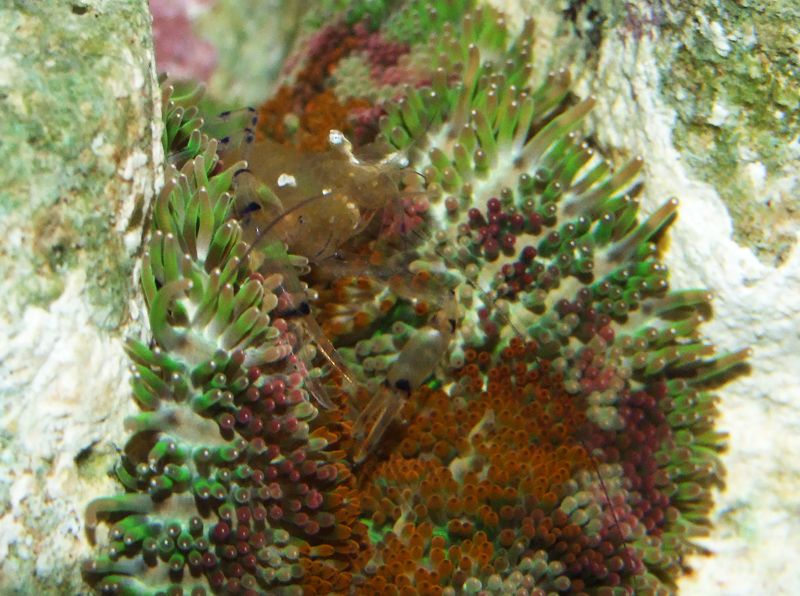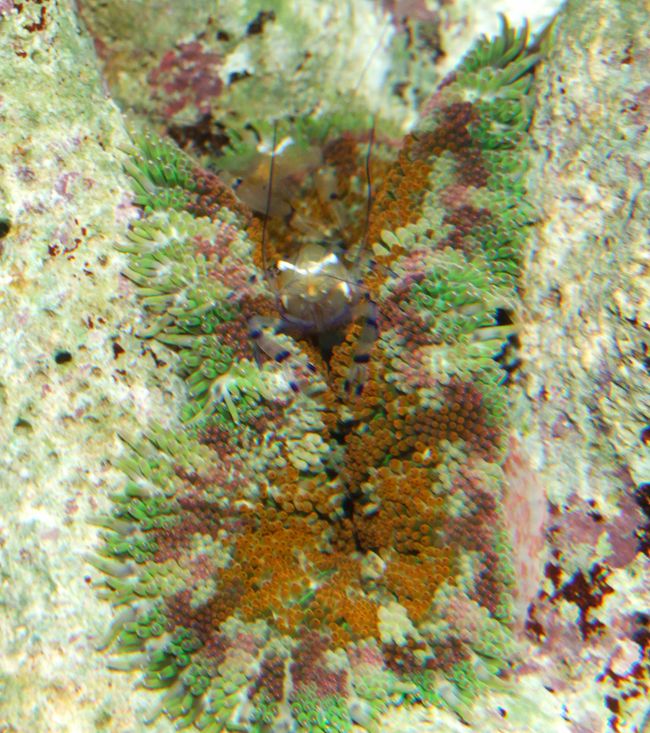 They now reside in a DD 12 gal nanocube and are huge
A few more tanks
My juwel vision 180
Aaanyhoo, you get the idea...I'm obsessed
You have some amazing tanks and fish. Thanks for sharing the pictures!
---
"I know you'd rather be sad than stupid. Genius by day, Junkie by night. By the grace of breeze, I never scraped a knee that didn't help me see bleeding isn't what it seems."
~Eyedea
Wow, I really enjoyed reading throught that and looking at all your pictures. You have some awesome looking tanks.
Thank you
I have to admit to being totally immersed in the hobby in alot of forms from fresh to brackish to marine, warm and coldwater.
wow beautiful!! i look forward to hearing more about your experiences...
---
Jumping Back into the Freshwater!!!
Posting Rules

You may not post new threads

You may not post replies

You may not post attachments

You may not edit your posts

---

HTML code is Off

---