Just an update.. been a while.

No new pics yet, nothings changed except for a new powerhead on the right side of the tank.

Bout 3 weeks into the cycle. Haven't added anything to help cycle other than the LR. Picking up some shrimp (raw) tonight.

Ammonia .15 ppm (ish)
Nitrites 0 ppm
Nitrates 25-30 ppm
Spec Grav 1.024
---
"Everyman dies, not every man truly lives." - William Wallace
Ok, so its been about 5 weeks now. Ammonia was just about to 0 if not zero. (difficult to read at times). Nitrites, and nitrates i havent tested for yet. Looking at the LR this morning, I noticed a light brown/tan tint to it. Am I right in assuming this could be my diatom bloom? Ill test the nitrites/ates tonight and post the results.
---
"Everyman dies, not every man truly lives." - William Wallace
---
Soo.. been way long since I have updated. Been busy. Anyways.. here's the update.. with pictures.
At the moment, water parameters:
Ammonia: 0 ppm
Nitrites: 0 ppm
Nitrates: 10-15 ppm
Hardness: 8dkh
Calcium: 400 ppm
Salinity : 1.022
Doing a water change tomorrow evening to bring down the nitrites. That high because my mom was taking tests, and was doing a simple mistake, so water we were using water with about 40 ppm =/
Problem solved now finally. Went out and bought an RO system.
Water Parameters of the water waiting to be changed:
Ammonia: 0 ppm
Nitrites: 0 ppm
Nitrates: 0 ppm
Hardness: 8 dkh
Calcium: 400 ppm
Salinity: 1.022
Pictures!!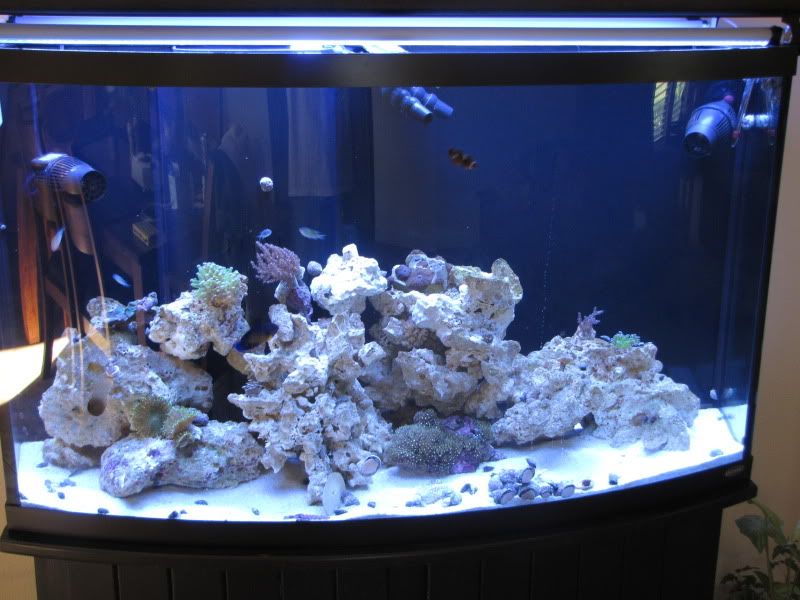 FTS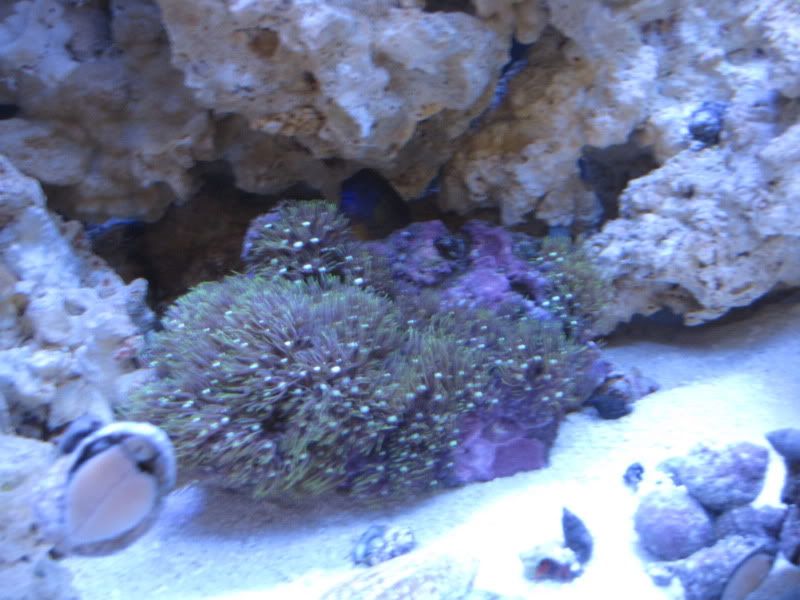 Hairy Mushroom
Kenya Tree
Whats the coral in the second pic?
Total livestock list:
(1) Coral Beauty
(1) Maroon Clown
(3) Chromis
(15) Scarlet Hermits
(50) Dwarf Red Tip Hermits
(20) Tubo Snails
(1) Frogspawn
(2) Kenya Tree
(1) Green Candy Cane
(3) Types of Mushrooms
(1) Unknown
Future Fish List:
Another Coral Beauty
Perhaps A yellow tang, and then a pair of wrasse of some kind, or some Royal Grammas.
Enjoy!
---
"Everyman dies, not every man truly lives." - William Wallace
The tank is looking nice. I always enjoy a tank at this phase. Every new coral and fish is something to look forward to! And the changes in the tank are so fast, it seems like you can actually watch the corals grow.

As always, a couple of things hit me when looking at the pictures. You've probably already thought of these things, but I'll throw them out there anyhow.

First, I'm not certain that adding another Coral Beauty Angel to that tank is a good idea. I've never tried this personally, so I can't speak to it, but my gut tells me this could be an issue.

Then, assuming you do get away with 2 CB Angels in the same tank, I wonder how the aggression is going to play out when you add the Tang. I have always found that Zebrasoma Tangs and Centropyge Angelfish have a difficult time together, probably because they are competitors in nature for the same food source.

I also notice a lack of coraline algae growth, which is a bit unusual for a tank at this stage in its evolution. This is probably a direct result of the 8dkh alkalinity and 400ppm calcium readings. I would typically add a buffer and a calcium chloride supplement to my tank at this point. Generally, for best coraline growth, you would want to keep these reading on the higher end of the recommended range. Coraline growth is important because it inhibits the growth of cynobacteria and problem algaes, and provides the ideal conditions for corals to spread.
Yeah, just like you said, everything is new, and still something awesome to look forward too.

And funny you mention it, the fish I threw out were just ideas. Started looking into last night, doing my research before making bad decisions. =)

And the issue of the two CB's came up in what I read. The tang issue however, hadn't discovered yet. Will look into that some more, most likely will change it up some.

I was hoping you or someone else would let me know with the calcium situation. I started looking up some readings on the relationship with Alkalinity, ph and calcium, but that was last night when I had 80 pages for Engineering Materials to read. I'll stick with the buffers you recommended in the thread about my clown.
---
"Everyman dies, not every man truly lives." - William Wallace
Love the look of it, keep posting pictures, the live rock that starts with a "T" is it Tonga?
love the front window of the tank
More was added to the family two nights ago =)

3 fish and 4 coral. At college atm. Pics later tonight or tomorrow.

Fish:
(1) Christmas Wrasse
(1) Hi-Fin Red Banded Goby
(1) Unknown Wrasse (its a red to blue fade, head is a bright redish, and the tail is blue) --> will need ID with pic.

Coral:
(1) Neon Green Disk coral
(2) Candy Cane (green center, blue outside)
(1) Mushroom
And a rock with some Colony polyps of some kind, also a coral that looks like a tree branch when contracted, will need ID too

Question right quick, should I target feed the disk coral? or is it ok?
---
"Everyman dies, not every man truly lives." - William Wallace
Posting Rules

You may not post new threads

You may not post replies

You may not post attachments

You may not edit your posts

---

HTML code is Off

---