wow sexy tank, cool thread too! any thoughts on fish yet?
Here's a list of some possible fish for now:

-Ocellaris Clownfish
-Firefish
-Some Kind of Blenny or Goby
-Maybe Some Kind of Wrasse
- Chromis or Damsel

I'm not saying all of these in the tank, but thats a list of options. Anyone suggest avoiding certain combos of these fish? or a specific species of these in general? Also, about how many fish could I fit in the tank? Is somewhere around 5-6 the right number?

As for the CUC and other corals, not sure yet, still looking into those.
---
"Everyman dies, not every man truly lives." - William Wallace
I say 5-6 is a good number! I am going with about 4 in my tank and its 45 gallons. Damsels can be territorial (from what I have heard). I was persuaded into getting a yellow watchman goby along with a pistol shrimp. The relationship they have is really cool, and it looks like it will be interesting to watch. Clownfish are great and have lots of personality. Someone else on here has a nice looking wrasse. You could also check out a royal gramma; I love their color. Persoally, if I had a 90 gallon I would get a yellow Tang..... I hate that my tank is to small for one! You have a lot of options.
wrasse and firefish like to jump so be sure to have a canopy or cover.i dont suggest a glass lid as it reduces light penetration and gas exchange.
i would personally skip the damsel completely, and if going with a royal gramma make it one of the last additions. same thing with any of the tangs.

a CUC is VERY important and should be in the tank prior to fish. after your diatom bloom is a good time to start slowly adding a few different vierities of snails and as your tank grows and matures increase the number of snails.

there is no "right number" of fish when it comes to a saltwater tank. personally i strongly believe in understocked tanks then overstocked ones. it is also a good idea to make a list of ALL the fish you would like to then shrink that list down to something more reasonable. this way you can plan what fish gets added first, who gets added at the same time with something else, whos getting added last and so forth.
Yeah, decided no on the damsels. They are cool, but I may do one or two in a nano tank down the road.
Still unsure on the fish other than 1 or two clowns, my dad is liking the green chromis a lot, so a few of those maybe.. picture time!
First one is of the tank with the newly stacked LR. Plan on getting more to stack the one on the left higher. Also got scrubbed some for the curing proccess.
Is that green algae? or just part of the LR?
LR close up, showing some of the colors and the caves/wholes to hide in.
Water parameters:
76-78 degrees
Specific Gravity: 1.0215
Ammonia: 0
Nitrite: 0
Nitrate: 0
---
"Everyman dies, not every man truly lives." - William Wallace
---
Last edited by Arkamaic; 06-26-2009 at

12:41 AM

.
Just some water param updates and a question...

Spec Grav - 1.022
Ammonia - 0
Nitrites - 0
Nitrates 25-30ppm

My question: Why am I getting a nitrate reading before I have gotten any nitrite or ammonia reading? Is this normal? Also, I am curing my LR in the tank if thats any help.

Thanks!
---
"Everyman dies, not every man truly lives." - William Wallace
I am getting some small spots like that on the base rock I put in my tank. I think my live rock is starting to spread, or some algae is starting to show :)
Here's some new pics after getting about another 15 lbs of LR. Also got a snail in this batch
Not sure what kind, but yeah.. got a black shell about 1/2" long, about 1/4" across, not coned shape.. get a better pic when hes not trying to hide.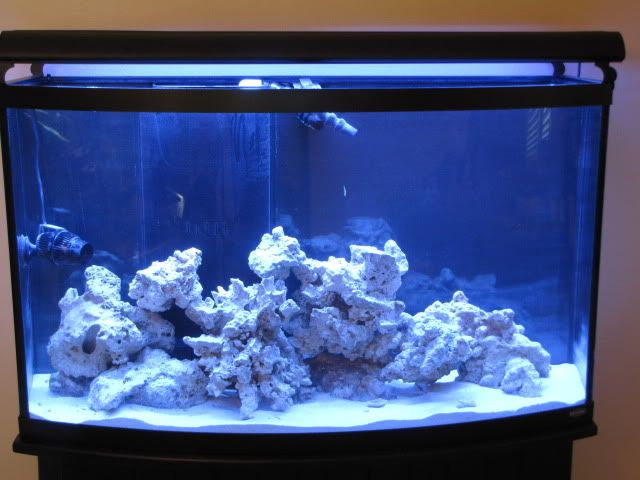 And a pic of the snail,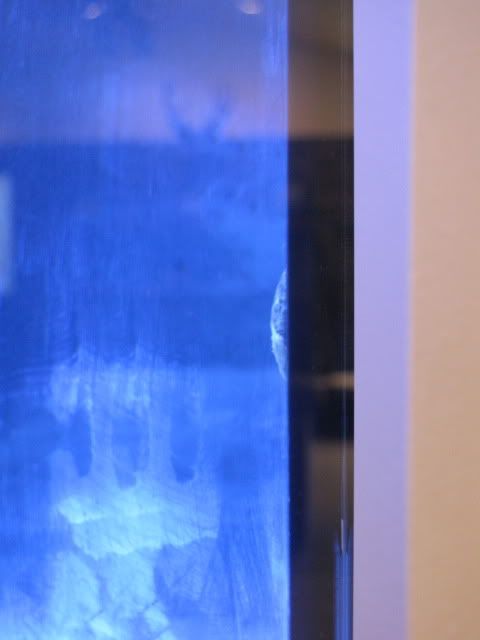 ---
"Everyman dies, not every man truly lives." - William Wallace
one snail is far from enough for this tank. after seeing a diatom bloom is when i suggest adding a few different kinds of snails and as your tank matures, increase these numbers.

your going to want another hydor for the other side of the tank. two #3s or #4s would prob. be great. i also personally take the flow director off the tip of them too, for a wider flow. really it comes down to having little to no dead spots without creating a sandstorm.
Yeah, I like him tho haha... hes a trooper. I'm waiting for that to come around. I'm thinking about 25 or 30 ish?? or should i get more than that?

And another? ok, ill look into it, and hmm never thot of that, ill take this one off, see what its like. Thanks!
---
"Everyman dies, not every man truly lives." - William Wallace
Posting Rules

You may not post new threads

You may not post replies

You may not post attachments

You may not edit your posts

---

HTML code is Off

---