I found baby vids. =) Those are hard to find...but I found a bunch today. Look how dark Cooper was as a baby! Teeny tiny too. And he was a brat. lol I just...couldn't bring myself to be firm with him, but I did get there, had to. He doesn't bite anymore. Just took a firm voice, not my "OH YOU SO CUTE" voice, and some scruffing with the occasional time-out. xD
https://www.youtube.com/watch?v=xdN3ELby7CQ
---


Turning on the Aquarium lamp in the morning is MY cup of coffee.
Got some new video today. We got a fountain for the cats to drink from but they have no interest! The ferrets, however, seem to like it just fine. They do make a mess though, we need a mat for it. lol They love to dunk their whole head in there and swish around and then shake off. I missed a good shot earlier, Ren was sucking on Cooper's ear while he got a drink and they were giving each other kisses. I have heard of ferrets who do that, but that was the first time I've seen them do it, it's quite cute. lol
https://www.youtube.com/watch?v=N0ewcKjQZ3c
---


Turning on the Aquarium lamp in the morning is MY cup of coffee.
Finally got a photo of Cooper giving me attitude. Unfortunately it was out of focus. T_T He wanted up on my desk to steal things, but I wouldn't let him. After about an hour he gave in and sat down to stare at me, as he always does...and waited for me to look. When I do look at him he opens his mouth like he's going to yawn and licks his chops and then looks away. I call it his "Tantrum" when he does it. Too funny. :3
It may be out of focus, but you can see what I mean. xD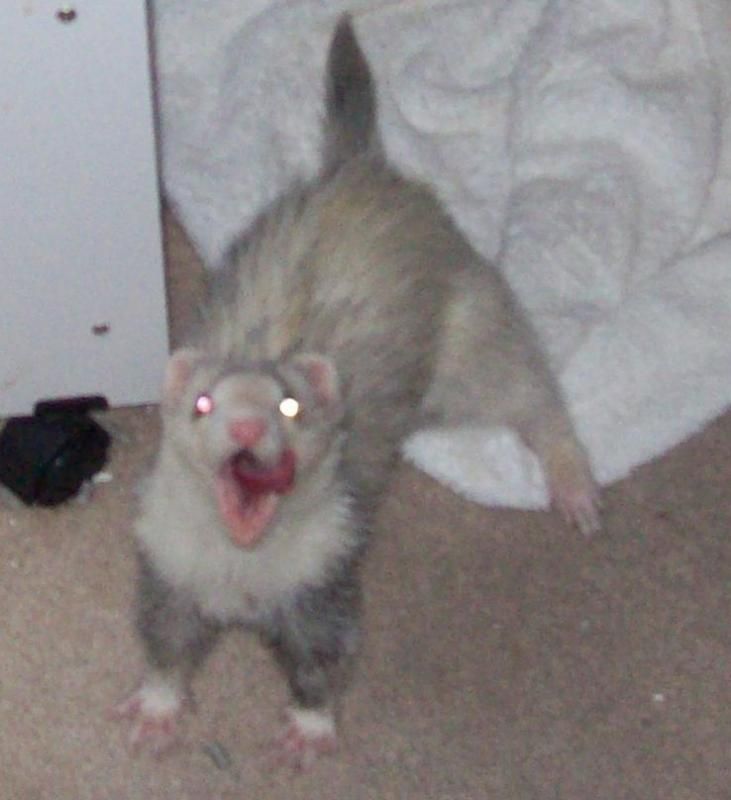 ---


Turning on the Aquarium lamp in the morning is MY cup of coffee.
You need to read these, major books Richard Bach
---
Sylverclaws, I think you would love to read Richard Bach's books, he is a major author in the US with 70 million at least books sold. He writes about his planes, his flying, his philosophies, and is very funny and earth-shattering in his works. I have been a fan of his since his very first book many, many years ago. However, he also writes hysterical books about ferrets, you have got to read them. They are novels about ferrets acting like people doing things that forward-thinking ferrets would do. See attached images on his books, most are available at libraries and thrift shops.

I just ordered one -- Illusions II -- which you need to have read Illusions first, before you read this one. I can't go thru life without thinking of what he espouses, and it sticks with you as you wander through the day's activities. These say Audiobooks, but you can usually find them & books at the library and in stores.
---
30G, 20G, 20G & 10G Community tanks of Mollies: Silver,
Sailfin, Dalmatian, Lyretail, Gold Dust, Harlequin, Black
10G Teenage Mollies, some becoming males now ~8 mo.
10G Teenage Mollies, ~8 mo. & Gold Dust Sailfin BB male
20G Teenage Mollies, ~2-7 mo. mixed
10G tank for QT, & 5G mommy tank
10G new Baby Mollies ~appx. 2 wks-1 month ~150 fry
20G Corys 80 various sizes Adults 2F, 2M (& cory fry)
Snails 30+ (not Ramshorn, not Nerite)
Super Cooper never stops trying to be cute. lol This photo, I just found, is of him last year. You can see his rat-tail that he had, we thought Adrenal Disease and took him to the vet. That's all back now, wasn't adrenal. In fact I'm positive it was the ferretvite and possibly the diet)8in1 went from pretty good to le'suck). Changed them to a partial raw diet, switched food nice and slow, removed ferretvite from their treat system...added in some duk soup, and it grew back quick, lush and soft. Though it is blonde now...blonde on his black and grey bum looks odd. lol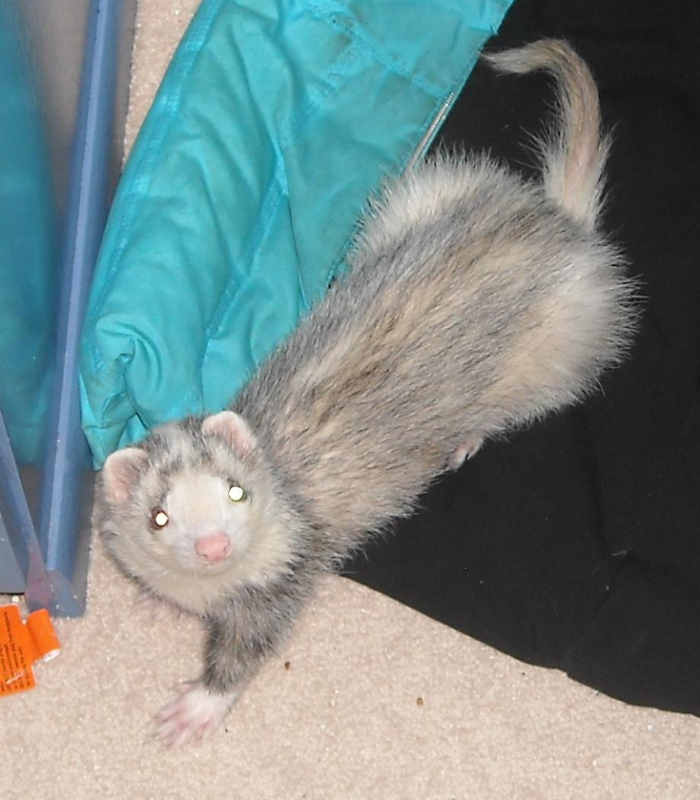 Mmm, eggs. Keeps down hairballs, they get one egg a week. Two during the molting seasons. Usually just the yolk which is the best part for them. Also helps keep their skin and coats healthy and has a healthy dose of protein! :3 Sometimes I make my own version of Duk Soup for them which is the egg, a tablespoon of hot water, large pinch(maybe a teaspoon or half of one) of Uncle Jim's Dry Duk Soup Mix, a quick squirt of ferretone...that alone or I add in chopped up raw chicken for them. Yum. This was taken last Friday.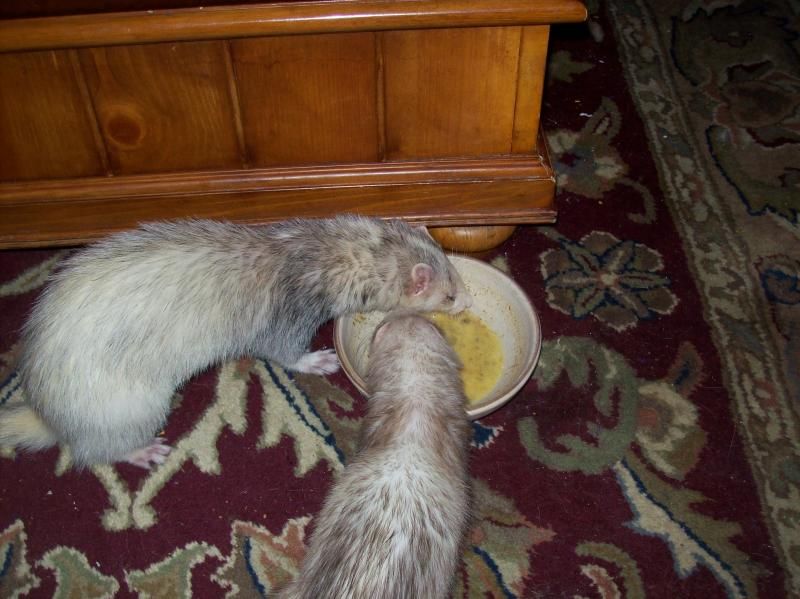 Sometimes Cooper gets it on his chin and tries to lick it off. You can see how well THAT turns out. Haha. Don't worry, I wipe them down after. :3 If I don't they use the nearest cat, dog, person or rug...Yes, see Coopers lovely, fluffy tail. It's not as blonde as it was before, it's going to white. During Winter he usually gets a white ring around his butt. xD That doesn't happen now though, it's too much white to be a ring. He used to be SO dark in color! This is their Summer coat, by the way. Cooper usually gets in sorta a black bolero(jacket, whatever, vest...ma calls it a bolero) during the summer, but I don't think it's coming this year. He's gotten lighter every year, Ren has gotten darker.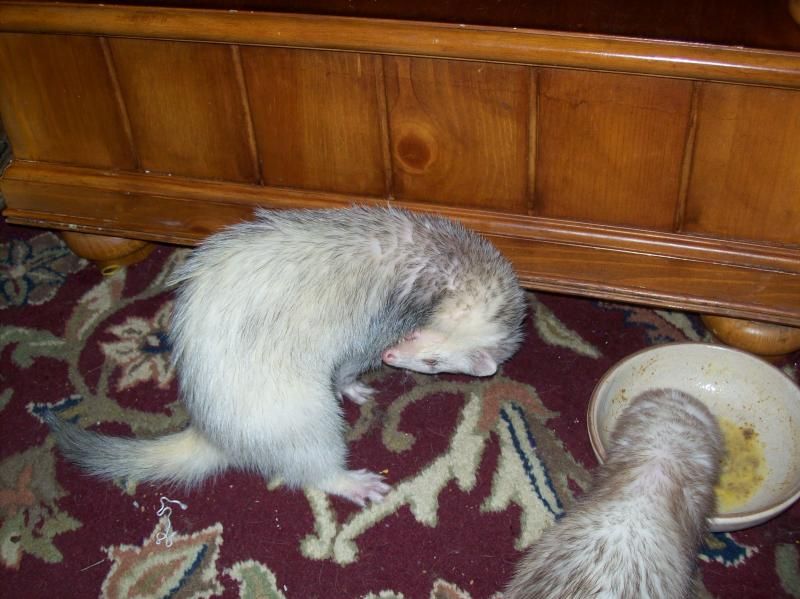 Ren was trying to slowly sneak over to Alanna and lay down with her. She likes to be near them, but she doesn't like to be smacked. The cats don't hurt them, but the ferrets know claws are supposed to be there and are jumpy about it(Benni used to be a butt, he learned the hard way that if he bullies them they bully back double time...and he's not such a jerk anymore but they remember). Alanna has never done anything mean to them though(aside from kicking them out of her bed, though Cooper usually kicks her out). The cats often slap them for getting too nosy or close. They never hurt them though.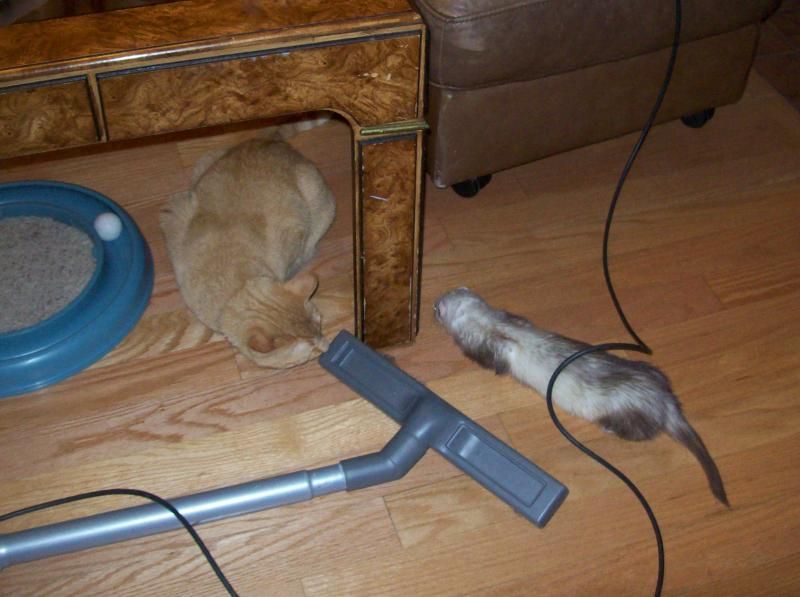 Speaking of being smacked, my other cat was beating up Alanna the other day(he bullies her, doesn't hurt her. He just makes everyone else angry with him, her and the weasels included. She's just a noisy female and doesn't like him anywhere near,which is typical of female cats. He is used to cats cuddling and playing and keeeeps on trying anyways), Cooper heard it and BLASTED over and bit Benni on his fat butt. Well, his back leg, and then ran him up the stairs and came back to check on Alanna. Made a big mess too, knocked over his box of toys shooting out the way he did. I never expected that from the bullying, but cowardly and sweet Cooper. Benni was not harmed, Cooper just bullied him up the stairs. lol But he did bite him, I had to give him a good looking over, he's never bitten anyone like that before so I was worried, they can break bones with them jaws. He was unharmed, didn't even lose fur.
And no, he didn't have peanut butter, I don't let him have it. But he still tries. He smells it and he's after you, you better sit on a table somewhere. Always makes him hiccup which is funny, but yeah, too much sugar. Don't want him getting insulinoma so I've cut sweets completely out of their diets forever ago. This is just him giving me attitude because I wouldn't let him on my desk to steal my fish net and turkey baster! :3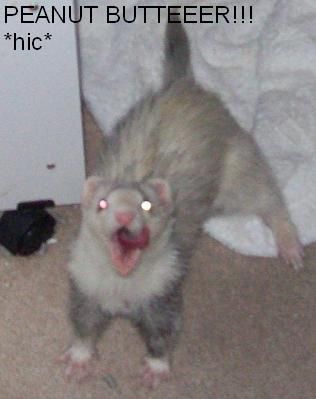 ---


Turning on the Aquarium lamp in the morning is MY cup of coffee.
---
Last edited by Sylverclaws; 06-15-2014 at

10:11 PM

.
In case you guys are noticing I seem to have more photos of Cooper than I do of Ren, you'd be right. He loves his photo to be taken, she only does on rare occasions and if I miss it, too bad.
This has to be one of the cutest photos I've ever gotten of Cooper. :3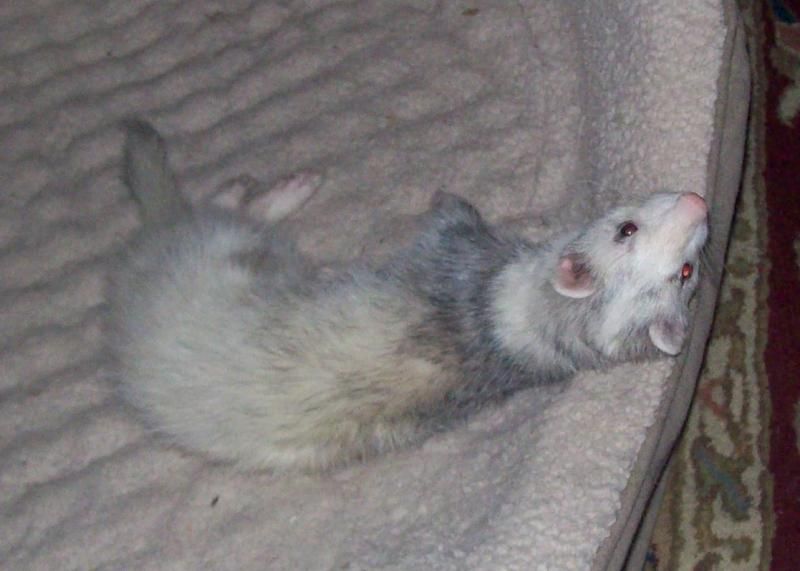 And I got a shot of them eating their meat. Chicken gizzards and hearts are their absolute favorite. They like eggs too, but that's just a treat. They get what they love 1-2 times per day. Ren was chewing on a real tough bit apparently. She chewed it for so long she actually started falling asleep until ma laughed at her. She woke up, swallowed and then cleaned her plate. I gave them some more because they ate all of it in about two minutes and licked the bowl clean. I gave them a good amount too, I guess they were just a bit extra hungry today. I can give more with my ferrets, they wont over-eat. So, they climbed on me and begged and I got them more. They ate half and saved the rest for later like good babies. :3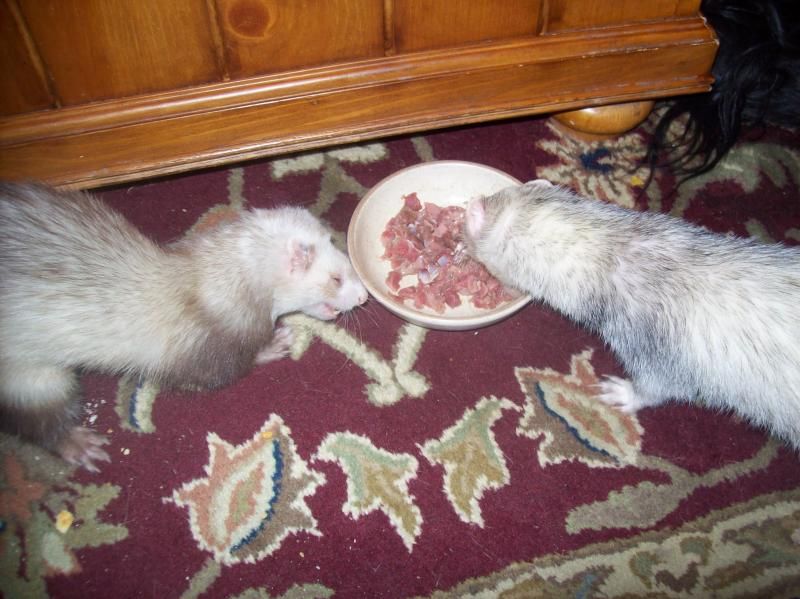 And of course my little bear. He's so cute, it looks like he's a sulking teddy bear. lol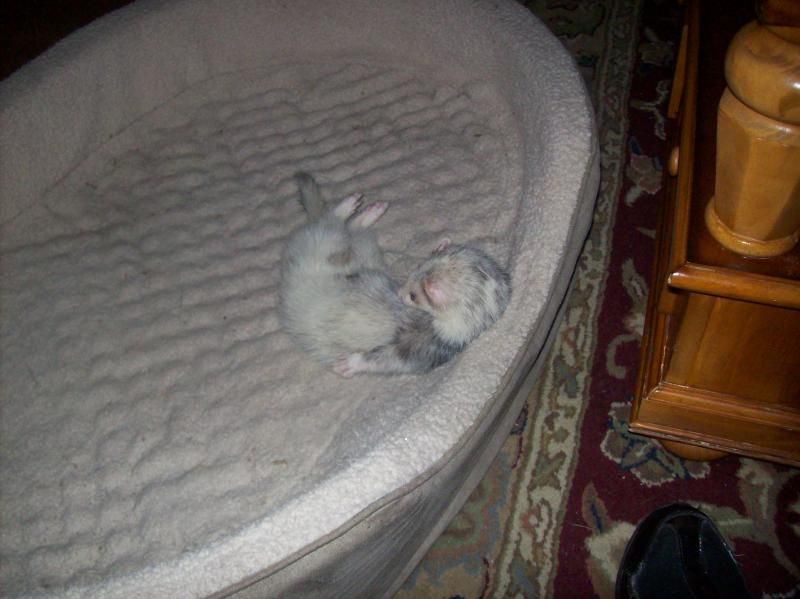 ---


Turning on the Aquarium lamp in the morning is MY cup of coffee.
---
Last edited by Sylverclaws; 06-21-2014 at

12:48 AM

.
I did a Duk Soup video. Unfortunately Ren was in a "Dead Sleep" which she's only done maybe twice since I got her. She was so comfy, I tried to gentle her awake but it didn't happen.
Anyways, Duk Soup and Cooper's delight!
https://www.youtube.com/watch?v=yCyPpjjHsjI
And this is from last night...Cooper trying to get into our new chairs. Our other ones they could get under and climb in, these are all the way on the floor. Unfortunately Ren found a way in under the cushions, took and hour to get the brat out. Cooper got in last night and it took about five minutes because I had peanut butter. >_> There are staples in there, I didn't want him in there to be hurt or mushed. I almost sat on him! I started to sit and heard him thump in there, barely caught my fat bum before I squished him. He didn't get much peanut butter though, I don't like them having ANY sugar. x.x
Might still be brightening up. lol Give it half an hour or so.
https://www.youtube.com/watch?v=o66IgnsmsXY
---


Turning on the Aquarium lamp in the morning is MY cup of coffee.
---


Turning on the Aquarium lamp in the morning is MY cup of coffee.
Took the flufferbutts to the basement with me today. They don't get to go down there because it doubles as a workshop and laundry and whatnot, but in one of the rooms down there it's all cleared out but my fish pool. The fish pool is a 73 gallon kiddie pool I turned into a tank to raise my fish and critters in. Currently have a bunch of livebearers(for those who don't know: mollies, swordtails, endlers, platies and guppies, most are still fry/babies), and some bristlenose plecos as well as some blue marbled crayfish. My ferrets love to watch them in my upstairs tanks, which are actually tanks....anywho, I carried them down, closed the door and let them loose. They were so excited about it, they held still all the way and then went absolutely berserk when I let them go. They flew around and bounced and hopped and played. lol Too funny. They get out a lot and have most of the house to run about in, but they loooove trying to get downstairs where they aren't allowed, so when I took them they were lost. But they seemed oh so hopeful. xD In the end they went to check out the fish. They get these adorable looks on their faces while watching, they never go for them though, but sometimes the fish will nibble their whiskers and the ferrets get a real kick out of that and get all excited, bounce around and then come back to lean over again. Ren found the bubbler and kept sticking her face in and going nuts. Unfortunately I can't find my camera, I'd love to get that on tape.
Can't remember if I updated the newer photos or not of Ren having an oatmeal soak. That was funny, she got right in and chilled out. Got some others too: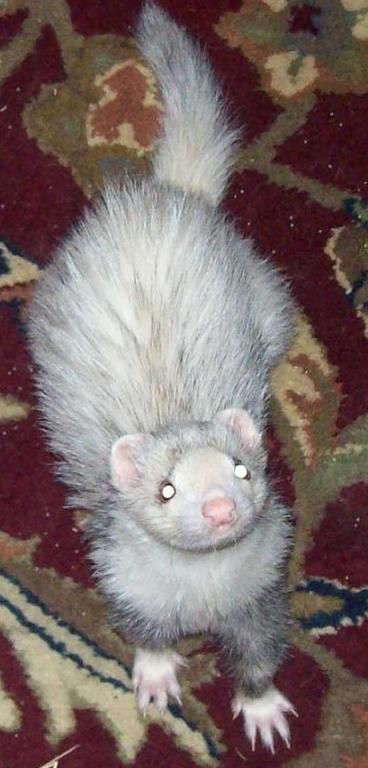 Mm, ferret omelette. Chicken thigh, gizzards and an egg yolk.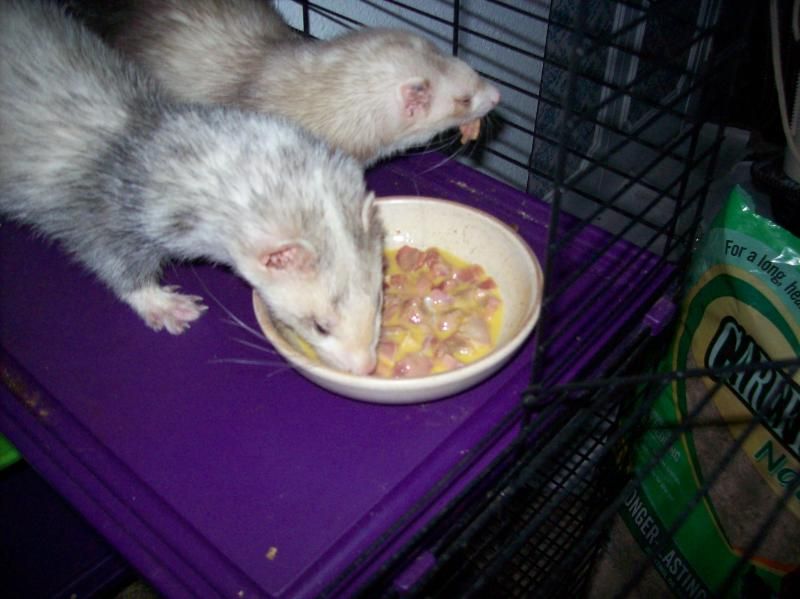 Got their nails clipped. :3 Ferretone on the belly, lean them somewhere comfy and clip!
There's an oldie, Dark Cooper before he turned silver and grey.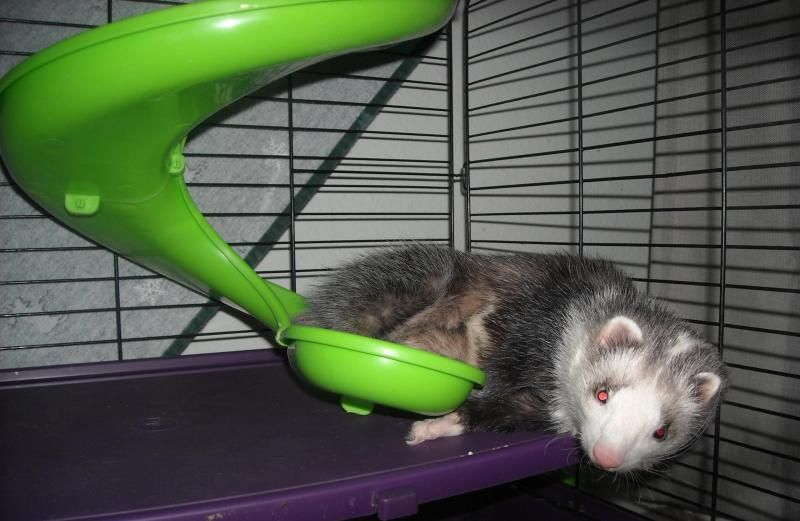 Ren soaking away.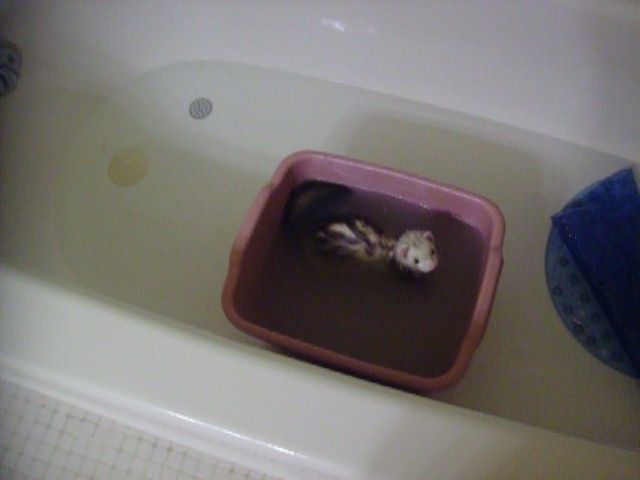 And then climbing into the towel cupboard to dry off. Yes, she's in an odd position trying to dry her head and neck at the same time. lol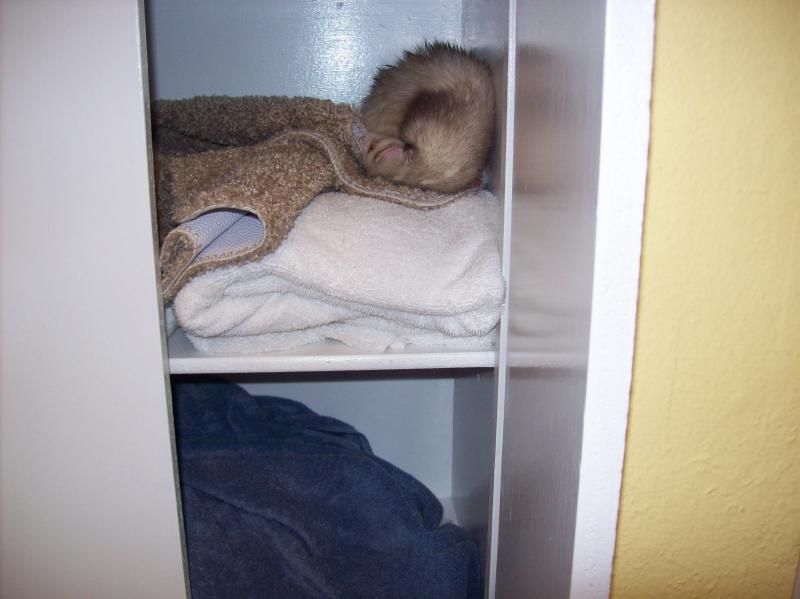 And then she got cute, unfortunately the camera kinda went...strange, it took the photo, in an odd color, and then died. I'm glad it got the photo though! That's an adorable photo of her.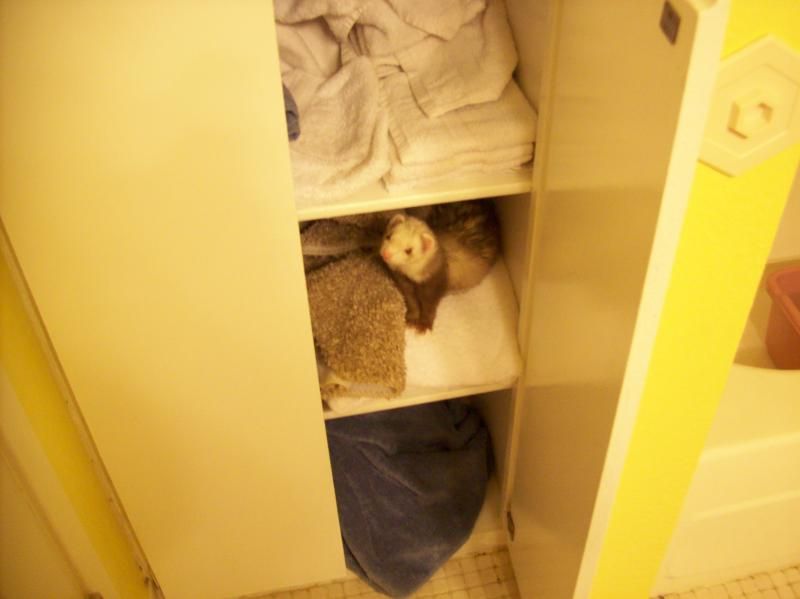 Now for videos if the comp doesn't crash first...
First, pet shop. This is Ren and some bird. Unfortunately I didn't get the part after all the attitude when the bird offered her a treat. Either to make friends...or to draw her in for a bite, who knows? I was standing there talking to a lady and her grand son about ferrets and looked over to see this bird just trying so hard to get her!
https://www.youtube.com/watch?v=RYBsHr_pirQ
And Cooper's walk. He was doing his best to keep up with the dog and my little cousin...who ran off, and there was just no way he could keep up, so he gave and went for the nearest faster transportation! When that didn't work, he waited until I picked him up, as usual. He's a good boy, bet you didn't know they could move so fast. I had trouble keeping up or he'd have been faster. xD
https://www.youtube.com/watch?v=rZ_bqfvmfAM
---


Turning on the Aquarium lamp in the morning is MY cup of coffee.
---
Last edited by Sylverclaws; 09-10-2014 at

02:31 PM

.
This is how my mornings go with the ferrets. They destroy the place, have some fun, get into things, and then play with me. And since it's a nice cold day, I've made them some chicken with a raw egg in it, warmed it up a bit but not enough to cook anything since they HATE it even a little cooked, and when they're done, we're gonna go curl up under a blanket with the cat, a heating pad, and a good book. Industrial Magic. <3 Love those Otherworld Books.
https://www.youtube.com/watch?v=-JoaIM5jPR4
---


Turning on the Aquarium lamp in the morning is MY cup of coffee.
Posting Rules

You may not post new threads

You may not post replies

You may not post attachments

You may not edit your posts

---

HTML code is Off

---