*cries* It was so pretty while it lasted - even without any lily flowers! A fun experiment, for sure! Looking forward to next year!
subscribing,so i can see the wake up next year.
---
when you set up a new tank,hide an extra
sponge or two behind some decor,that way you have
something seeded for you next filter.
Well today was the day I said farewell to the tub for the winter. Oh my word there were so many roots down in there. My iris roots were probably about as long as the plant was tall!
I'm going to try an experiment. Both the dwarf (HA not anymore) water lettuce and the lily are going in the pond. I have no worries whether or not the lily will survive as it's a hardy temperate variety, but I am worried about it getting enough sun. Hopefully this year will have given the plant a nice head start and it'll be able to power through. Plus, the pond gets a ton of sun in the spring. I am curious to see if the water lettuce will survive through the winter. If not, I'll just grow out some more in my tub next year and put it in the pond.
And now for pictures.
This is where they are located to give you an indication of the size of the plants.
These are the water lettuce plants. They started out as dwarf...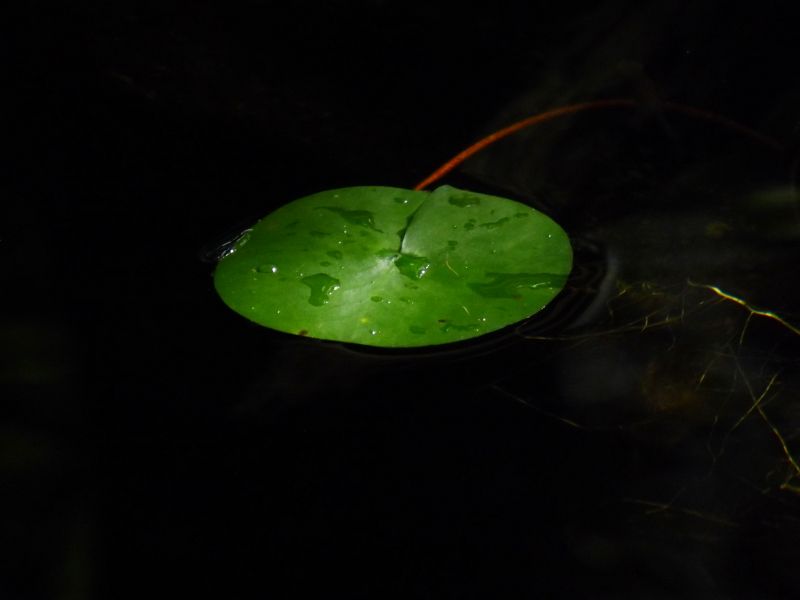 Just a neat picture of the last good leaf on my lily. It'll be gone soon. The pond is dropping to just above 60F.
If the dwarf water lettuce dies off on you over the winter I can send you more next year if you want it. I always have plenty. You'll have to keep supplying your own steroids for it though.
Haha! The frogbit and DWL you gave me back in the spring is still going strong in my tanks. Oddly enough, the goldfish hate the DWL, so the stuff is coating the top of the tank! I'm not complaining. It's a great nitrate-buster!
Fantastic that the goldies won't touch it - that must be a HUGE help in keeping their water clean!
The shots, and the pond, are lovely - as always. I. DON'T. WANT. WINTER!!!! T__T
Can't wait for next season's wake-up call - for the pond, AND the tub. . . and whatever else you find to play with when the sun comes again! <3
Haha! I miss my koi, too. On warm days like yesterday I can still see them swimming around, tho. Maybe on some warm, sunny winter days I can get pictures of them. I'd love to get a dry snow and snag some truly winter photos of the pond!
Posting Rules

You may not post new threads

You may not post replies

You may not post attachments

You may not edit your posts

---

HTML code is Off

---