Summer Tubbin' 2013 Journal
---
Earlier this year I saw some gorgeous pictures of a little pond made in an old barrel. As I did more research (one of the articles I found:
Summer Tubbin' by John Sipes
) into the idea I found that not only do people keep these for the beautiful pond plants, but they can also keep these tubs as grow-out tubs for spawns. I'd never really thought of myself as needing a grow-out or even wanting a smaller pond because I already have a large pond and I don't breed fish. But earlier this year I had my honey gourami spawn in their QT tank, and it got me thinking. I like gourami and they are pretty easy to breed in a setup like this. All I need would be one spawn large enough to sell at the end of the summer. Well I didn't want to just throw my honies out there after I spent so much money to get them here (no local fish stores grr!), so I wanted to try a small tub this summer with the livebearers from my pond, a local fish called
Gambusia holbrooki
. And that is how this project was born.
The weather has been a bit funny this spring. We had a real rapid warming and then a large cooling off where temps fell back down close to freezing. I'm not worried about the fish as much as I am worried about the plants. I'm planning on lotus, iris, and some floaters. Most of those plants can't take the cold. It looks like outside temperatures have stabilized for now, so I'm getting this project started.
Today was equipment day. I drilled the overflow holes in the bucket and tested the pump/fountain I want to use for water movement. We bought this little pond fountain years ago when we had a massive pump failure on the pond. I'm so glad we did because it enabled us to keep the koi alive that winter.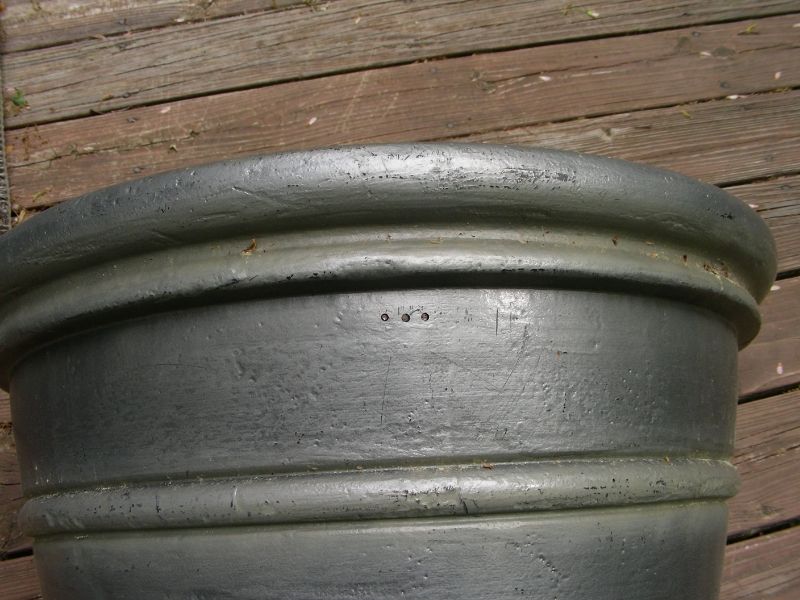 Three little overflow holes. The only drill bit I could find for the dremel wasn't that big, so I figured I would compensate with multiple ones. BTW, love dremel tools... so useful!!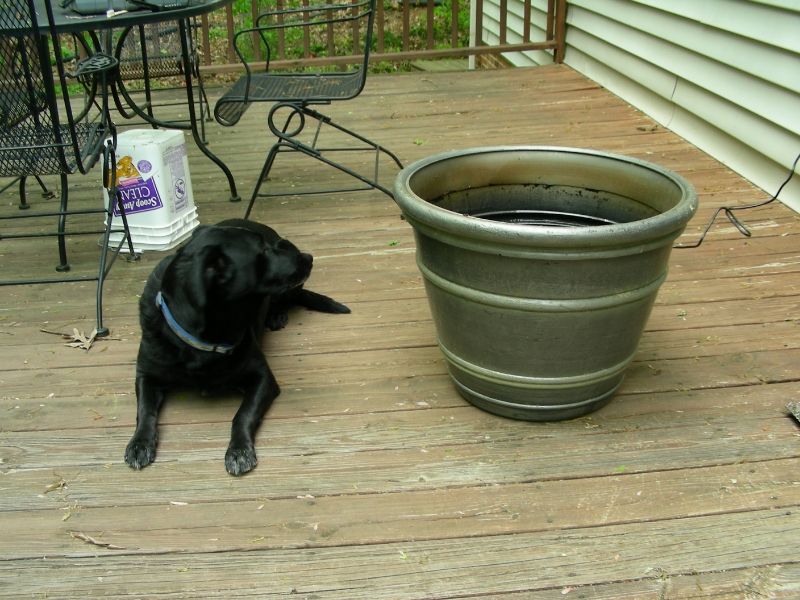 My little helper!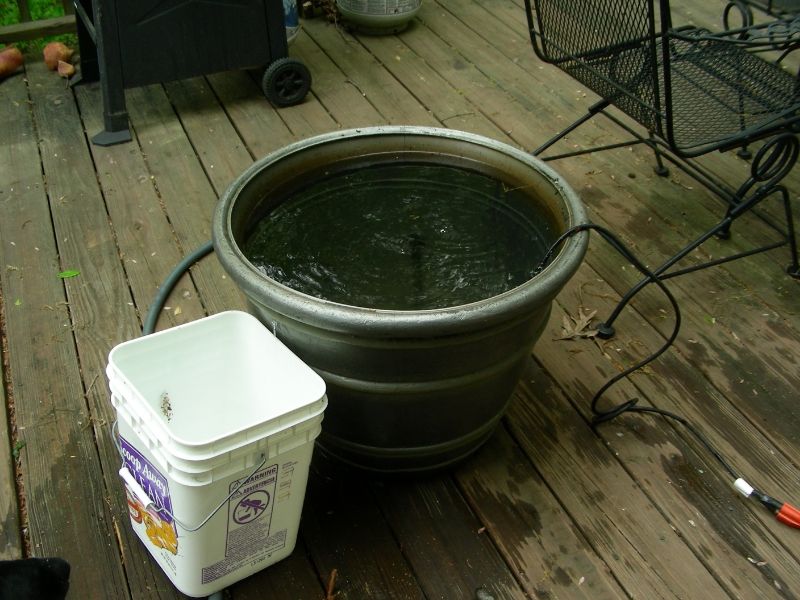 Testing the overflow as well as the pump/fountain. Overflow worked like a charm! The pump needed some cleaning and to be knocked down the lowest setting, but now it's working great!
And that wraps up my work for today! I'm trying to local some floaters in my area, so when I get those, it's time to fill it up!!! I'm hoping that will be this weekend!! :D
Woo!!! Updates! So today I finally got the pond up and running for good!!!
While I was out getting some water hyacinth for my pond (pics tomorrow), I also saw some little marginal grasses. I picked those up and potted them in the pond next to the iris. At first I just let the dirt fly free and hard the plants pretty far above the surface. But then I remembered capping and it looks much nicer now.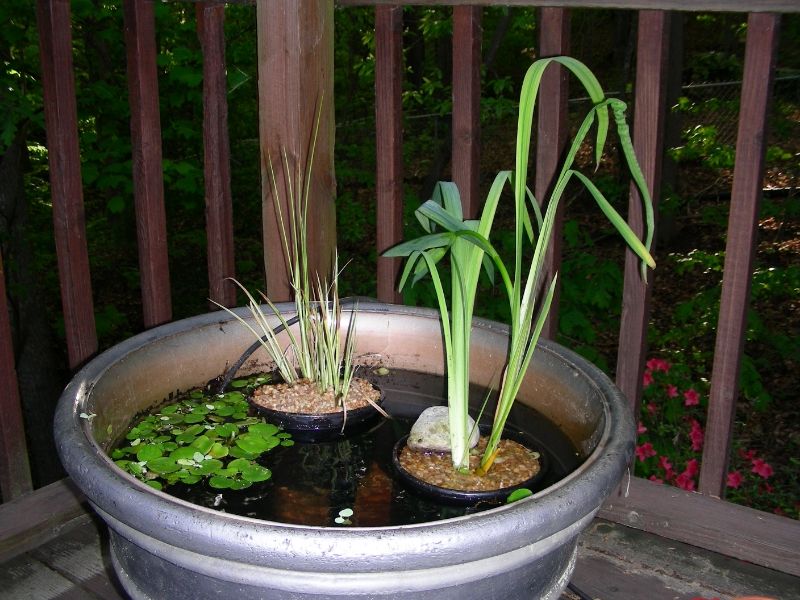 Those floating plants are frogbit and dwarf water lettuce. Cory (BWG) sent them to me. I had so much left over after putting them in my tanks that I plopped the extra outside!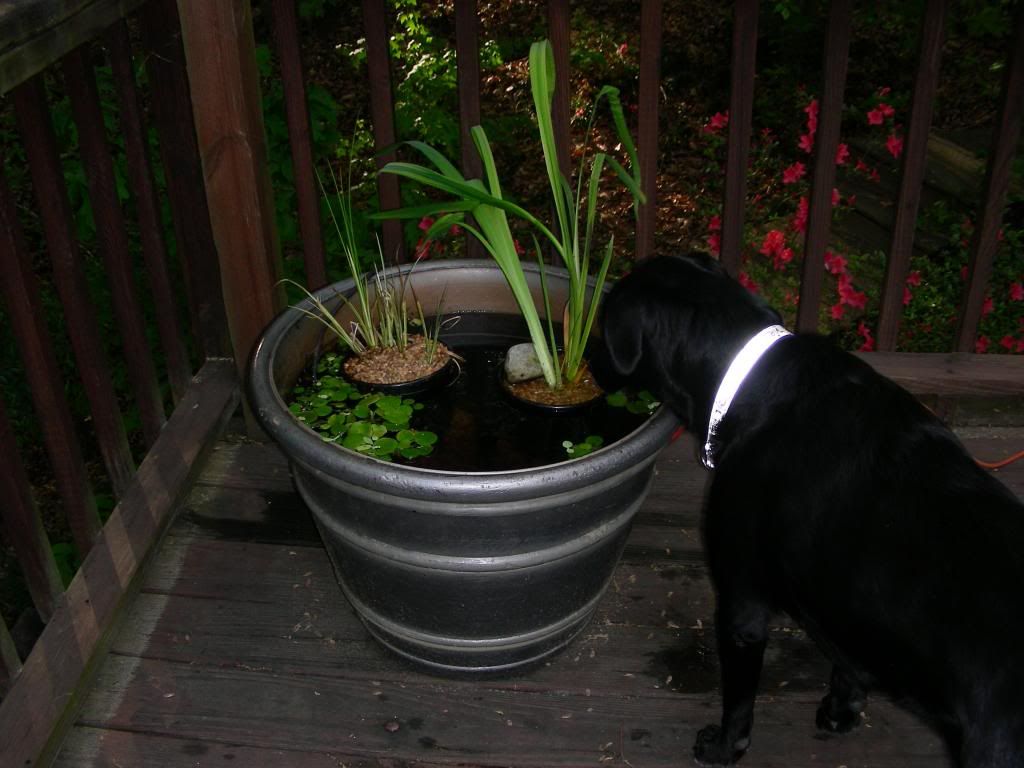 Molly, my little helper. Always curious. I have a feeling this will become a big dog water bowl this summer.
I'm really excited about this!
We have a small 25 gallon horse trough we turned into a pond (complete with a fountain made out of a strawberry planter
), with the same fish in it, although I've never kept track to see if they're breeding.
Never occurred to me that it could also be used for fry grow out (though certainly not in the same pond, mosquito fish can be violent little guys) or breeding.
Definitely inspiring! :)
Lol! If you have mosquitofish they are breeding in there! Trust me!

You could use tubs like that as grow out tubs year-round in Florida! I have also heard of people making red cherry ponds down there. You have a lot of options with your warm weather!
That's awesome looking setup Izzy!! I have been wanting to do something like that for awhile now but wouldn't have any place to but the fish come winter so haven't done a lil pond setup.
---
Hm...that's actually an awesome idea with the shrimp.

Now, are you going to feed the fish or just let them survive off of the naturally occurring organisms (mosquito larvae, daphnia, bugs, etc)?

What type of fish do you eventually think you could put in there?

I also really like the idea of the marginal plants!
Speaking of the mosquito fish mine were caught locally too, keep an eye out for spotted ones! They're gorgeous, although IME almost always male. They're a very pale silver (nearly white) with lots of small black splotches. So cute <3
I'm just going to let the mosquitofish eat the bugs that will congregate around the water. I went over today and saw a ton of stuff in the water already! They will be well-fed this summer. I might throw a few koi pellets their way because the tub is on the way out to the koi pond, but it won't be anything regular.

Oh! Spotted ones!!! I've never seen those! It sounds like something neat you could breed for! I'll keep an eye out for any in my population.

Eventually I want to get a larger tub (50+ gal) and breed my gourami in it. I'd also like to try breeding ghost shrimps if anything to say I did it. Green water is a lot easier to cultivate outside.
Posting Rules

You may not post new threads

You may not post replies

You may not post attachments

You may not edit your posts

---

HTML code is Off

---