My fire belly toads & new tank!
---
Well, ive had these guys in a few different tanks then i just relized that they like water way more than land!! sometimes only getting out to eat, and all i had for them was a pretty good size, but not big water bowl, wich i had to change everyday because of their toxins.
So i had this 20 gallon with 3 goldfish in it, and i added another one, and that one had some type of disease and they all slowly died, so i said, why not add the toads to this tank instead of getting more fish?
So i started tring to get ideas and setting it up and i decided this one is going to be lots of water, as their previous tank was a 20 gallon long tank with soil in it, water bowl, some plants and wood and stuff, and that was a lot of land for 3 little guys when they barely left the water bowl...
I would recommend these guys to anybody!! their a lot of fun to watch, and they all have comepletly different personalities, and all look different. If they were all identical i could tell them about just by the way they act, and not to mention the little singing sound they will do right when i turn the light off and get into bed!
I also have about 10 little fish in the water, i have some red bellied piranahs and i got them these fish but they didnt like them, so i put some in this tank, and have some to my big whites tree frog to eat, but they seem fine, with the filter running, the toxins off the toads havent killed any of them yet with the strong filter running, and the fish add a very nice touch when your watching the tank.
so heres some pictures of my final tank...and the toads.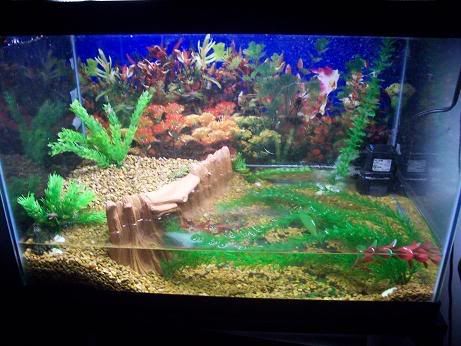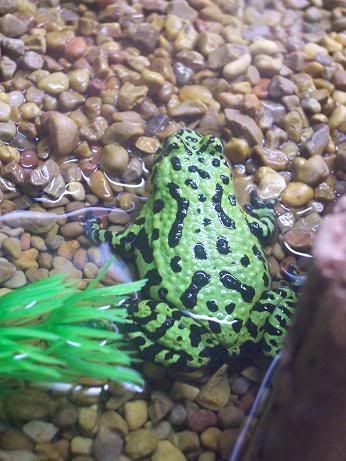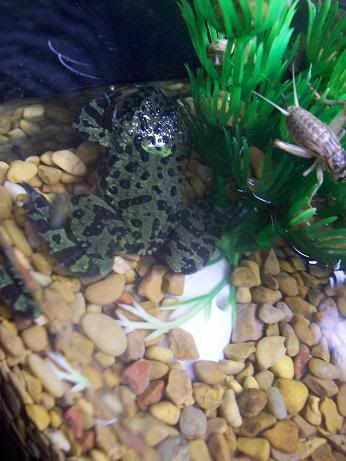 heres the little fish in there...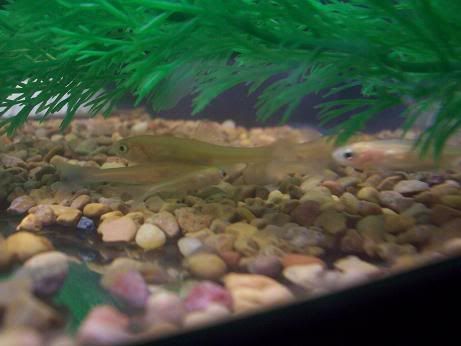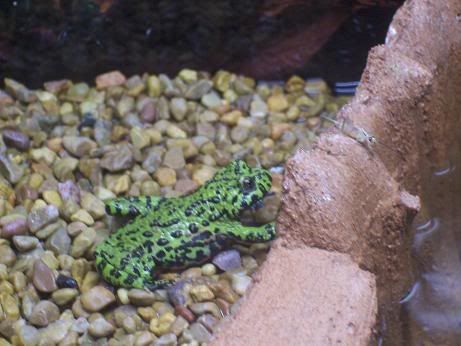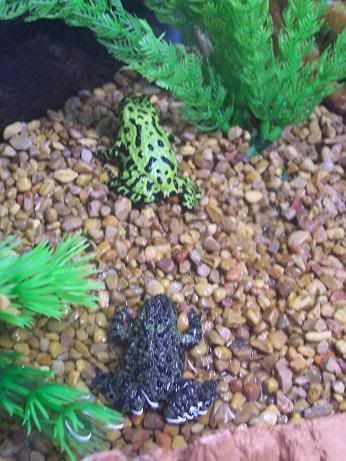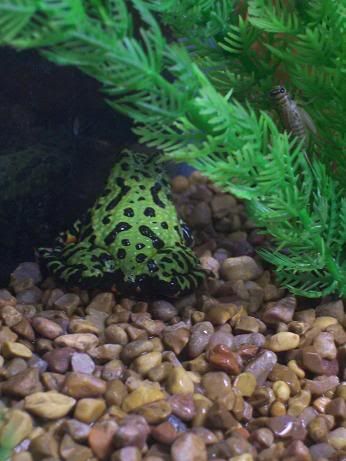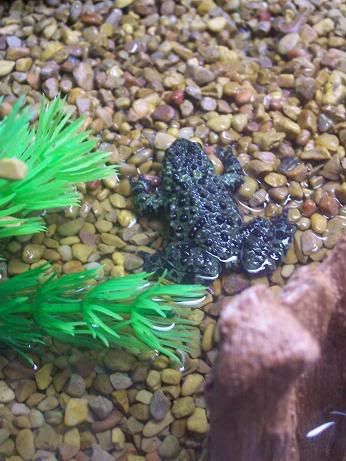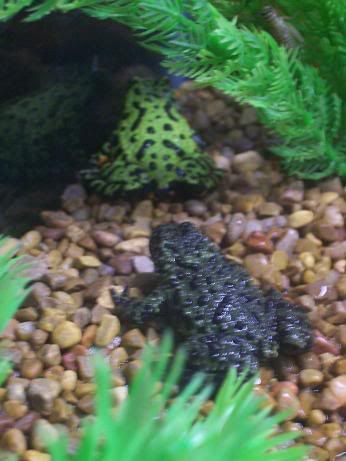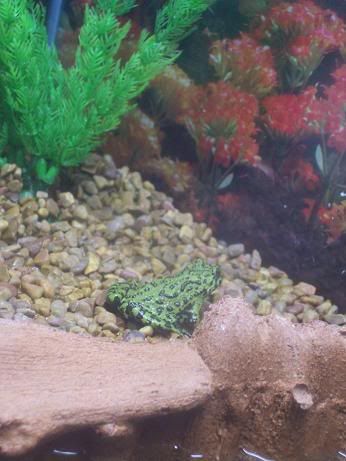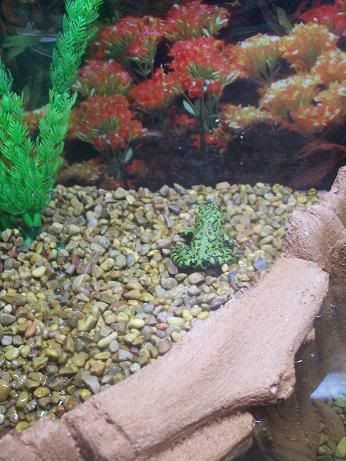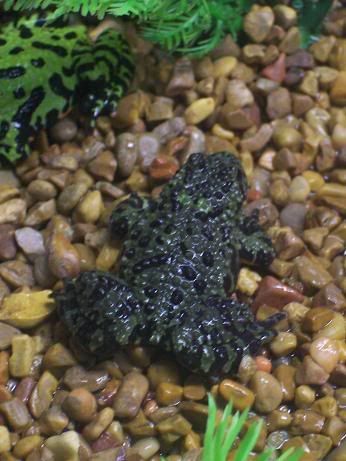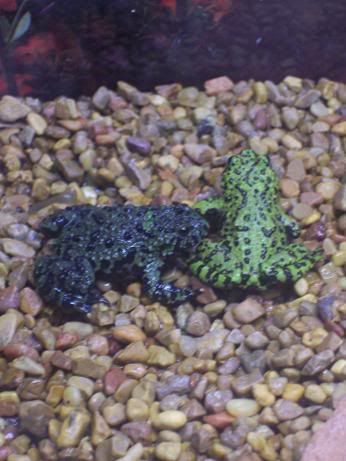 the bright ones getting ready to take a dip...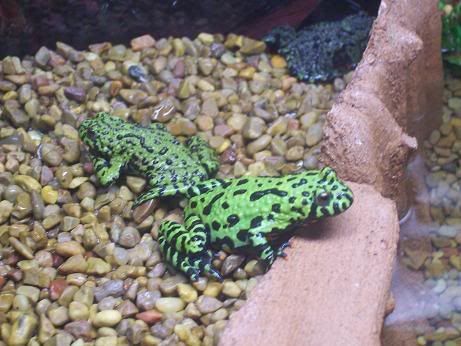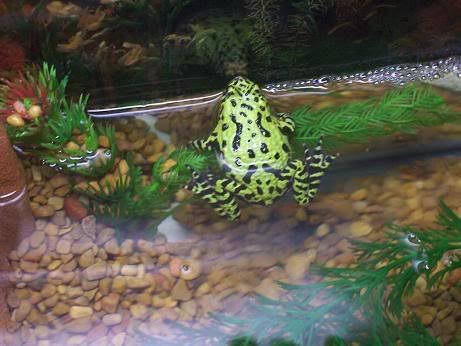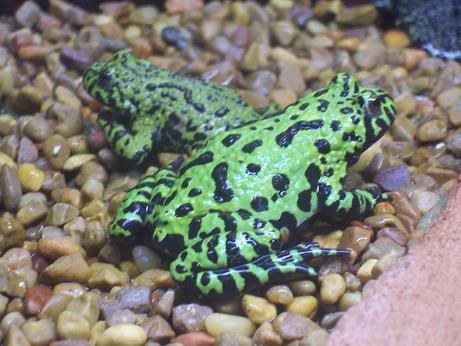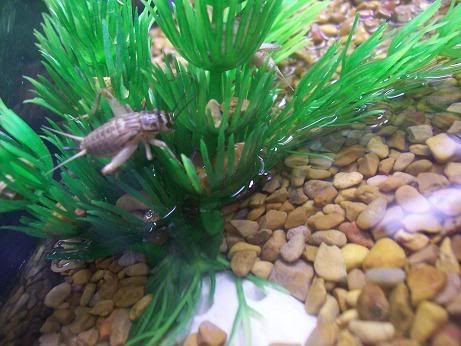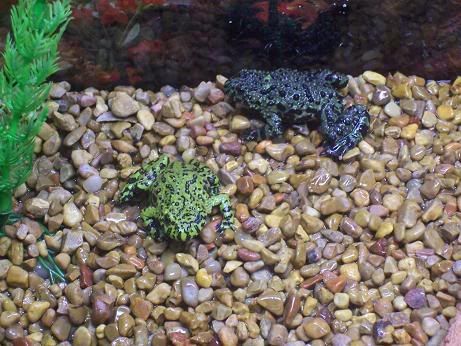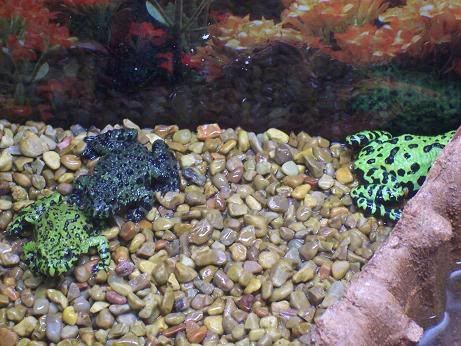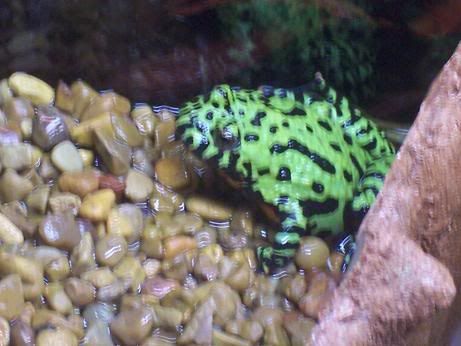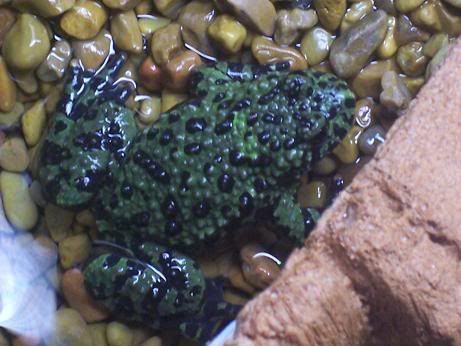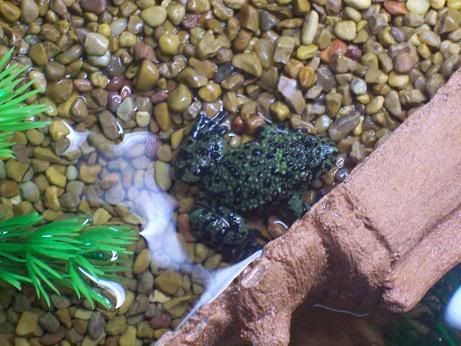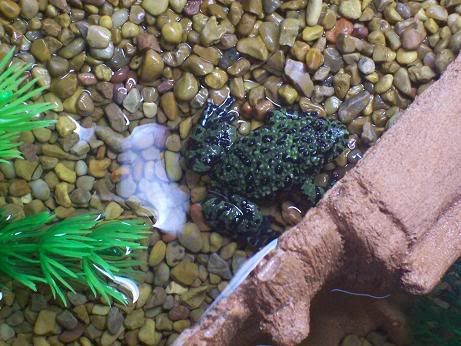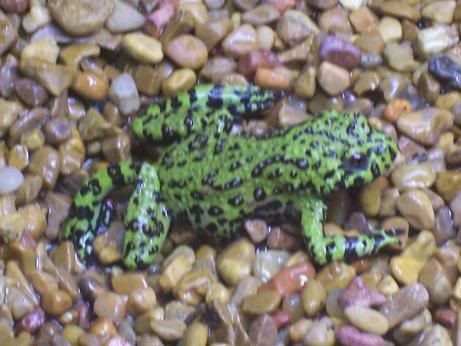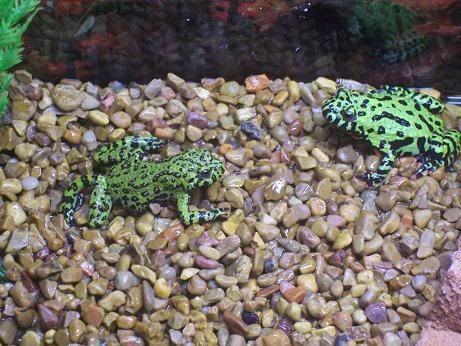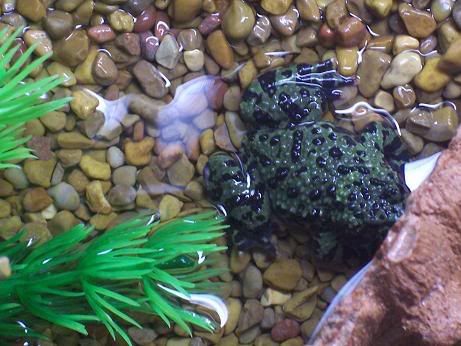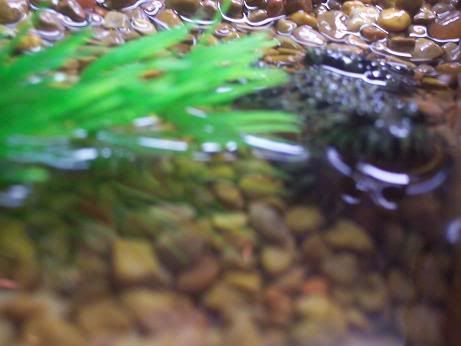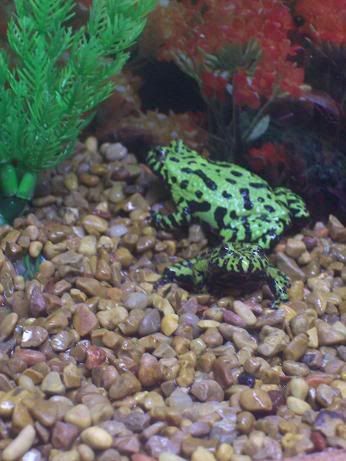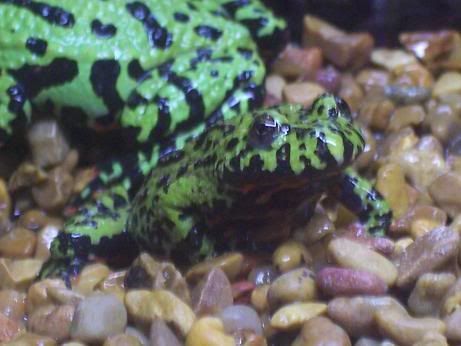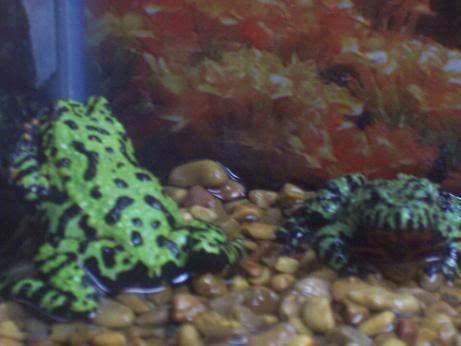 in this one..ones jumpng..and ones tring to climb out lol, this was their first time in there...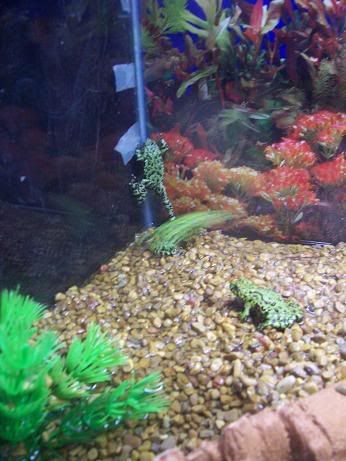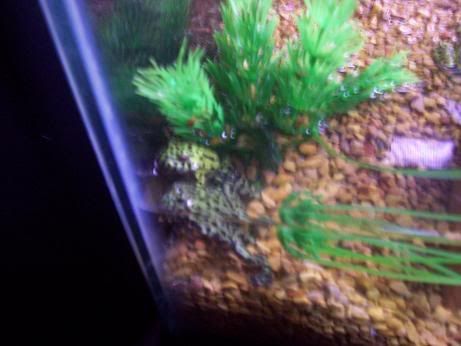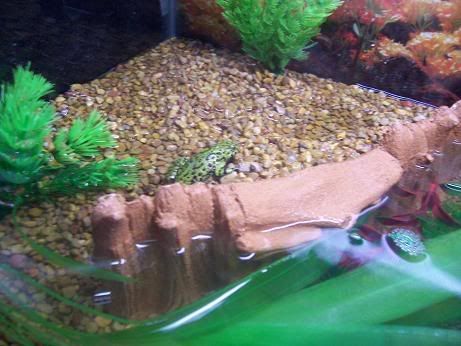 That is a great looking setup! I'm sorry to read that your goldfish died, but I think you made great use of the tank.

What is that object you are using to keep the gravel from falling into the water?

Also, how have you set up the filtration? I might be interested in doing something similar.

Thanks!
Well, the thing thats holding the gravel up is like a cliff sort of thing lol i got it from petsmart for $17 but i had to have it because it was perfect and before i bought the wall i just had a little gravel slope, but i figured the wall would look much better.
And the filtation is just a $20 filter that spits out the water like a fountain from the side (kinda cool, sounds like a waterfall), ill get the name of it later, gotta find the box, i wanted to build some type of water fall where the filter spits out the water, but i wasnt sure how to make it so i just let it be, but it filters up to 12 gallons, and theres only about 3 in there so the water is always clear, and i havent had to change it yet as it hasnt got oily from the toads skin yet, and its been about 3 weeks already, in a water bowl, i change the water at least 3 days a week because it gets so oily, and the toads actually do get sick if the water is to toxic! i went on vacation for 3 days and when i came back one of them was hiding and resting his head, and when i changed the water i actually had to pick him up and put him in the bowl because he wouldnt even move, so clean water is a must!!

it wasnt that much to put together, $60 for the screen lid, filter, and wall and i already had the plants and gravel so i think its great entertainment for $60! lol these guys crack me up! and im hoping to get some eggs in here soon, since i moved them to the new tank they have been tring to mate and they sing like crazy! and now i know wich ones are boys and girls im 100% of their sex's now! but i never would have new it keeping them in the land and water bowl set up!
I know this is like 2 years old but how is the tank doing?
I decided to go to old posts and read them before i joined. lol
I love the toads first picture caught my attention right away. very cool coloring.
hi are these kind of toads sing at night? or the day? do you know anyone who has dart frogs?Im thinking of getting one. I love your tanks!
I know a few people that have poison dart frogs, I am going to be getting some too on may 1st. :)
that's strange. My FBT's hate water. They hide in the coco hut and sit on the branches in the tank. Only enter water when they are hunting crickets.
Posting Rules

You may not post new threads

You may not post replies

You may not post attachments

You may not edit your posts

---

HTML code is Off

---