So no new pictures of the koi. The canopy has really filled in and the lack of direct sunlight makes it very difficult to get good up close shots of them. And no full pond shots because it's pretty clogged with algae and the water hasn't been warm enough for me to go yank it all out.
But I can offer you flowers!! We have a few that I expect year after year around the pond.
The iris around the pond are in bloom. We only have yellow ones, and I kinda wish we had more colors.
This is one of the wildflowers that just kinda appeared. I have no clue what they are, but I do have a VA wildflower ID book. I should look them up. I love how they grow on the rocks in the moss.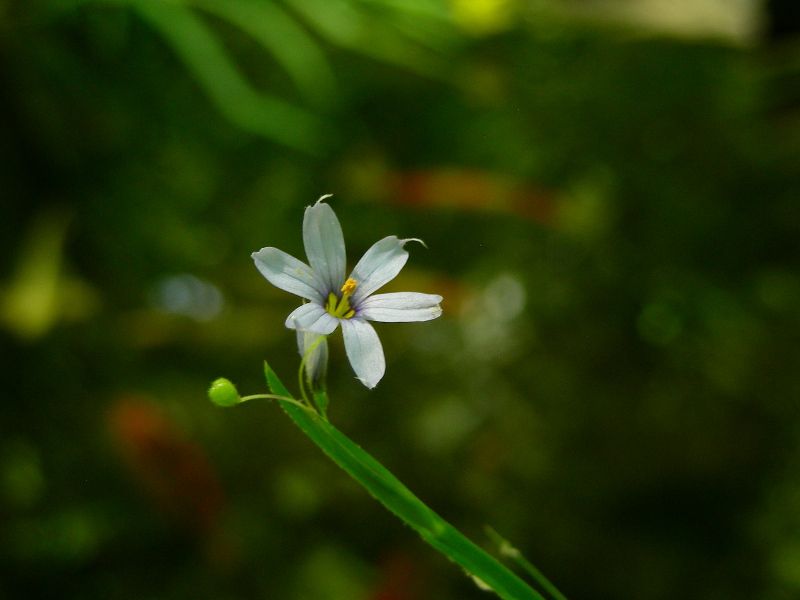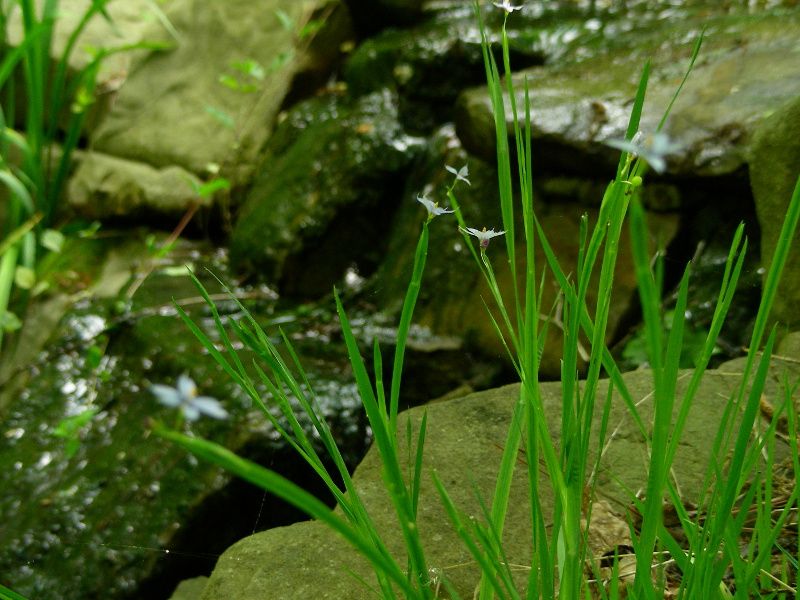 This little beauty is called Blue-eyed grass. When I was doing a wildflower project for my high school bio teacher, we found this grass growing in a field and transplanted it to the pond. It's been slowly taking over which we love.
Such gorgeous flowers. Id love to have a lawn chair next to your pond for random relaxing moments.
So I know I've been saying I'll do this for a while. I finally got good pictures of all of my koi (mostly) alone. Without further ado, I give you the koi school!
Umi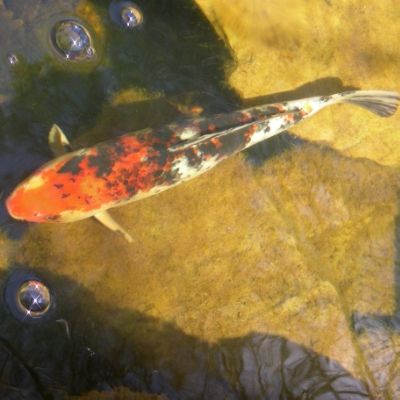 I believe she is the oldest koi in the pond. I bought her in winter 2006 at my Walmart and kept her in my 55 gal over the winter. She was the smallest of the original four but also the only one still alive. I lost the first two when I put them in the pond. I never saw them again. I lost the third during the first winter. Umi is a showa which is a breed of koi which is a koi with red and white markings on a black background.
Halloween
These next three koi were added at the same time in summer 2007. I bought them all from a pretty nice LPS about 45 minutes south of me. These guys were released directly into the pond the first summer it was in operation. Halloween is an aka bekko which is a orange or red koi with black markings. She's also a chagoi which means really fat and friendly koi hehe. She's probably the largest by weight in the pond which is understandable with the way she eats...
Byakko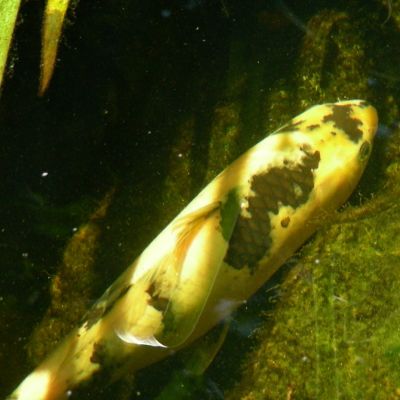 This picture should look familiar to everyone lol! This is my special child. I put her directly into the pond, and after a couple of weeks discovered she has a mouth deformity. I don't know exactly what is wrong, but one side of her mouth doesn't open as it should. Despite this problem, she doesn't seem to have issues feeding. I was worried sick about her that first winter, but she came through swimmingly! Byakko is a shiro utsuri. This breed of koi is bi-color with white on black markings. In case you haven't noticed, the first word describes the color and the second word describes the pattern.
Kurama
With a photobomb from Genbu. Kurama is my tancho sanke. Tancho is the name given to koi with that red spot on their heads. The rounder the better. His was rounder when he was younger, but now it's loop-sided and gives him character. The black on his back makes him a sanke which is a white koi with red and black markings. He came in with Byakko and Halloween from that same pet store.
Genbu
This is where my memory gets a bit fuzzy. There are no pictures of the fish in the pond from 2008 (this was the summer that Erik and I began dating to give you an idea of why). The first time I saw Genbu in pictures was 2009. I'm going to hazard a guess and say I got Genbu in 2008 but never took any pictures of him. He is younger than most of the other fish and therefore smaller, but he's grown pretty steadily since I got him. His markings make him a gin matsuba. This is a silver koi with black spots in the middle of his scales giving a pinecone effect.
Suzaku
Again my memory isn't up to par. The first time he shows up in pictures is from after my graduation, but I KNOW I didn't add him the summer before that because I was working in Arkansas that summer. I'm going to guess that I got Suzaku in 2010. I know that he is the youngest koi in the pond, but I don't know just how young lol. He is a kohaku koi. His white and red markings are highly coveted. When kohaku only have a red circle on their head they are called tancho. A large female pure white tancho kohaku will sell for tens of thousands of dollars.
So thus ends my tour of the koi. Not all of these pictures were taken at the same time or even the same year, so the sizes and lighting will vary a bit. And when I get them uploaded I have some updated pictures of my pond. Still trying to get a good shot of the MASSIVE frog that lives there.
| | |
| --- | --- |
| The Following User Says Thank You to thekoimaiden For This Useful Post: | |
Awh!!!
Pretty fishys. I think I'll deff be starting a pond of some sort when we get our house. It's so much fun to watch them flourish with life.
Hi Izzy your pond is breathtaking and your Koi are beautiful ! Looking at a Koi pond is how I got started in fish keeping. I was with my daughter and when she saw how excited and happy I was watching the Koi she said mom you need and fish and she gave me my Betta Perseus a couple of weeks later for Mothers Day last year. I truly adore fish of all kinds !
---
Remember the Light at the end of the tunnel may be You.
Thank you, everyone! I'm glad my photography skills have evolved to be able to show you guys just how beautiful my pond and the life around it are. A pond is so much more than the water and the fish.
They're all so pretty! I've never seen one like Genbu before, I love him - I love them all! *hugs fishies*
Thank you for bringing this back, Jes. I need to do some serious gardening this weekend to get the pond picture-worthy again. Like I'm going to be taking tree limbs out. Also pulling some spikey plants...
THREE CHEERS FOR PICTURE-WORTHY!!! And gardening fun ^.^ Good luck with the spikey plants - they sound dangerous O.O
Posting Rules

You may not post new threads

You may not post replies

You may not post attachments

You may not edit your posts

---

HTML code is Off

---