You did an amazing job with the design because it definitely looks natural. Your koi really are beautiful, Izzy. So colorful.
Visitors to the Pond
---
It's been really cloudy and rather cool lately, so I haven't been feeding the koi as much and the light isn't good for photos. I promise I'm working on introducing my individual koi to you guys. For now, I'll show you some of the visitors that have popped in and out (literally in some cases) during years passed.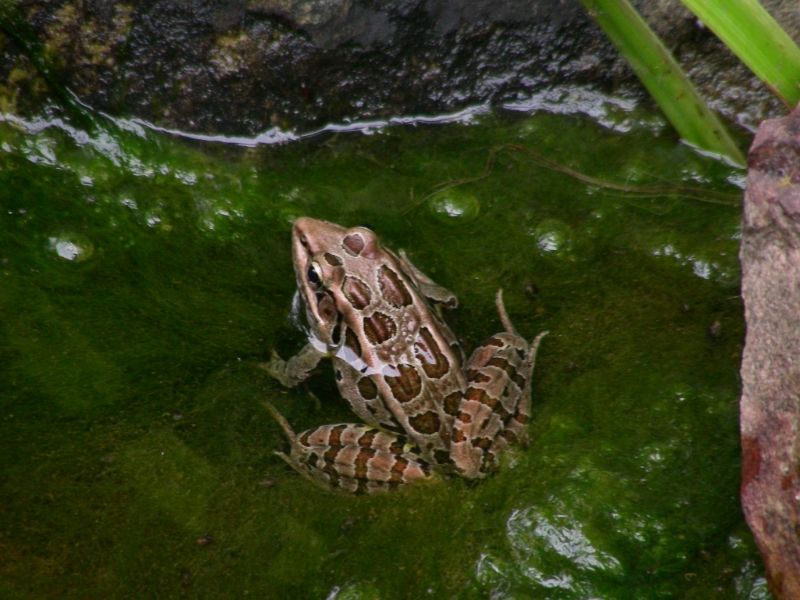 This is a little pickerel frog that I managed to catch on film one day back in 2008. I've seen (and heard) frogs at my pond every year, but this is the only one I've gotten a picture of. I hear them jump when I startle them, so I can only guess they are the same species as this little guy.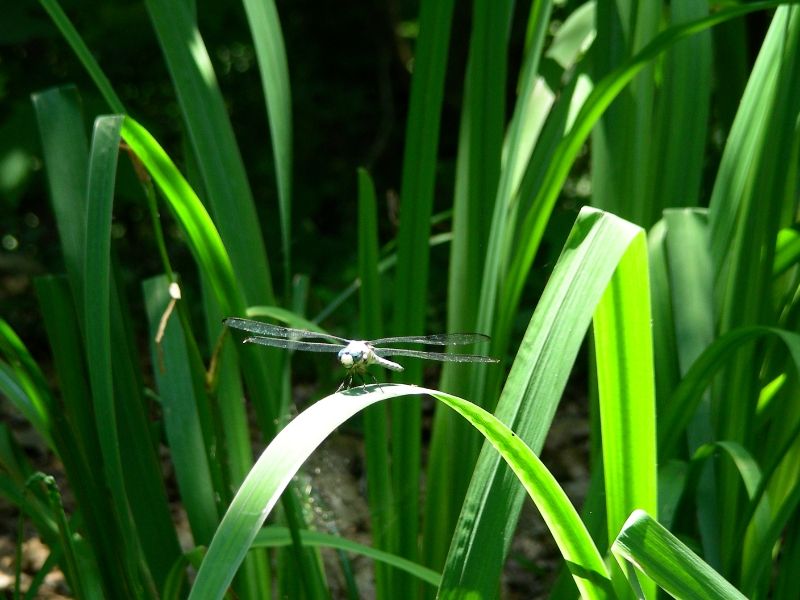 Another common visitor to my pond are the dragonflies. They are just too crazy fast to get them in flight, but this one decided to stop and rest for a while one day while I was out there with my camera. That second picture isn't him trying to dance; he is trying to reduce the amount of surface area that the sun light directly hits. It's a cooling technique.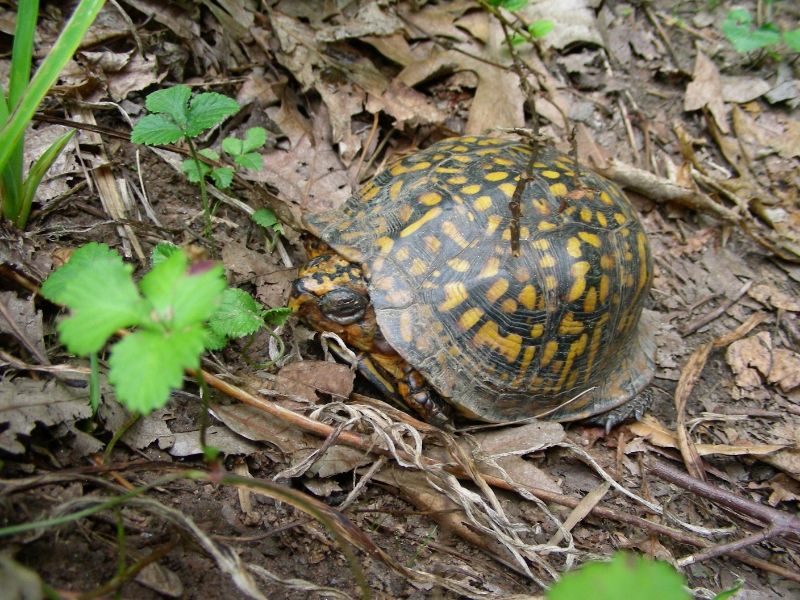 I found this little box turtle one day when I went out to feed the koi. He didn't move much so I had a chance to feed the koi, run back to the house, grab my camera, get back outside, and take a picture of him. I've seen a lot of box turtles in my backyard through the years.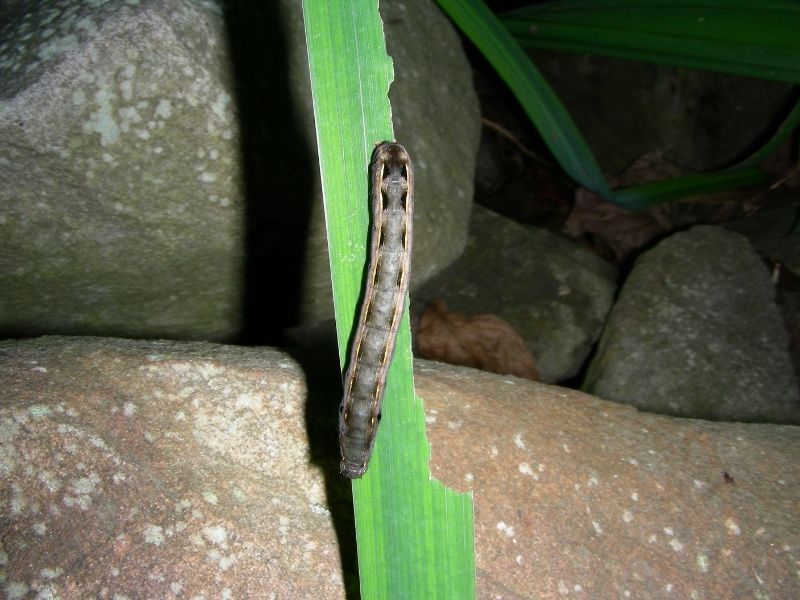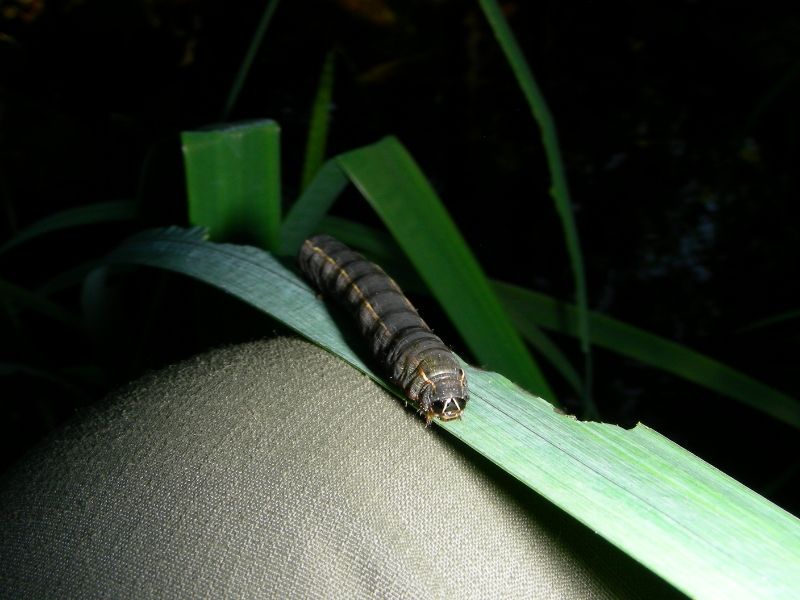 No clue what kind of caterpillar this little guy is, but he sat with me when I fed the koi one day last summer. I had to use the flash because the light was just too dim. That's my knee in the second picture; he was a pretty big little guy.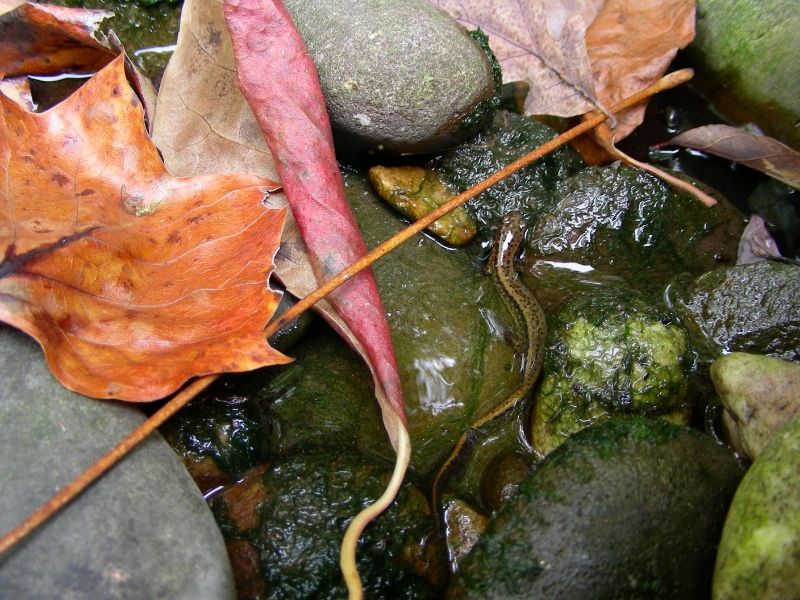 I have seen larval salamanders in my pond for years, but never the adults until last fall. I was cleaning out the pond and getting ready to put up the net when this little guy popped out from under a rock. He's a southern two-lined salamander.
I also see deer, cats, squirrels, and all kinds of birds out there. This year I've spotted a woodpecker on the trees around the pond. Of course the only times I've seen him are when I don't have my camera, but I will get a shot of him by the end of the summer!
Great photos. Thanks for sharing. I've seen the occasional very small snake in my pond from time to time. A couple of leopard frogs have visited over the years. A neighbor brought over a very big bullfrog that he found in his yard and he stayed around for the season but haven't seen him again.
---
Fishmonger
Larval salamanders.
Wow, that would be interesting to stumble on to one morning.
No visitors at my pond, probably because it is raised up. No visitors, just lots of fallen leaves.
Snakes are one thing I've never seen around my pond. I'd love to see some, tho. I love snakes! I did find a
worm snake
when digging the pond. I accidentally hit him with the shovel :( He was soo cute for the few days I had him! I'd love another one.
Oh man, I was so stoked when I found the larval salamanders. I was cleaning out algae and was like, what's that wriggly thing? It was so hard to contain my excitement and catch one to confirm what I thought. (If you can't tell I like scaly, slimy things.)
I'm surprised you don't get the occasional frog, Meg. A lot of people who have above-ground ponds report them from time to time.
It's weird. My next door neighbors have what used to be a very small pond in their backyard from the previous owners. It's pretty much all rocks now but for some reason, any time there is a hint of water in that pond, the frogs congregate there and croak ALL FREAKIN' NIGHT. It's like they are worshipping some frog god.
It's right under my neighbor's bedroom window so how they sleep is beyond me. We can hear it in our house loud and clear.
Worm snake. It looks like a worm. That is a snake.
My grandparents had a big watering trough that used to come alive with tadpoles every spring. I remember the area around it crawling with tiny toads the size of your baby fingernail.
---
Fishmonger
Don't know what kind of snake it is. Need to get a better look next time and research. It goes into the water but stays very close to the edge.

The entire family loves our little pond. My wife and son really have an eye for what's going on in there...better than me.
---
Fishmonger
Fantastic pictures! I hope you do manage to get a shot of your little woodpecker friend. One of the coolest parts of having a pond must be all the life that comes with it. One day. . . I'll find out for myself! The salamander is AWESOME! I tend to like slimy, scaly things, too. . .lol!
we call them newts over here,and i have one in my pond,along
with a couple of frogs,and a little frog spawn,which hasn't done too great
this year,many of the eggs went mouldy for some reason,perhaps
the sharp drop in temp that we had.
i very much look forward to more pictures of yours
---
when you set up a new tank,hide an extra
sponge or two behind some decor,that way you have
something seeded for you next filter.
Posting Rules

You may not post new threads

You may not post replies

You may not post attachments

You may not edit your posts

---

HTML code is Off

---