dragons in the house.pic heavy !
---
well here they are.Bert and Ernie.don't know what sex they are as yet,
i am hoping for either two females or a male and female.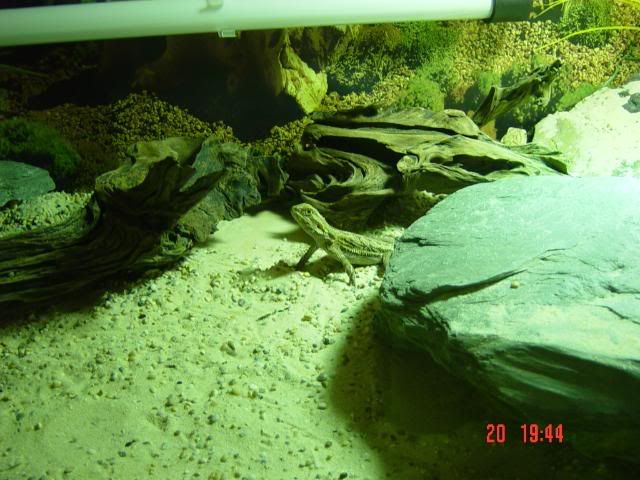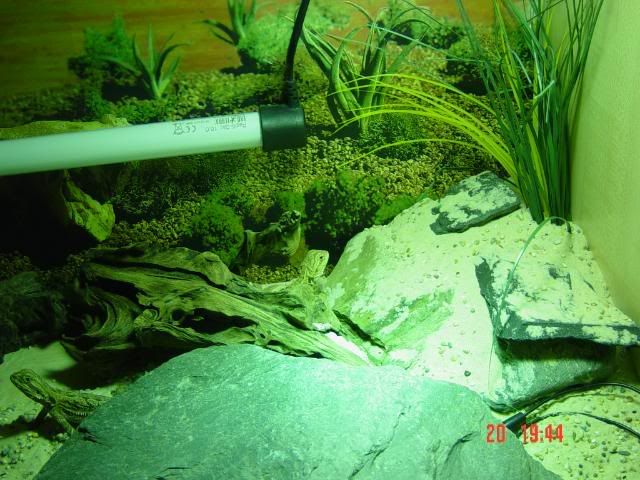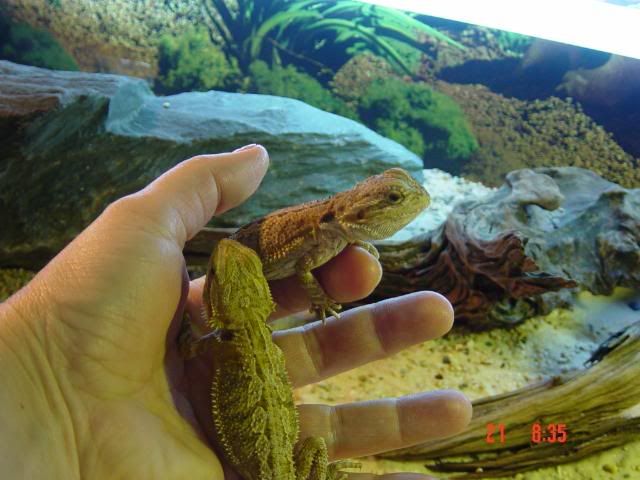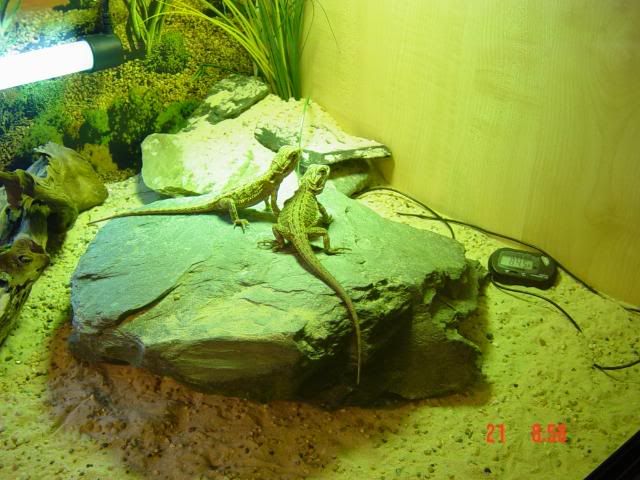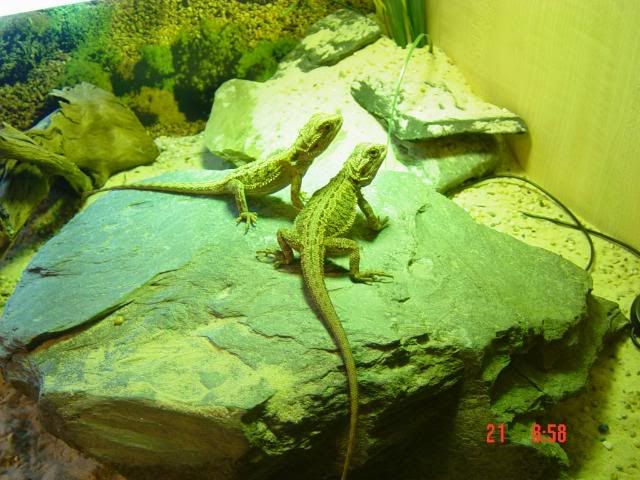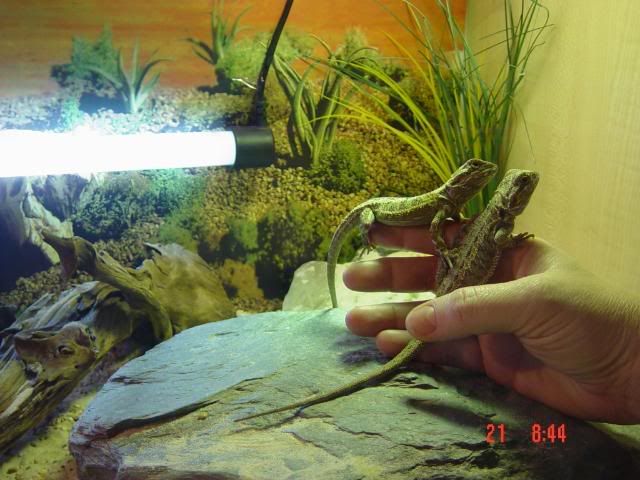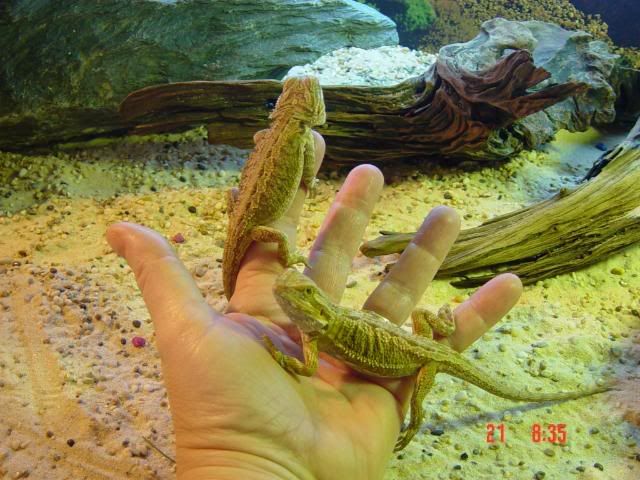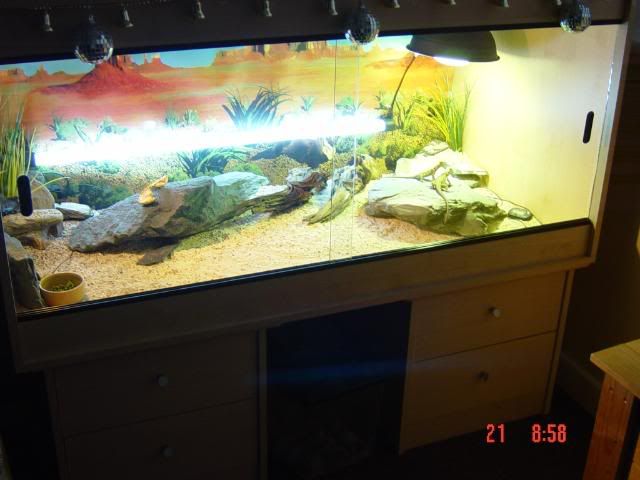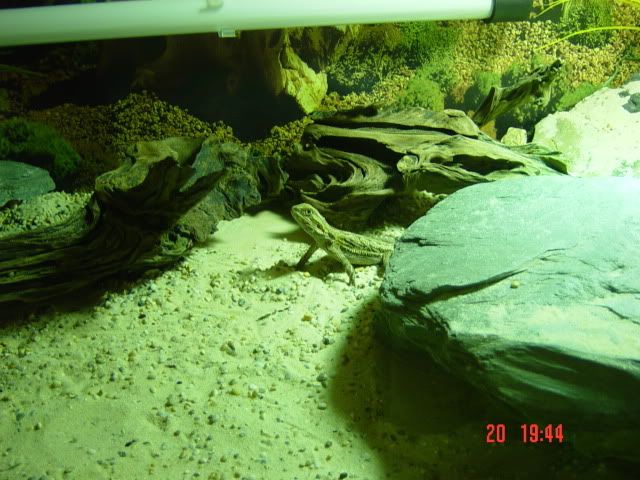 Well congrats on your new friends. I like the pic. where he/she is peeking out from under the rock. Looks like they're saying "Do you mind?"
---
Animal testing is a terrible idea; they get all nervous and give the wrong answers.
thanks.
the one poking it's head out loves to dig ! and i guess was caught in the act.
Congrats, Willow, they are sooo cute. Really nice habitat you set up for them. From you, I expected no less.
---
If you don't stand up for something you'll fall for anything...
thanks guys
i was going to add more rocks and wood,however that makes it too easy for the
crickets to hide,then come out of a night and bite the babies.
mabe i'll add in some places some more sand,because they love to dig.
thank you :)
the only problem i have is the crickets hiding underneath rocks.........
so i think i may have to look for a feeding container,because if i don't
i have to remove the decor at feeding time then put it all back. ??
Lainey, they're lovely!
Great looking setup too. How are they settling in, and how old do they need to be until you can sex them?
---
ʎɐqǝ uo pɹɐoqʎǝʞ ɐ ʎnq ı ǝɯıʇ ʇsɐן ǝɥʇ sı sıɥʇ
hay kate
they are doing very well.i gave them a bath today,which didn't last long as one of
them did a poopie doop
but that is a sure fire way of getting them to "go"
apparently.
i called them bert and ernie,although i don't know their sexes as yet,although i have a funny
feeling i have a boy and girl.......several months until you can be reasonably sure,
if it turns out two males,then they will be seperated,i'm not going into breeding as yet,
so i;ll probably still end up with another viv.
Similar Threads
Thread
Thread Starter
Forum
Replies
Last Post
Click my dragons?

FoxyBubbles

Off Topic Discussions

16

03-15-2010

12:19 AM

Jack's house

1077

Freshwater Journals

5

08-20-2009

02:45 PM

Ghost House

LJean

Aquarium Products Reviews

1

06-09-2008

05:52 PM

Sea Dragons ???

matt_bet

Saltwater Fish

22

09-20-2007

01:26 AM
Posting Rules

You may not post new threads

You may not post replies

You may not post attachments

You may not edit your posts

---

HTML code is Off

---