What kind of snail is this? (Photos included)
---
These little guys came in on a plant...started out with two, then had more. lol They haven't bred TOO much, but there are more now, I think I have about eight or nine in there now and they haven't hurt anything. Except I was assuming they were assassins because my pond snail problem vanished after a few months of having these guys around, found many empty shells, some had a little hole in the back which I hear is an assassin thing...
Some people have told me they're trumpet snails, others say assassin snails. I've had them for about a year and a half or so now. This one I am positive is one of the kids, the two adults I had had much, much darker markings and thicker stripes, were also bigger...so yeah, they seem to be flourishing and surviving pperfectly in my tank, which is fine by me, I just want to know what they are.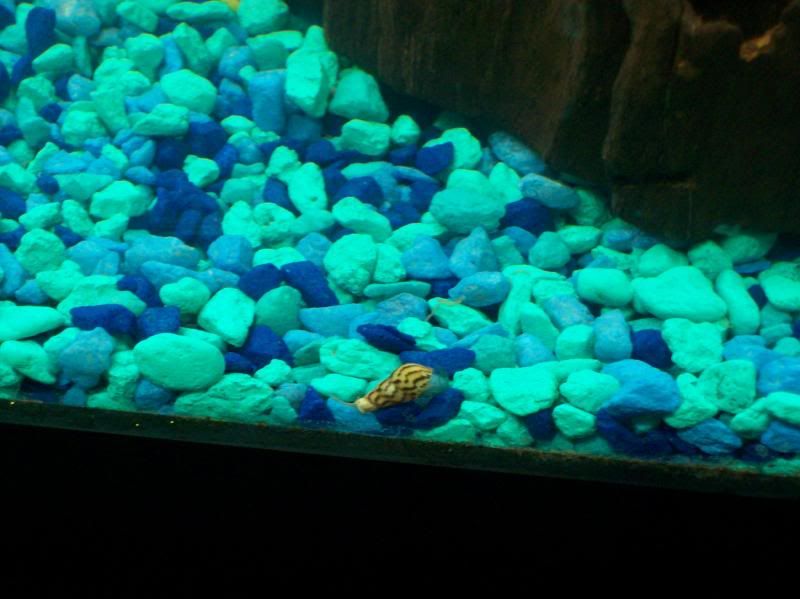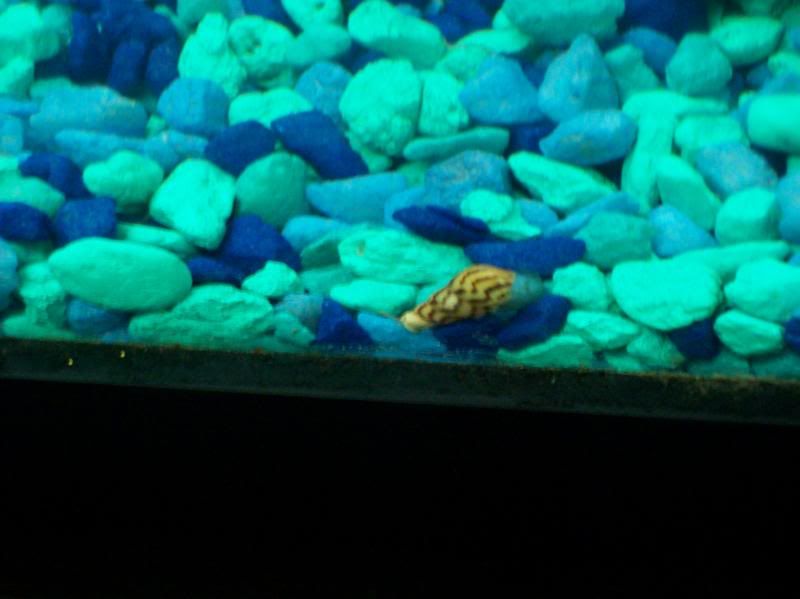 ---


Turning on the Aquarium lamp in the morning is MY cup of coffee.
---
Last edited by Sylverclaws; 07-31-2013 at

10:06 PM

.
assassin snails are usually banded down their shell instead of stripped like that picture. Looks more like a trumpet snail to me.
So...what kind of snail is it?
---


Turning on the Aquarium lamp in the morning is MY cup of coffee.
---
125 - BGK, chanchito cichlid, pictus cats, silver dollars, palmas bichir

125 - cichlids (severums, bolivian rams, chocolate), rainbows ( turquoise, red), loaches (angelicus, zebra, kuhli and horseface), plecos (BN, RL and clown), denison barbs, tiretrack eel, pearl gouramis, betta
90 - Congo tetras, african knife, upside down cats, spotted ctenopoma, kribensis, delhezzi bichir
2.5 - betta

| | |
| --- | --- |
| The Following User Says Thank You to jaysee For This Useful Post: | |
So according to that, they do indeed look like the Red-rim melania, which is a type of Malaysian Trumpet Snail, if I read that right. Says they outcompete other snails for food, can eat fish eggs, and can carry really nasty parasites that can infect both fish and humans...lovely. However, they're such popular "Pest" snails and they haven't caused me any issues, nor have they over-bred in my tanks. So I'm not worried. lol I just have to not eat them. xD If they're that great at competing with other snails for food though, and the fact that I don't over-feed if I can help it, that explains why my other snails died. Well...actually it doesn't seeing as most of those snails can live 1-2 years without food. >>;


Anywho, thanks for that, tells me what they are! =) And I rather like them, I have some other MTS that are more the solid green/brown color in my other tanks, some with more color to them is also nice. So unless I missed something...and because they've done nothing that bothers me since I got them, I may as well keep them where I've had them. lol I actually have them in my nursery tank and they leave all my fry alone too. Even the ones who sleep on the substrate.
---


Turning on the Aquarium lamp in the morning is MY cup of coffee.
If I can get them to breed more, I'll be more than happy to mail you some, Boredbomb. lol They honestly haven't bred much, don't hurt my plants or fish, did out-compete with my other snails for sure though. They're nice little snails. I do have a about half a dozen more than I started with. lol At least as far as I've found, so if I put in more food JUST for them, maybe they'll breed more, my nursery is kept pretty clean, though I leave algae, what very little I get in there with my algae loving critters, alone.
---


Turning on the Aquarium lamp in the morning is MY cup of coffee.
I wouldn't want them to kill off my MTS and pond snails but thanks Sylverclaws
---
The MTS in my tank look just like those in your picture. After 6 months I still have them and pond snails. Haven't had a problem with keeping both types alive together.
Posting Rules

You may not post new threads

You may not post replies

You may not post attachments

You may not edit your posts

---

HTML code is Off

---