LOL! Don't worry about the frogs nomming on anything they shouldn't be - rather that they get enough to eat in a community tank! Be VERY aware of that!

I LOVE BUMBLEBEE GOBIES!! And, of course, ADFs. . . AND Corys! You're gonna have the CUTEST tank that ever was if you keep this up! I wish I had the right water for Gobies. . . :)
Thanks guys! Yes I'm loving them!

Chesh, I NEED some aquarium photography tips! Hahah!
Also, the frogs are the biggest things in this tank. They are extremely pushy of everything else. I think they'll end up being the bullies of the tank, honestly. :s
Good thing Mr Tiny Fish isn't really competing with anything. He's constantly zooming around, I can see him eating his invisible little food things. Quite funny, he chases them around like crazy, it just looks like madness since they're invisible to me.
---
taking a break from fish-keeping.
3 lovely male betta still keep me company.

GOBYGOBYGOBY! I wonder if they'd be as cute if they were named something else? I love your little un's CHUBBY TUMMY!!! (looks like it needs to be TICKLED!)

Really? Your FROGS are BULLIES??! You GOTTA take a video of this, cuz' I don't believe you. . .

Tank shots are H A R D! I am NOT the one to ask about how to do it! I'm still working that out myself. Just be prepared to toss more pics than you keep, lol! I find I get my best shots in the absolute darkness to reduce reflections - but it's tricky to get the shutter speed and aperture balanced so that nothing is blurry or blown out highlights. I'd say impossible, but I've seen it done - I just haven't figured out HOW yet! If you're using flash, you'll find that shooting the tank on an angle will give you the best shot without a reflection of the flash - but, of course, you then give up your full frontal tank shot! It doesn't matter, Lympster! Your piccies are PRETTY to me!
Guess I gotta practice the photography.

They are quite rude. First thing one of them did was try and eat Mr Tiny! And now they are just stepping on the cories and the gobies. :(
Posted via Mobile Device
Oooh you will get your practice. . . cuz' I'll be DEMANDING PICTURES! *Mwahahaha* ;)
Fact: All members of the goby family have evolved to have their two ventral fins fused into one. This creates a suction cup, which is useful for hanging onto rocks in tough currents....
These suction cups are also perfect for hanging onto glass, which results in...
TERRIBLE CUTENESS: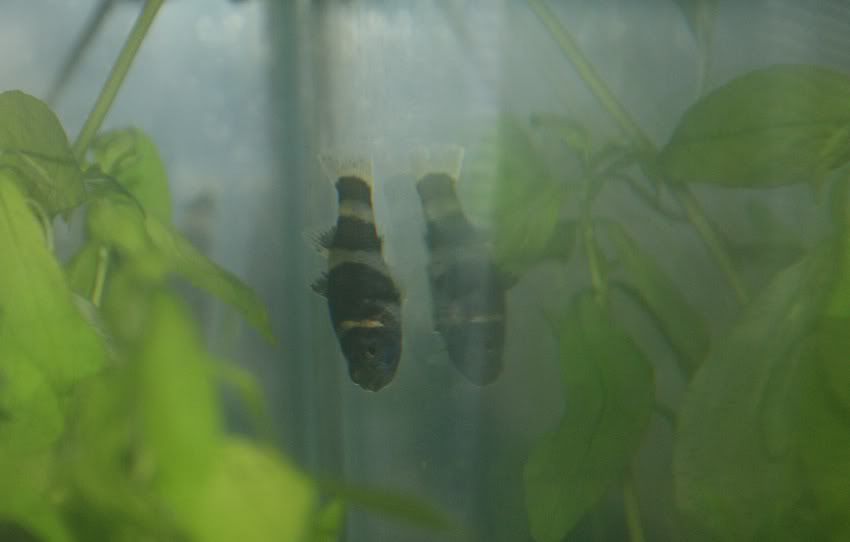 ---
taking a break from fish-keeping.
3 lovely male betta still keep me company.

Posting Rules

You may not post new threads

You may not post replies

You may not post attachments

You may not edit your posts

---

HTML code is Off

---