Multiple Tank Syndrome - Christmas Pix
---
Well, my motherinlaw brought her camera over today. Same type as mine, but mine is on the blink at the moment. So I took pix of some of my tanks and fishies. Here are the better ones. (Note, I never use photoshop to make my tanks look better, but I am not above using it to make my camera look better.)
This is the Waystation. Right now it's holding the tetras, cories, and clown pleco from the little Amazon while I try and get Bristlenoses to get freaky.
And the Little Amazon, in which I hope to have some baby bristlenoses made.
Both of those are 20 highs. My other 20 high is Lilliput - Neons and pygmy cories and amano shrimp (oh my):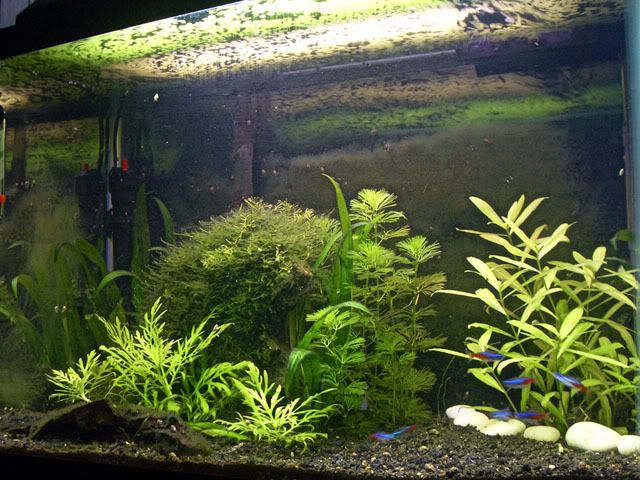 I recently went medieval on the plants in the last two. The Loach Motel, on the other hand, hasn't gotten pruned to any great extent yet, and it's coming along pretty well: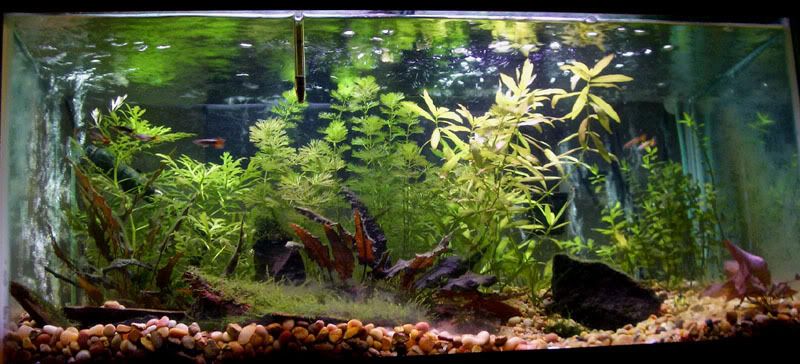 Here's my Sand Loach, Groucho. He's a Nemacheilus pallidus, and the only one I have ever seen of his kind:
Hope y'all like.
---
Logic is only the beginning of wisdom
Is your Clown Pleco visible in the top tank photo, i was trying to look for it but couldn't see it? Have you got any pics of it?
BN, in the top pic, the cave at the lower right, the slate is actually held up by the rocks on the end. Where it looks like the slate touches the rock in ht middle? That's the bristlenose. He's named Mr. Pleakly, but I ought to have named him Nessie - he's so scarce as to be nigh mythical. I have 1 very blurry photo of him from June when he was bought but before the tank was planted. It's a really crappy picture that I couldn't make any better with retouching, so I'm not going to waste you time or my bandwidth posting it.

Blueblue - welcome aboard and thanks. I've got 8 tanks running and 4 on deck. It's been said of owning a boat that a boat is a hole in the water into which one throws money. Owning fish tanks is a hole in one's wallet into which you pour water.
---
Logic is only the beginning of wisdom
Great looking tanks tophat. havnt seen ya in a while on here 8). The loach motel came along great!
VERY NICE
---
GOOD LOOKING TANKS. I TOO HAVE MTS.

LOOK AT MY SIGNATURE. LOL THOSE ARE THE ONES SETUP. I HAVE 14 TANKS TOTAL. 1-65,2-55,1-40,1-29,2-20,4-10,1-5 HEX,1-2 HEX,1-2.5 BOW FRONT

BUT MY WIFE WONT LET ME SET THEM ALL UP LOL.
I AM NEW HERE SO AS SOON AS I GET GOOD PICS I WILL POST.
TFH06, two things:
1) Thanks so much for the kind words about my tanks.
2) Turn off your caps lock. That's etiquette on any forum you will ever find.
---
Logic is only the beginning of wisdom
Posting Rules

You may not post new threads

You may not post replies

You may not post attachments

You may not edit your posts

---

HTML code is Off

---