Bekah's (way more than) $15 investment (finally!!!)
---
(update at the bottom of this post!)
SO I got myself a new tank today. 55 gallons, and currently it's sitting on the back porch. I'M SO EXCITED!!! I spent a whopping $15 on it at Goodwill. It was marked as $30, but the guy I talked to was concerned about this.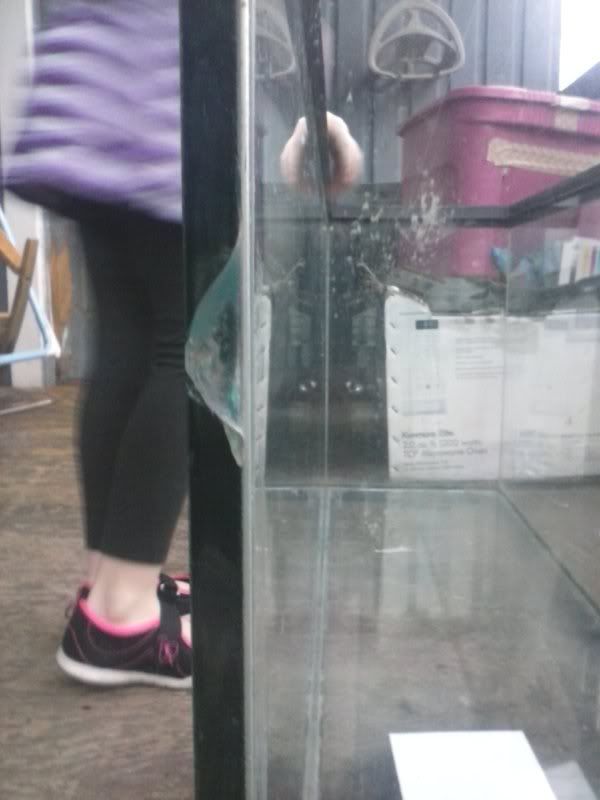 the weird thing is that that, right there, you touch it and it doesn't feel like a crack, just like smooth glass, mirror solid surface. Inside, it just looks like a regular old seam, the weird crack thing doesn't seem to go all the way through. SO, I took it, and I'll be leak testing and possibly be resealing.
SO!!! I'm Sooooo excited. I've been talking about this tank since sunday, and I'm absolutely ecstatic it was still there for me to get today. I've got some ideas for stocking, and how i'll set it up with filters and such. Lighting is up in the air, not sure how that will turn out. but basically: EEEEEE!!!!!!!
*****UPDATE 1/16/2014*****

As many of you know, this original endeavor did not turn out the way I had hoped. But never fear! Good things happen to those who wait :)

Those of you who are NEW to the thread, or want to see why it didn't work out may want to read the whole thing anyways, but if you're like me and want to skip to the good part, you can find that here.

I hope you enjoy the read, and can get excited with me as I *FINALLY* get this show on the road!

**~**Bekah**~**
---
Last edited by Chesh; 01-16-2014 at

12:37 PM

. Reason: *WOOTS for 55g!*
Great score! What are your thoughts for stocking it?
---
Animal testing is a terrible idea; they get all nervous and give the wrong answers.
how wonderful !
let the pics begin
---
when you set up a new tank,hide an extra
sponge or two behind some decor,that way you have
something seeded for you next filter.
Thanks guys!!!
I'm thinking that i'll keep all my 29 gallon community fish in there, which would be:
1 angelfish
8 cories
1bristlenose pleco
miscellaneous fish (two bettas, two swordtails, and a danio until they die)

then in addition to them
2-4 pearl gourami
4-6 rams
8-12 loaches
another small pleco
A school or two of smaller fish

Might aldo bump up my cory shoal. i also don't plan on replacing my angelfish when he dies.
Posted via Mobile Device
What an awesome deal!
OT: but... Can I ask how the one angelfish gets along with your other fish? I keep hearing conflicting responses between having one or having a lot as to which is best.
Anyway.. I can't wait to see what you do with your 55!
Sent from
Petguide.com Free App
---
Samantha
-55 gallon freshwater
-1 chihuahua (Venus), 1 five y/o monkey child, and a trucker hubby
The only reason i have only one is because his mate died. if i had the choice, i wouldn't keep less than five, but since he's old, i don't want to risk adding other younger angels. schooling fish need schools to really be happy imo

so i put a little water in the tank because i had decided i wanted to leak test it before i did anything else. didn't even fill halfway when i noticed the bottom seams seemed to be leaking. going to clean it up and seal today. HOPING HOPING HOPING it works out.
Posted via Mobile Device
I hope it works out too! What a steal!
---
-Kristen's tanks:

14g Tall: Planted, eco-complete, Red Cherry Shrimp

16g Aqueon Bowfront: Planted, eco-complete, 8 Ember tetras, 7 Green neon tetras, 6 Harlequin Rasboras

36 Aqueon Bowfront: Planted, sand, 10 Julii cories, 8 Zebra Danios
7 Cherry Barbs, Asst snails & Ghost shrimp
Bekah! The thief of fish tanks! Time to get a'sealing and stock this gorgeous tank! I totally vote cardinals for one of the shoals lol!
Similar Threads
Thread
Thread Starter
Forum
Replies
Last Post
Bekah's Snail Trails

djembekah

Freshwater Journals

197

02-15-2014

11:06 PM
Posting Rules

You may not post new threads

You may not post replies

You may not post attachments

You may not edit your posts

---

HTML code is Off

---