ok now for the lab make sure you add 3 females if it a male and 2females and 1 male if its a females. lol they will breed in no time lol
Got all 3 fish today for just 14 bucks and some change. I thought it'd be closer to 20 but apparently the women rung it up wrong, I didnt notice til' I was half way home, they're probably mixed breed anyways.. Sucks but i'm not planning on breeding or anything anyways.. Its better than paying 10 bucks for a yellow lab at PetSmart, and I think it was like 14 for a yellow lab at PETCO. I'm almost an hour away from those stores anyways and I dont feel like putting the fish through the stress of that drive. Here are the pics, my autofocus on my lense messed up so I had to try and manually focus with low lighting which was kinda hard, I'll get better pics tomorrow during the day.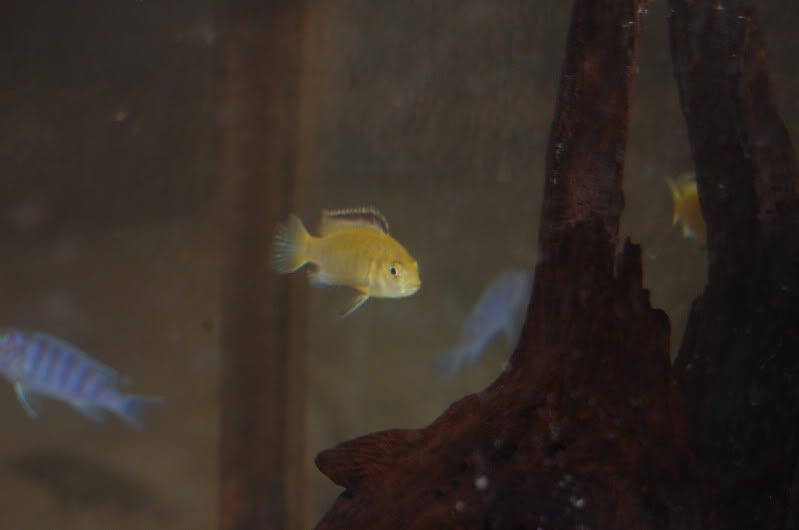 The one on top in the last picture is either turning yellow into a male, or its just a def. hybrid. Not sure which but only time will tell.. Not sure if the lab is a male or female, It has a very nice black line on its dorsal fin, but you can't really see it in the pictures. In the 2nd pic, the darker kenyi in there is my new one also. Thanks for looking, and as I said I'll get better pics tomorrow during the daylight
---
Last edited by andrewr2488; 11-13-2009 at

09:20 PM

.
Got 2 more yellow labs at a different store. looks like 1 is a male other is a female, ones a bright yellow with dark black stripe on its dorsal, other is a light yellow
Small update. Well I ended up doing some research and found a nice orange cichlid that I'd like to have, Metriaclima Estherae. I plan to try and get 1m and 2f, but overall i'm getting 3 of them, and 2 Metriaclima Greshakei and that'll complete my tank so my stocking list will go as follows
4 Pseudotrophues Lombardoi
3 Labidochromis Caeruleus
3 Metriaclima Estherae
2 Metriaclima Greshakei
This specific estherae made me fall in love with them. Apparently in the wild the males would be blue, and females a bright orange. Now in captivity either sex can be found in either color. I think it'd be cool to have the blue male and orange females just for ease of sexing.
the males in captiv stay red orange just like the pic they are red zebras andget very teritorial. and have ben knowen to kill other fish in fights. The list is ok if you are going to up grade in a few months but a 50 gallon is to small for all 12.
How about without the 3 estherae? Just the 4 kenyi, 3 labs, and 2 greshakei? I dont really plan on upgrading my tank size anytime soon, it'll be atleast 8 months. Isn't overcrowding better because it spreads the aggression and what not? Not sure if cichlids thrive as a lone species as in one gresh and one esther? I like both but i've come to like the gresh more since most of the red zebras locally are more yellow than orange. Any idea about the brownish blueish kenyi looking cichlid? is it turning into its male color or is it just a cross bred cichlid? I also bought some things yesterday. 2 Marineland Stealth Shatterproof 200Watt Heaters, 2 24"x12" 20gallon high aquarium hoods (that dont fit so ill have to return them and continue my search..) I also got a digital thermo, and some "Florida Crushed Coral" is it safe for use in freshwater aquariums? I bought it because ive seen that ppl use it to safely raise the pH level. mine has dropped to 7.0 so I'm looking to raise it to atleast 7.6-7.8
---
Last edited by andrewr2488; 11-17-2009 at

11:06 PM

.
I bought some honeycomb rocks, added one small one and the ph is at 7.2 I'm looking for 2 greshakei and eventually i'll be upgrading to a 75g tank
i've read thru your thread and you've pointed out a few times about your ph in your tap water...

i would not consider making changes to the water parameters if the fish are happy and healthy.

A STABLE PH is MUCH better than trying to create an optimum PH! keep that in mind! PH fluctuations cause stress on fish !!

unless these are wild-caught specimens they are likely perfectly happy with your water. keep up with PWCs and don't worry about the PH. the fish were probably bred in water closer to yours, anyway.

my ph in my african tank stays around 7 - 7.2 and they do great...they even breed good too, back in mid september our female greshakei released 27 fry (which are in a grow out tank now ) and i noticed yesterday that she's holding again.
So should I take my Flordia CC back and get my money on it? I eventually plan to upgrade to a 75g tank. I am buying 2-3 White labs online, Wish I could fit more in my 50g.. So would the current 7 i have plus 3 white labs be ok? also just a little question. Ok I messed up with my hoods. Before I decided to go with an african tank i sold my 2 hoods that came with my new 50g tank.. I am now trying to get 2 more that will fit. bought 2 24x12 hoods an they dont fit! the old ones were 24" all glass hoods for 20g tanks, and these are 24" marineland hoods for 20g tanks.. sucks
Posting Rules

You may not post new threads

You may not post replies

You may not post attachments

You may not edit your posts

---

HTML code is Off

---