Green Spots on my Anubias(photos included)
---
Can anyone tell me what these spots are? They're thick little things, almost like someone put a kids stickers on there or something. They just randomly showed up on one leaf about ...maybe a month ago, and slowly spread to two other leaves from there. Is it algae? This is my twenty gallon nursery tank, I have two other plants like this as well as some stem plants and an umbrella plant, and something that looks like a clump of grass. lol It's a nursery, so it's nice and planted with kids to eat everything. NONE of the other plants show any signs of spots or any other issues, I've also had them all longer, about half a year or more. They're bright and growing wonderfully. I've had all of them in there for a few months, I DID add that anubias about three months ago or so, I didn't see issues with it before, they just showed up out of the blue and grew. They're kinda thick little dots.
I have Seachem root tabs, zoomed 6500k lights(only about two weeks old, same brand before), I add in some API liquid fertilizer and c02 boosts every so often. Not as weekly like I used to, about once a month now. I also have trumpet snails and baby fish that just eat up algae, I never see it in there, and it's not on any of the other plants. Not so much as a speck of it anywhere else. The snails and fish completely ignore it.
Is it a disease, algae, or did I mess something up? Never seen the like before and I've had plants a few years now.
I have some photos, they got a bit smoky in the close-up, sorry. I moved them to the back of the tank away from other plants just in case.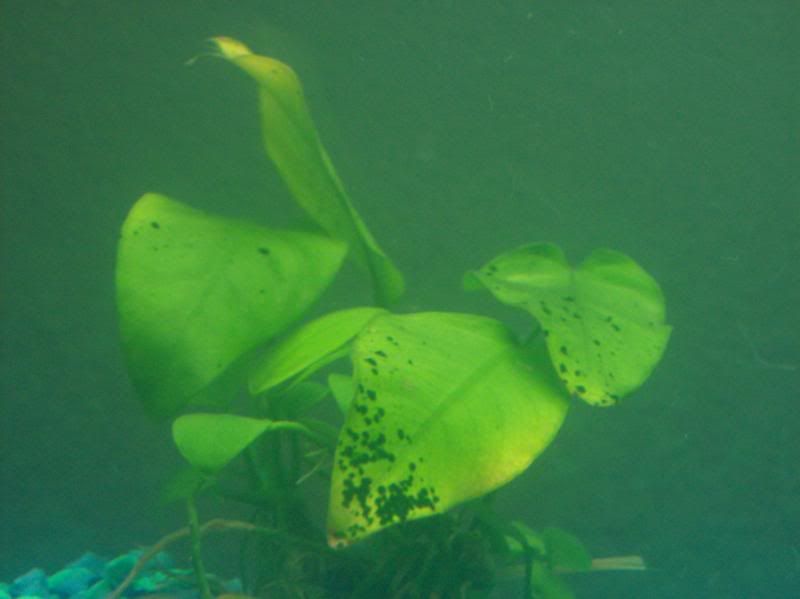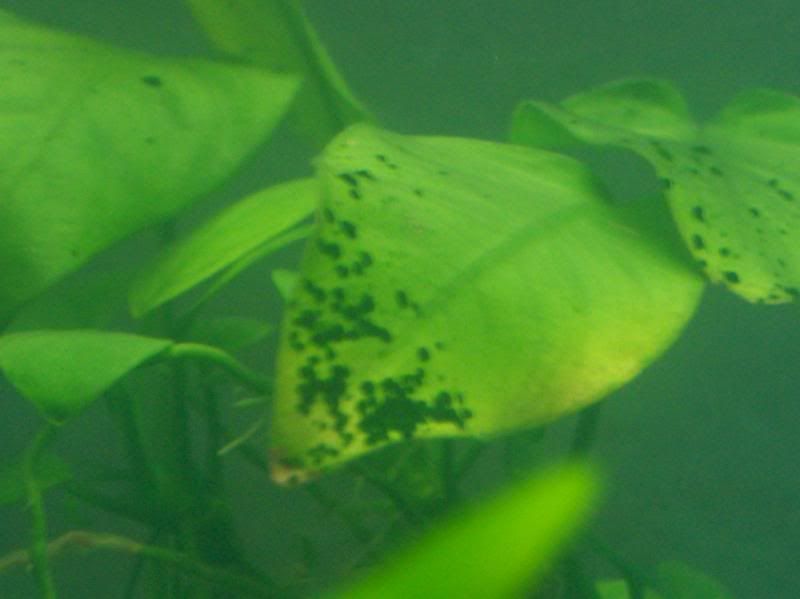 ---


Turning on the Aquarium lamp in the morning is MY cup of coffee.
---
Last edited by Sylverclaws; 08-22-2013 at

09:58 AM

.
Looks like Green Spot Algae (GSA) to me, but my aquarium experience is limited.
I had a problem with green spot algae in my other tank, this stuff is different, it's thick and...poofy. lol Its texture reminds me of a mushroom. c.c; I hope it's not fungus, wouldn't know how it got in there since I keep the tank nice and clean for the baby fish. I suck out all the extra food after they eat, if there is any, usually not. lol Well, it's JUST on that plant, no other plants, not on the glass or substrate. HOWEVER, you may be correct. I found some photos of it on plants, found only a couple that were similar, the rest look much different. So if someone can confirm, I'd much appreciate it! =) So much more preferable than some plant disease.

Do I need to put my tank parameters? If so they're

PH: 7.3
GH 11dgh.
Nitrite: 0
Nitrate: 0 for once, usually I have about 3ppm since there's about 10ppm in the tap, I use seachem prime for water treatment now before adding it.
Ammonia: 0
---


Turning on the Aquarium lamp in the morning is MY cup of coffee.
---
Last edited by Sylverclaws; 08-22-2013 at

11:36 AM

.
Awesome that you post tank parameters when asking for help!

I've been keeping anubias in my tanks for a long time, I have never been able to grow it without these spots. Even in tanks with no other algae, I've never been able to avoid it. I think it is related to how slowly the leaves grow.

While this particular algae is difficult to combat (if you don't mind the stuff don't bother trying to eliminate it), all the regular algae cures still apply. Be sure to stick to your fertilization/CO2 schedule. If you just do it when you feel like instead of trying to maintain constant levels in the tank, the plants never quite adjust to the nutrient levels in the water. This can open the door for algae by leaving nutrients available. Slightly reducing your photoperiod is great too, even just reducing by 30 minutes or so can really help to slow the growth. Hope this helps!
Posting Rules

You may not post new threads

You may not post replies

You may not post attachments

You may not edit your posts

---

HTML code is Off

---