Is this fish aggressive?
---
I have been watching my fish and noticed that one of them doesn't seem to like the goldfish in the tank. I cannot remember what kind it is but he doesn't seem to like them, seeing that he wants to nibble or open his mouth and chase them off. I have two of this kind and the other doesn't have a problem but his one does. Should i return him and get another?
The fish on the left is the one i'm talking about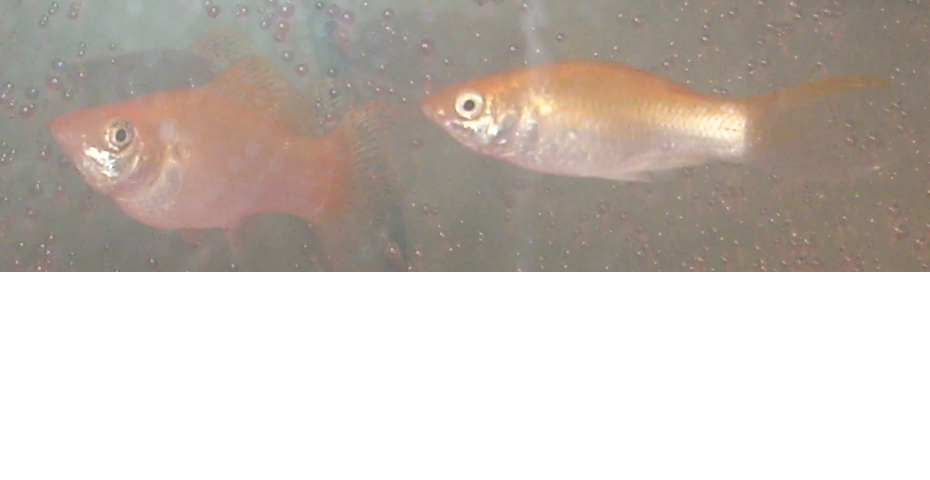 ---
Last edited by GrandAmGTTT; 03-02-2010 at

11:44 AM

.
Not aggressive per-se but sometimes they get a little amorous. :o

ON THE NOTE OF COMMON GOLDFISH. Hang in here, what you're about to hear isn't pretty.

-Common goldfish max out at between a foot and 2 feet long adult length; the likelihood is that your goldie will likely grow longer than the standard-sized 10g. Not saying this will happen (because of stunting) but I have seen 2 6-inch comets in a 15g which is way overkill.
-Common goldfish need about 80g each.
-Their lack of a stomach makes them one of the messiest fish inch for inch and therefore they require double the filtration in gallons per hour (GPH) of an average tropical setup.
-Goldfish are social fish and need to be kept in groups of 3.
-While Fancies actually thrive at warmer temperatures of about 70-74 , commons are true coldwater fish and are not suited to tropical fish tanks. The ability of water do hold oxygen goes down at the heat goes up and commons need lots of oxygen and therefore colder water.
-Commons can live up to 40 years under proper care, usually around 20 or 30.


Don't get me wrong, I will tell you firsthand that goldfish are one of the hardiest, funniest and smartest fish out there but a large tank (or in the case of common goldfish a pond) is essential to successful goldfish care. I am also concerned that the goldie will pollute the tank more than what your filter will handle, exposing the other fish to high levels of ammonia.

Building a pond can be a fun spring project to spice up your backyard but until you gain proficiency at running the 10g I suggest you either give the goldfish back to the pet store or rehome him with a friend who has a pond.
+1

gold fish are notorious waste producers....some goldfishs don't even have stomachs. I wouldn't house goldfish in anything smaller than a 40G each....they need room and a filter which can house a big bio-load

a pond is a great idea!
Yeah its a hard lesson to learn lol but you'll thank yourself for it later. Hence why I adpoted my mantra 'Never trust a LFS employee'. :D
Posting Rules

You may not post new threads

You may not post replies

You may not post attachments

You may not edit your posts

---

HTML code is Off

---