Senegal Bichir colors
---
what are the Senegal Bichir's colors? ive seen pictures, but some look pale aand some looked gray.
well let me just show u mine.
Pardon the algea my bristnose pleco hasnt come in to the place where i ordered it from yet...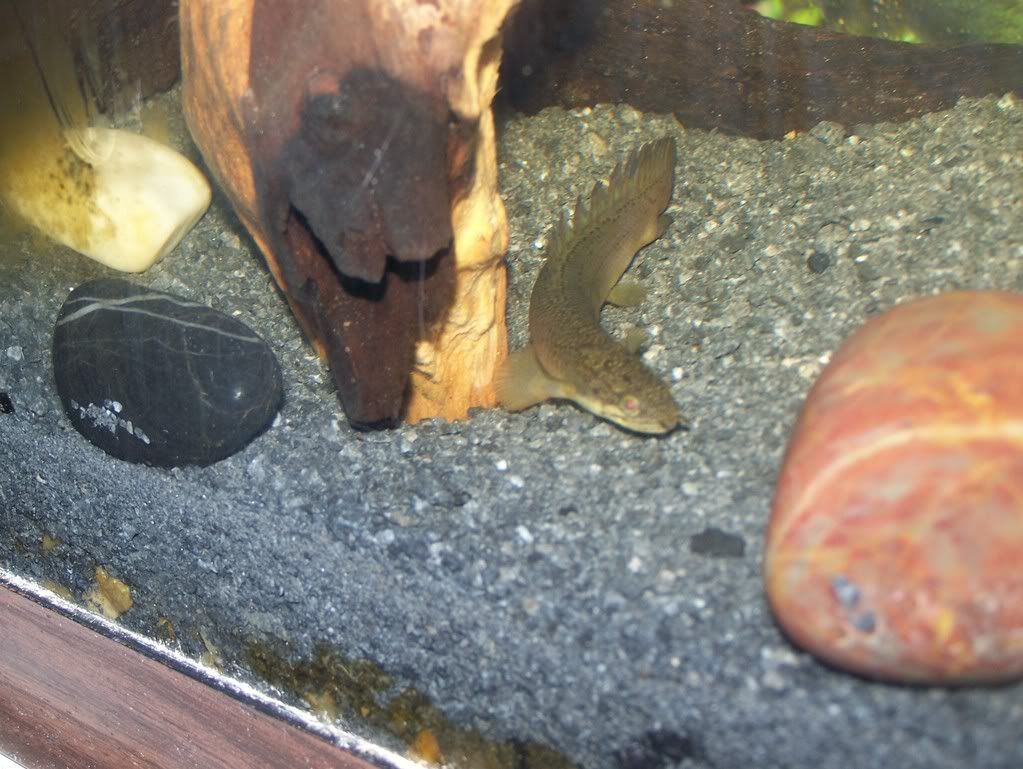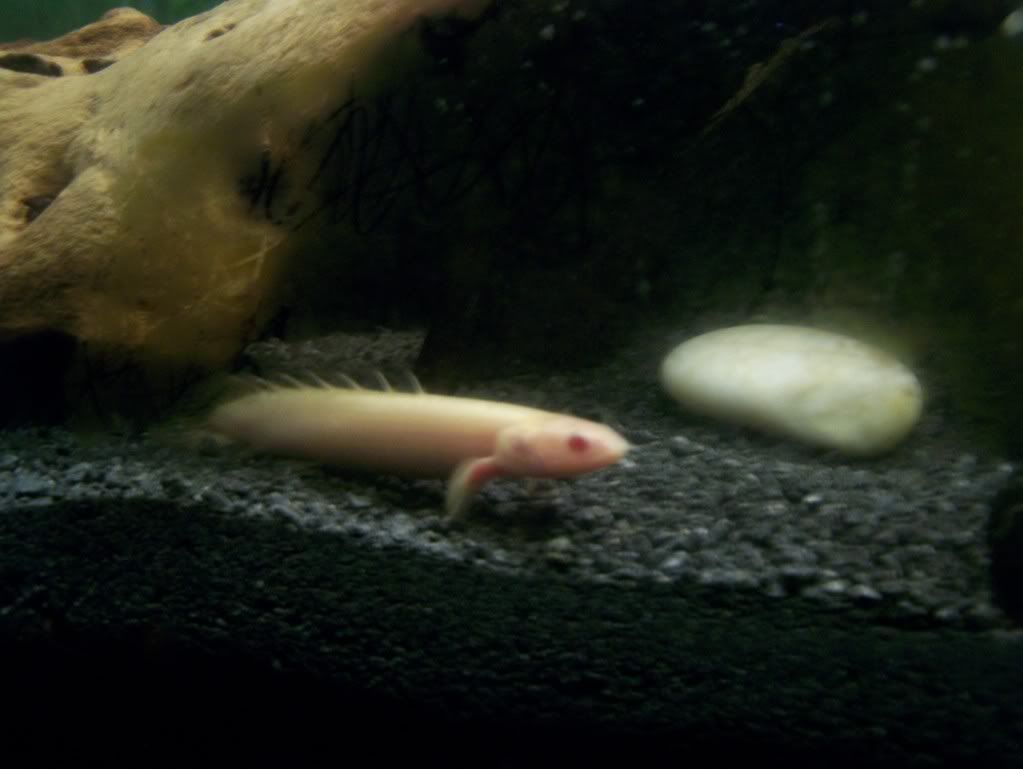 They range from gray to brown and some have a green tint. It really depends on where you get it and what type of substrait you put in.
Try this other forum posting for a key to help identify certain Polypterus:
http://aquaticpredators.com/forums/i...?showtopic=643
There are several varieties of Polypterus, the Sengalus being the most redily available in pet stores since its been capitvely bread for a while, along with the albino Sengalus. The Ornatipinnis(Ornate) is also fairly available now.
Here is a list of varieties(not necessarily complete) as well as maximum sizes in the wild:
Species and sizes
maximum known sizes often smaller in captivity
P. palmas palmas ('palmas' bichir)- 13"
P. palmas polli ('marbled bichir)- 14"
P. palmas buettikoferi ('buettikoferi' bichir)- 13"
P. ornatipinnis ('ornate' bichir)- 27"
P. delhezi ('armoured' or 'delhez's' bichir)- 14"
P. endlicheri endlicheri ('saddled' or 'red' bichir)- 32", possibly more
P. endlicheri congicus ('giant' or 'congo' bichir)- 39"
P. senegalus senegalus ('Senegal' or 'Cuiver's' bichir)- 12"
P. senegalus meridionalis- 12"
P. weeksi ('week's' bichir)- 20"
P. lapradei ('Lapradei' bichir)- 24"
P. retropinnis retropinnis ('retropinnis' bichir)- 14"
P. retropinnis lowei ('Lowe's' bichir)- 12"
E. calabaricus ('Ropefish')- 15"-30"
Source here:
http://aquaticpredators.com/forums/i...?showtopic=205
-- Lukasz Blaszczyk[/url]
Those are maximum sizes in the wild? So, it is safe to say that in captivity, they would be significantly smaller?

I'd like to get a single Senegal Bichir and house it in a 40 gallon tank, although I'm not sure if it would be suitable.
A Sengalus in a 40 should be fine. Remember that the amount of floor space is more important than number of gallons. Make sure it has room to move. Of course also be wary of what else you have in the aquarium. Anything that can fit in its mouth is fair game.

-- Ipsissimus
I'm aware of its predatory behavior, as I said, it would be a solitary specimen.

The tank is 36" in length, if the Bichir grew to even 10", do you think it would be too cramped? I'd bet if I raised it from a juvenile state it wouldn't even get to 10", let alone 12".

I'm very interested if this is the case. VERY interested . . .
It will get to 10", without a doubt, in due time. And 40 gallon tank is sufficient for a single specimen. in fact I actually wouldn't recomend keeping him alone, they can make great tank mates if you select appropriate fish. I have 2 in a 46 bow front and they are happy, fat, fearless, and always lookin for a meal. I keep them with an apisto pair. Great tank...bichirs really could care less about territory from what i seen. As far as color goes they're pretty lack luster, their hue will match your gravel hue, so anywhere from almost white to dark grey/brown is typical.
Posting Rules

You may not post new threads

You may not post replies

You may not post attachments

You may not edit your posts

---

HTML code is Off

---