So today I ripped out all of my hornwort. It is in a bucket full of water until I decide whether I want to keep it and replant it, or simply rehome it.
My sword had remarkably spread its roots pretty wide in my sand, which is both good and bad. Good because the plant is in good condition, bad because I ripped it out of the substrate when doing my rearranging.
I added some gravel to the sand in my tank, which I was told will allow for even better root growth, and picked up some Anubias and some wind java fern.
I also supplemented my crappy dual T8 light with a Current Satellite Plus Pro. Hopefully this will help my plants grow a bit better. If it doesn't, then I'm done with real plants.
I also added a half dozen green corys. They are definitely interesting. for such a small little fish, they zip around quite nicely. Unless they are caught completely by surprise, I feel like it is very unlikely that they will become anyone's snack.

I would post a pic, but as I stirred up my substrate, the tank is cloudy at the moment. and pretty bad at that. I added some filter floss to my HOB, and that has immediately started to make a difference. Hopefully by tomorrow I will have a clean...ish tank.
Now that everything is set up, some plants are flourishing, others... not so much.
I have been busy setting up my fiancÚ's vivarium. I sealed off half of the bottom, 4" high, and put in a ramp. I then set up an Eheim 2300 to filter the water and create a waterfall. Yes, I have a canister filter rated for a 55 gal tank filtering 5 gallons of water. However, because of how it is set up, it has to draw water 3 feet up the back of the tank, over the back, down to the ground, 6' below, and then back up to the top. I am pretty sure I have decreased the gph significantly. Once it is set up completely I will make a video and post a few pics in the vivarium section of this site.

On to the Bichirs.
So I have decided that this 150g tank is not appropriate for them. I plan on eventually building a large shallow tank from plywood, with a glass front. I have seen some that look very nice, and since the bichirs are typically shy as they get older, will offer some privacy in the back. I am thinking something along the lines of 96wx18tx48d. Basically an entire sheet of plywood as my bottom. That way they will have plenty of room to move around and stake a claim. I might have the tank be an actual 24" tall, but I want room to make a platform for them to "climb" out on. Already if the water dips below something that will stay above the water (My DIY spray bar for my Marineland C360, which I can't figure out how to mount properly, so it keeps dipping down into the water pretty far) they will rest on top of it, about 3/4 out of the water. I will first test if they will enjoy something like this by dropping the water level in my tank about 8 inches for a few days, and putting in one of those "turtle docks". If I see them on it, I will go ahead with designing that into my plans. As it is, this will be probably close to 350 gal.

Is it possible to set up multiple sumps? Say if I were to put a 55 gal on each side and drilled the tank for that? Obviously I would set them to be the same level and make sure that everything operates properly. My concern would be if one pump should fail, would the other cause the water to flow into the other tank's overflow and cause it to overflow? Having such a large tank, two overflow spots would be ideal, but if it is not possible to set it up using multiple tanks, I will have to build a large sump as well. I just liked the idea of using some 55 gallon tanks in parallel as sumps. Would it work if I were to have a large external pump connected to each sump to pump back into the tank? Would there be a way to set up a float valve to limit the amount of water going into each sump, that way if the flow was higher into one, it would slow it down or speed up the other to match? All this is going to be tough to calculate, seeing as the tank that size would hold approx. 350 gallons, and would probably require 3000 gph turnover, especially with how messy the bichirs are.
Maybe I need to take a class in fluid dynamics to design a setup that would be appropriate.
---
Understand?, I don't understand., I understand., Do you understand?, I don't understand, not understand, to understand, hard to understand, come to understand, try to understand, difficult to understand.
An idea just came into my head...
What if I were to take the two sumps, or potentially more with this setup, and install an overflow on each, all leading to a single, lower volume sump, which would then pump either back into the main sumps, or directly back into the tank.
This would allow me to separate the types of media used in each sump. I will have to draw this up and see what you think.
---
Understand?, I don't understand., I understand., Do you understand?, I don't understand, not understand, to understand, hard to understand, come to understand, try to understand, difficult to understand.
Setting up two sumps isn't a problem. But you would double your chances of failure. Every item you add to you tank is a possible point of failure and adding more pumps, hoses, valves,.... just means you have more things that can fail.

If it was me and I was going to spend the time to make that large of a tank I would build a nice stand so I could put the sump under the tank. I would use 2" pipe for all the overflows and ball valves to shut things off for maintenance. The pump in the sump will adjust your gallons per hour you pump more water into the large tank the faster it will drain out. The lay out isn't hard just need to make sure you think of everything before you start.

You could build a sump as your already building the large tank, use rubber maid tubs, or glass tanks. A good sump option would be a 75g tank if you can get one cheap if not a 55g would work.

I have found some online calculators and the tank size you listed 96"x18'x58" is about 360 gallons of water, if you use just bio balls it would take about 40 gallons worth so you will need to design the sump correct to hold enough stuff to clean everything.
So this is my idea for doing the Multi sump setup. The first photo is of my drainage design. Each drain will empty into a sump, which in turn has an overflow. This overflow leads to a secondary sump, where all of the primary sumps will dump into.
I didn't draw out the layout of the internals of the sumps for simplicity.
This second image my two ideas behind putting the water back in the tank.
The first is one large pump, splitting into smaller pipes to go to all the different places I would want to go. The second, and the more likely I would choose, has an individual pump for each return to the tank. While this is adding the potential for more points of failure, it also opens up more options. I could have as many returns as I would like, and if one fails, I still have the others as backups. I could essentially use the returns as powerheads, so I don't have to deal with the pumps in the display tank.
If I decided to set it up with a total of 8 pumps, it would go something like this:
I could have just two running at night, to keep the water calm, but still a slight movement. In the morning, when the lights begin to kick on, I could have the pumps on one side of the tank kick on. Gradually throughout the day, one would cut off and another would cut on, causing the circulation pattern to change throughout the day. By nightfall, all the different directions of water flow could happen, and then it would be just the end two that are going, just to keep the water moving.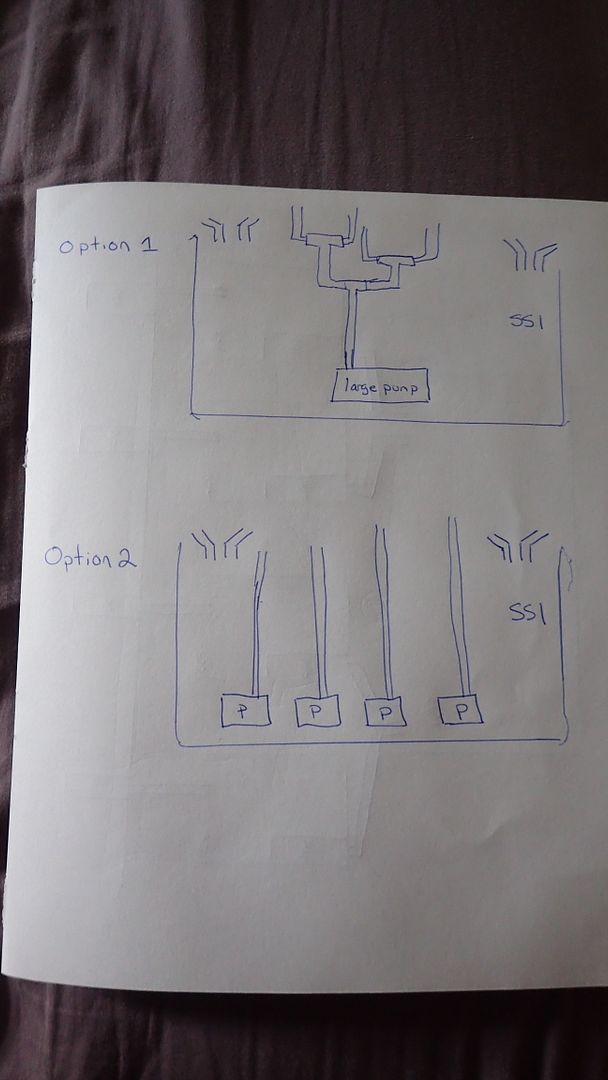 I know it seems very complicated, but I think if I do it properly, it would be very successful, and with this design, as long as I don't have an overflow failure, my chances of any failures are minimal. Having 4 overflows in my main tank, even if one were to get blocked, I would have 3 more to keep it going. If I put a mechanical filter (some kind of bag or floss) at the beginning of my primary sumps, I am almost guaranteed not to have an overflow failure in these. Having multiple pumps increases the possibility of failure, but also creates a redundancy in the system. Beyond that, the only real possibility of failure would be at the bulkheads or fittings. If I take my time and to things properly, I can all but eliminate these weak points as well.
---
Understand?, I don't understand., I understand., Do you understand?, I don't understand, not understand, to understand, hard to understand, come to understand, try to understand, difficult to understand.
Question about the first drawing. The 4 over flows is a good idea but will each drain into it's own sump? I don't understand what the box is you labeled PS1-PS4.

I understand what your talking about in the 2nd drawing, And yes having more than one pump would give you redundancy in the system. Some of the saltwater systems have different water flow depending on the "tide" coming in or going out. You would be doing the same sort of thing by turning off different pumps during the day.
Sorry, I forgot to include a legend to my drawings.
In the upper portion, the main tank, OF1, OF2, OF3, and OF4 are the overflow boxes.
PS1, PS2, PS3, and PS4 are Primary Sumps, meaning each overflow would have its own sump. Giving multiple sumps gives me the option to either put different types of media in each, but also if I were to put the same media in all the primary sumps, I could do any cleaning to the sump that is necessary, without worrying about damaging the bio filter.
SO1, SO2, SO3, and SO4 are Sump Overflows, which will lead to the Secondary Sump (SS1).
---
Understand?, I don't understand., I understand., Do you understand?, I don't understand, not understand, to understand, hard to understand, come to understand, try to understand, difficult to understand.
So I breed mice for my fiancÚs lizard. so I have pinkies available. My bichirs, they are fat. I threw one in, right in front of the larger bichir, and she looked at it, then attacked it. The next one I put in, there was no looking, it was immediate attack. quickly swallowed and gone. This was yesterday. This morning I dropped two in, and she gobbled them up, and then I placed one in front of the smaller one. He was cautious at first, but then he grabbed it and carried it around before eventually swallowing it. I put a fourth in for him, however he wasn't all that interested, he is smaller and the first one probably filled him up for a while, however my EB Acara grabbed it and started eating it.
---
Understand?, I don't understand., I understand., Do you understand?, I don't understand, not understand, to understand, hard to understand, come to understand, try to understand, difficult to understand.
Posting Rules

You may not post new threads

You may not post replies

You may not post attachments

You may not edit your posts

---

HTML code is Off

---