Rather than a Butterfly, how about a Flame Angel or Cherub Angel?
Angels
I would be comfortable with this, provided you allowed the tank a good maturity period.
sorry for being picky
how about this Centropyge bicolor or Apolemichthys xanthotis
i modified my sump box... here how it looks like right now.. i highlight the baffle so you can see it clearly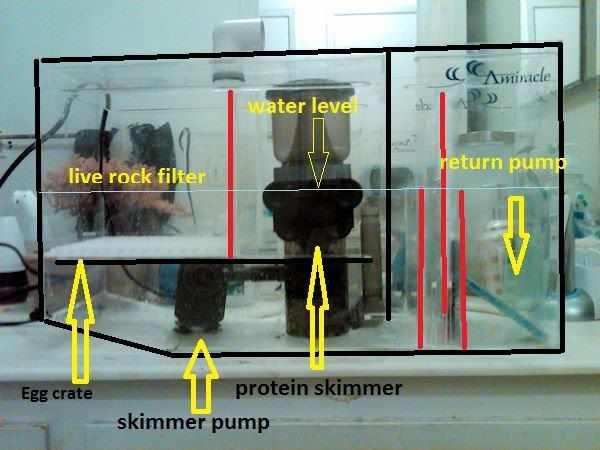 all the black lines are the factory divider...
i added the red... (the inlet plumbing actually align with the live rock box)
do you think this design would work?
---
Last edited by jaysix79; 01-20-2010 at

12:13 AM

.
is it possible for my tank to cycle really fast.. since half of my sand are alive and all my rocks are alive... and about 5 gallons of water from established tank. (the rocks already have some purple stuff growing from previews tank0.

It's hard for me to test the ammonia level since I haven't got a test kit yet. The starter kit I bought by red sea only came with nitrate, ph alkalinity and salinity test kit. Only test I've done are the test I've posted in my first post.
and all this hard rain in southern california makes it hard for me to go out and get one

The reason why I asked this is because I see little things growing on my rocks with tentacles and its moving.. I try taking picture but it's hard to focus with my camera

by the way my S.G. went up to 1.024 is that bad..
[quote=jaysix79;309229]sorry for being picky
how about this Centropyge bicolor or Apolemichthys xanthotis [quote]
Jay,
I love your tank. It is a lot of fun watching the growth on live rock that takes place in new set ups. I personally think you tank will never display an ammonia or nitrite reading, so long as you add livestock slowly, allowing time for the existing bacteria in the live rock to spread into the other rock and sand bed.
For the record, adding 5 gallons of "used" water from another tank was a horrible idea. For anyone reading, NEVER do this. There are no benefits of this at all, and the risks of transferring harmful pathogens and parasites are great. There is nothing to gain and a lot to risk. The beneficial bacteria live on the live rock, not in the water.
As for the C. bicolor and A. xanthotis, absolutely not. One of my strongest points of experience in marine fishkeeping is with Centropyge angelfish. I was intentionally specific in mentioning the C. loricula and C. argi as the only 2 angelfish that would work in your tank. For the record, C. ananthops would work as well, but is rarely seen available. There is not a single other angelfish species that would work in your tank size. Not even close.
It sounds like things are progressing nicely. I would suggest adding a few clean up crew members, then beginning to feed a light feeding daily of flakes. Allow a week or so of testing for ammonia and nitrite. Assuming you get test results of zero, then you are ready for your first fish.
For Quarintine, I would suggest a 10 gallon tank. A simple sponge filter, attached to a power head or using an air pump would be adequate.
Hydro Sponge Filters | Sponge Aquarium Filters | Filters | Aquarium - ThatPetPlace.com
or
Filter Max III Sponge Pre-Filters | Sponge Aquarium Filters | Filters | Aquarium - ThatPetPlace.com
. A small hang on would work also:
AquaClear 30 Aquarium Power Filter - 20 to 30 Gallon | Power Aquarium Filters | Filters | Aquarium - ThatPetPlace.com
Regardless of your choice in filtration, place the sponge in the display for a week or so to allow it to seed with bacteria. Then add it to the Q tank. You will keep fish in the Q for a minimum of 3 weeks, and even longer if you see any signs of infection or parasites to treat for.
This topic of Q tanks is coming up frequently and is a long discussion. I will try to find time today to post an article on Q tank setups and care.
Wow!!! I'm learning so many things about saltwater that I gain more and more question kind of ironic. It's overwhelming and exciting thank you again for talking your time reading and replying to my thread.

My question about q tanks are: since you said I can use a hang on filter with sponge filter on it. Would it be a good idea to seed that sponge as well in the main tank. You mentioned in your Q tank thread that you prefer the sponge filter over hang on for the reason of: you can seed the sponge by leaving it behind your main tank live rock for 2 weeks. Would this work as well?

When starting a new Q tank. Do you use fresh saltwater mix not from the tank right?

What do you do with the Q tank after use. Store it dry? What about the sponge in the filter or sponge filter? You store it dry as well?


I'm going to summarize what I've learn from your suggestion. See if I missed anything

1. Use ten gallons tank for my Q with fresh saltwater mix not from the tank with S.G. 1.016 (do I have to cycle this to or not)
2. Use sponge filter/hang on filter, hard PVC for hiding and heater … that's it..
3. Put in the newly purchase fish (associate light on with feeding) do no watch the fish eat sometimes they are shy when eating (do I do any water change during this time?)
4. Monitor ammonia and alkalinity reading in the first 3-4 days twice a day to make sure the seeded sponge is working as a filter
5. After two weeks if no sickness is observe began raising the SG of water by doing 10% water change a day till 1.024 goal is reach
6. On the 3rd week add the fish in the main tank
I prefer a sponge filter, be it used inside the hang on filter, or as its own air driven unit. It does not matter either way. The point is to allow the sponge to serve as the biofilter, because the sponge can be seeded by placing it in the main tank for a couple of weeks.

I use new saltwater for my Q tank, but i would not be opposed to using some display water. For example, if you wanted to do a 10% water change, using water from the display to fill the Q tank, that would be fine. This also gives you the advantage of replacing some display water with new saltwater.

I never break down my Q. Between fish it just runs empty. I generally never go longer than a week or 2 without purchasing a new fish. When my display is full, I will throw a damsel or something into the Q just to keep it active, in case I need it later.

In the Q, I do not do water changes until I am ready to raise the specific gravity. No water changes are done during the first 2 weeks after purchasing a fish.

This is being picky, but just to be clear. I do not add the fish to the display "on the 3rd week". I add the fish to the display after a minimum of 3 weeks. I usually go closer to 4 weeks. I really like to see the fish feeding aggressively, almost out of my hand, before I add it to the display. I am very conservative with my approach.
i just bought a clean up crew since my sand are starting to brown.. i bought 2 turbo snails and 1 hermit crab. ill add more hermit crab later on, like you said.... i know you told me to buy the hermit crab later but i have i have AIPTASIA growning on my rock and from what i understand they are bad...


since my tank seem to be maturing in the proper way.. now im thinking more in to stocking the tank...

lets say i get this two fish C. loricula and C. argi.. are those the only two i can get?

or can i add any of these as well??

damsel
bassletts
or psuedochomis
another question i have is the only fish store i have near me are petco or pet smart and i dont like any of their fish.... distance wise.... about how far or how long can i keep the fish in the bag?? how long of far of a travel?
Posting Rules

You may not post new threads

You may not post replies

You may not post attachments

You may not edit your posts

---

HTML code is Off

---