want to make 10 gall viv
---
what should i do... with filtration and like how should i set it up and what should i put in it.?
idk what are good starters? im new to them and have no idea and want to learn about them.
I would highy suggest firebelly toads...as you can tell from your name thats what i have...ill include a pic of my 20 gallon and a pic of a 10 gallon
heres my 20 gallon housing 3 firebellies....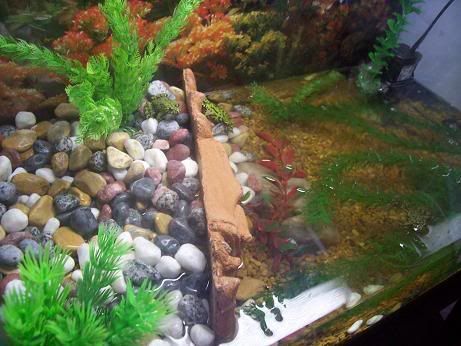 1 female & 2 males...
(i added the wood thing after the first pics)
I have a fluval 1 filter, it filters way more than the amount of water i have so that mean not a lot of water changes! If you dont have a filter you will be doing lots of water changes with these guys, pretty much everyday, maybe skip a day now and then, but like i said if you have a filter, change part of the water once a month and your good, maintence free set up.
heres a very simply set up thats perfect for firebellies..its a 10 gallon.
yea
---
do they breed at all... like would i get alot of babies or anything? if i have males and females?
Yeah they breed, only under the right conditions though, and you would have to give them more of a diet other than crickets. If you didnt want the eggs people just throw them away, if you get the eggs as soon as their hatched throwing them away wont be a problem, but after 3 days they are fully alive and start moving around, so i dont think that would be really easy to just throw away although you could since they have to be in water but thats kinda sad =( But you dont have to worry about it unless you have a male and a female which you see mating, you will know which ones are males and which ones are female when their mature and want to mate.
Yeah youll like them, their funny, they have personalities and the little barking sound they do is enteertaining hehe..just set up an aquatic set up like that 10 gallon i sent you...its perfect for firebellies, If you use the soil/water fish bowl, firebellies dont really like it.
Posting Rules

You may not post new threads

You may not post replies

You may not post attachments

You may not edit your posts

---

HTML code is Off

---