whats wrong
---
hi,my betta,graphic is doing this wierd yawning thing,can you help me thanks.
Umm...can you explain a bit more? I'm having a hard time picturing this/trying to figure out what could be the cause.
its like he does this thing where he opens his mouth as wide as he can,and it almost appears as if he is yawning.And one more thing,can you tell me why my betta backflips,then does a little spin,then goes back to swimming,making a bubblenest,and all the other things bettas do,but he only does this after he's done eating. here is all the information that wou will need to know to figure this out.heated 45 gallon plants 3 snails.please help graphic.THANKS
Sounds like hes happy to me, the bubblenest is a sure sign, i wouldnt worry, just let him goof around
---
10 gallon tank
Fish: Male veiltail betta, Chinese algae eater, one Pleco, 3 Ghost Shrimp and 3 Zebra Danios


2.5 Gallon
Fish: Male platy.

Rest in peace to jaws the rts, and bubblegum the betta
Just for clarification, bubble nests aren't always sure signs of health - although in this particular instance I'd say it is if he is eating properly, etc.
The 'yawning' thing is normal, my cute little bettas have always done that, it seems to be a normal among many species of fish, actually: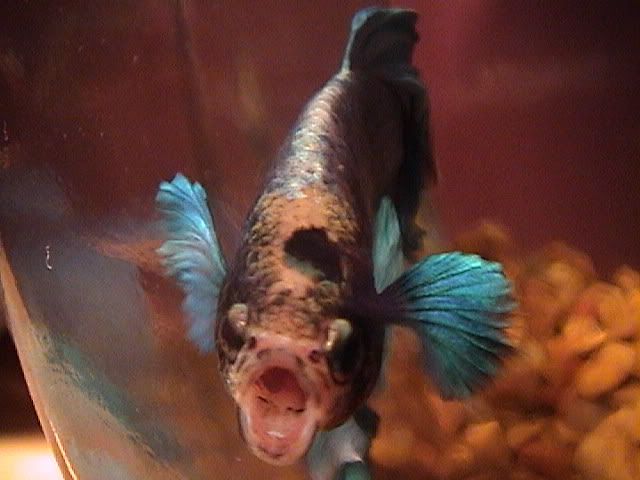 Woo hoo!!! :D :D :D
BTW, a 45 gallon for one betta and a few snails? I'm glad to see you're providing it with plenty of exploration space and room to stretch its fins. No doubt a considerable upgrade from the cup you purchased him from. :(
I have a tank at work for the secretaries and one of my Black Skirted Tetras does the "yawning" thing..I am always suprised at how big his mouth opens up!
I think you should get him some friends.
He sounds like a really happy fish! :D
Posting Rules

You may not post new threads

You may not post replies

You may not post attachments

You may not edit your posts

---

HTML code is Off

---