I would like to have a quarantine tank, but unfortunately I don't have one and it is just not practical for me at the moment being limited on space and money. I haven't gotten a new fish in 4 years, and have never had to deal with serious illness, which is why I don't have one. I've only had this one EBJD for 4 years now.

But just to update, I think a lot of the flukes and external parasites are gone, but not entirely gone yet. Those large external parasites I had originally found are all off now, and he's no longer having severe gill flukes. He does occasionally shake his head but thats about it.

Now he still won't eat anything. I successfully got him to take down a freeze dried shrimp, but thats pretty much all he's eaten in 5 days (and he wasn't eating all that well a week before that either). However, I just noticed that he has a little poo coming out and its red, is that blood? Is that just from the internal parasites?

Should I continue with the Tetra Parasite Guard? I'm surprised how quickly its worked so far, its been 72 hours since the first dose. I added the first treatment, waited 48 hours then did water change and added another treatment, and its been 24 since then. I'm going to do another water change tomorrow night and then add a third treatment. After that what should I do? Wait 48 hours and do yet another treatment, until he starts eating again?? Or is there something else I should be doing to help get him to eat again?
If your saying hes looking better and your going to treat him again just because you saw red in his poo, I would wait put the filter back in the tank and let that do its job for a day and things should seem better, but if hes still sickly maybe one more treatment and then after a day of that one.. Put a new filter in so it can suck up that medicane and give him some freshwater to swim around in and see how he feels, my fish usally perk up by doing that.
---
75 GallonCommunityTank
Angelfish
Clown Loach
Columbian Tetra
Blood Parrot Chilid
Large Pleco
German Blue Ram Male | Female
Ballon Red eye tetra
Weather Loach
Red tail shark
My filter has been running this whole time, just without carbon. Was I supposed to turn it off? And when I say he's looking better, I mean that he just doesn't look as severely sick (breathing out of one gill heavy at the surface), but I know the parasites aren't gone completely yet.

The red in his poo wasn't just a little red spot. Since he hasn't eaten, it wasn't a lot of poo. It was just a little piece starting to poke out, and it was entirely red. His poo has never looked like that before. I'm starting to worry since its been a week and a half since he's gotten a really good solid meal.
Would it be safe to use API tetracyclinne with the parasite guard? I just checked on him earlier this morning and he seemed to be looking not as good again. His fins had some red streaks again and he just looks stressed hanging around the surface. Filter is stirring plenty of water (500 gph ac110) and I also have an airstone, so the water should be oxygenated.

Tonight I need to do another 25% water change and add the third treatment in, I think im going to add the API tetracycline in as well with the third parasite treatment. Would that be good?
Posted via Mobile Device
Are you sure it was red poo and not worms sticking out? Google "camalanus worms" and see if that looks like what your fish has. Camalanus worms are an internal parasite that live in the bowels of the fish. They look like little red spikes that stick out of the anus on occasion. I'm not saying that's what it is, just that it might be a possibility. Since you are the one who observes your fish every day only you can determine this.
---
150 Gallon - Mostly American Cichlids
135 Gallon - Angelfish Community
75 Gallon - Odd couple (Polleni/Angelfish)
55 Gallon - African tank
20 Gallon Long - QT
10 Gallon - Empty

Hmm, well I just googled it and all the pics seem to show the fishes belly/anus region sort of bulging with the worm, so I don't think that was it. My fishes belly isn't bulging at all like that and is sunken in. Though aside from that, it did look very similar as far as the color goes. It was basically the same size as a normal poo, but red/bloody looking. And it started to show after he managed to swallow down a tiny bit of shrimp, which is why I was assuming it was poo.

If I see it again ill try to take a pic. If it is this camalanus worm what should I do? Continue with the same parasite medicine?

And what about the tetracycline, should I treat the tank with that as well since I saw his right fin red again?

I'm so worried for my fish, I've had him for so long and hate to see these things :(
Posted via Mobile Device
It looks like the gill flukes are back, or just were never gone entirely. Ugh. He looks very stressed, dark, breathing through one gill again and staying near the surface.

I added my third treatment of Parasite Guard in just now, and I'm praying for the best. I'm also raising the temp a little bit, its been at 78 degrees so far. These parasites are really a nightmare :'(
I dont think you need to raise the temp at all for that med.. and yea I ment have you put the carbon back in the filter, you leave your filter in of course running.
---
75 GallonCommunityTank
Angelfish
Clown Loach
Columbian Tetra
Blood Parrot Chilid
Large Pleco
German Blue Ram Male | Female
Ballon Red eye tetra
Weather Loach
Red tail shark
He does not look good....I'm very worried. He's gotten worse today, now he looks very very dark and sick. I'm so worried he won't make it. Why would he have looked improved after the first treatment, and then look sick again 2 days later?
I have some pics. I caught a picture of the red poop I was talking about. When I syphoned last night, I found some of this around the tank. And then I also have pictures of my fish, showing what he looks like and how he keeps his nose around the surface.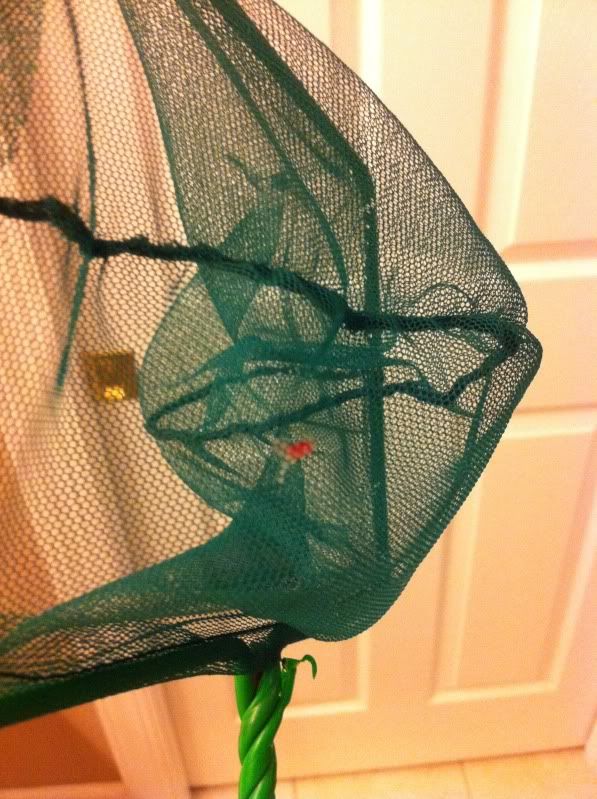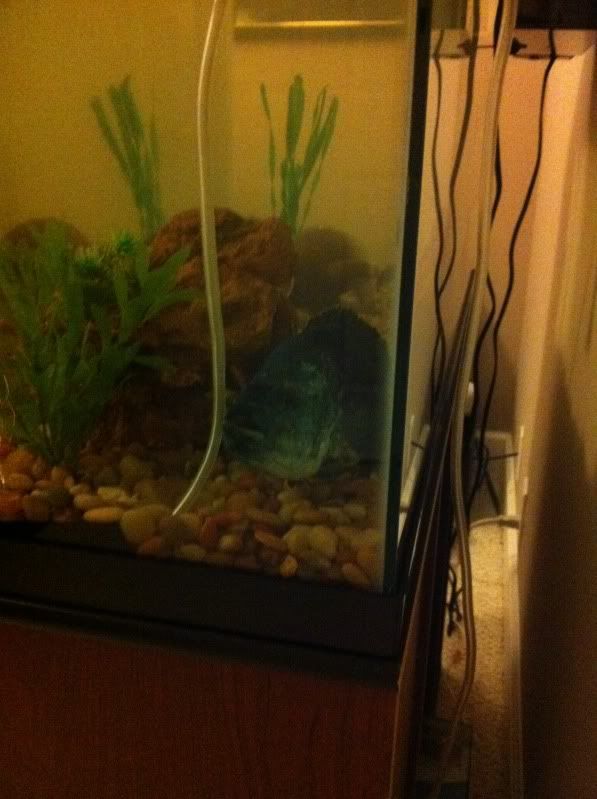 So is there anything else I can do for him? I'm really worried he might not make it tomorrow...he hasn't had a good meal in so long and now looks like this. If theres anything else I can do please let me know.
What size is that tank and what size is your fish?? If what I'm seeing is correct I see a rather large fish in a very small tank. That alone can put some serious stress on a fish. What are your water parameters testing?? It seems ammonia would be very hard to control in a tank that small and a fish so large.
---
If you don't stand up for something you'll fall for anything...
Posting Rules

You may not post new threads

You may not post replies

You may not post attachments

You may not edit your posts

---

HTML code is Off

---