So, last night out of desperation i did a 50% water change. Today i was able to purchase a " FRESHWATER MASTER TEST KIT". The foaming has stopped btw.

here are the water stats:
pH----7.0

Ammonia----0 ppm

Nitrites----0 ppm

NItrates----10 ppm

so from what this test kit is telling me the water is in good shape.

my only other concern is that there is a good amount of green algea on the large rocks. The plecko seems to love this but is this healthy for the aquarium? Is this what is part of the " biological filter"?

also, Blue, when yousaid to cycle the water, were you refering to the product "cycle"? I noticed it in the lfs today.

thankyou all for your help.
Green algae is fine. But the overgrowth is an indication of something wrong with your tank. Factors usually are excessive lighting, high nitrates and direct sunlight exposure.
When I mean "cycle", it's just a process of cycling to ensure you get zero ammonia and nitrites, and a good/safe level of nitrates. Your results showed that your tank seem to have cycled already.
I'm not familiar with that product you are referring.:)
Glad to hear from Blue fthat he thinks the tank has cycled. I hope that Theodore and Slipshot are doing fine now and i suspect that you are now hooked on fish.
---
Oceane cichlid and cats mostly
Oh i am definately hooked. INfact i have a 20 gal waiting to be used as we speak. I am looking into getting a feather dragon or a dinosaur for this tank. both of these fish are beautiful in my opinion. i will let you all know how that goes as well. i may have a few questions about that set up as well being it will be a brand new tank set up. ie fresh everything.

talk to you all soon.

btw.

funny thing i noticed last night at feeding time. Splitshot was taking food (flakes) from the surface and depositing them in the corner, when i looked into the corner i found Theodore laying there eating what Splitshot had deposited. it cracked me up so i thought i would share.
Quote:
Originally Posted by DR._Seuss
not sure if this pic will post but here is Splitshot: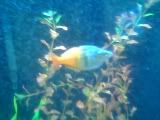 Common Name [info]Boesemani Rainbow[/info]
Scientific Name Melanotaenia boesemani
Family Melanotaeniidae
Origin Austrailia
Community Semi-Aggressive
Class Danio
Temperature 78ºF
Swimming Range Top-Middle
Adult Length 4-5 inches
---
Take pride in what you do, for it is a reflection of who you are.
The Haunting Grounds
-
SKAustin's Reef Diary - Part 2 (the 75g upgrade)
Posting Rules

You may not post new threads

You may not post replies

You may not post attachments

You may not edit your posts

---

HTML code is Off

---