Guppy not looking good! Help!
---
One of my female guppys does not look good. I got here two days ago but now she is sitting in a little corner on the gravel and her gills are going crazy fast! I checked the ph and amonia and nitrate and nitrite and all looks good. Please help!
1. Size of aquarium (# of gallons) 20
2. Is your aquarium setup freshwater or brackish water? Freshwater
3. How long the aquarium has been set up? 1.5 months
4. What fish and how many are in the aquarium (species are important to know) Guppy (4 female, 1 male)
5. Are there live plants in the aquarium? No
6. What temperature is the tank water currently? 79 degrees
7. What make/model filter are you using? Whisper 20 Power Filter, Whisper 20 Bio-Bag Filter Cartridge
8. Are you using a CO2 unit? No maybe? I have an air bubbler if that's what is meant.
9. Does your aquarium receive natural sunlight at any given part of the day? No
10. When did you perform your last water exchange, and how much water was changed? Today 25%
11. How often do you perform water changes? Weekly
12. How often and what foods do you feed your fish? Daily
13. What type of lighting are you using and how long is it kept on? 24'' Flourescent Full hood w/ bulb 10am - midnight
14. What specific concerns bring you here at this time? Female guppy breathing hard and sitting at bottom
15. What are your water parameters? Test your pH, ammonia, nitrite and nitrate. PH:7.6 Ammonia: 0 Nitrite: 0 Nitrate: 2.5
16. What test kit are you using and is it liquid or test strips? API Freshwater Master Test Kit
17. When was the last time you bought a fish and how did they behave while in the pet store tank? One week ago and behaved well
Alittle aquarium salt in the tank wouldn't hurt. Guppies like a bit of salt plus it will calm her a bit since I'm sure she's stressed. Has the male been chasing her a lot? Sounds like what my females used to do at the top of the tank before having babies. I would get some salt in the tank for now which should be a quick fix/help. How long has she been acting like this?
---
"Cycling best friend is a good liquid regeant test kit, and a good barber to fix your hair after you pulled half of it out."
I agree- guppies do great with a bit of salt, and since you've got no other breeds of fish in the tank you have no worries adding it. Salt is also great for preventing/curing infection, so if she has any low level infections or fungus the salt will help as well.
The salt I use is API Aquarium Salt. A box like a small milk carton, relatively cheap at Petsmart. I hope it will help your guppy!
---
Fancying the fish world!
you answered no to live plants,however is there
any cover at all in there ?
how did you cycle this tank ?
Quote:
Originally Posted by willow
you answered no to live plants,however is there
any cover at all in there ?
how did you cycle this tank ?
What do you mean by any cover? The tank has a full hood on it. And there are fake plants in the tank. I cycled the tank with stuff from the store and let it cycle for 3 weeks and added a couple guppys at that time. They have all been well since then, except this one. Here are a couple pictures before I put fish in it.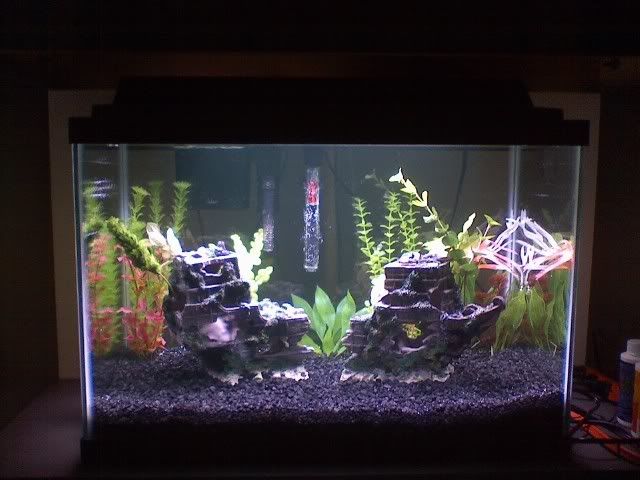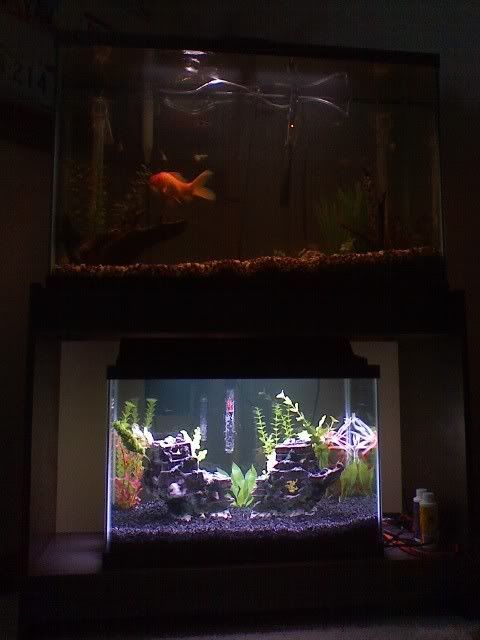 hi
tank is lovely :)
i just wondered if she had somewhere to hide to get away from
the male if she wanted.
i would say to add some melifix,and see how you get on.
i don't like to advise meds when i don't really know what is wrong
with the fish,however melifix is an alrounder,and i have found it
to be very helpfull at times.
Posting Rules

You may not post new threads

You may not post replies

You may not post attachments

You may not edit your posts

---

HTML code is Off

---