Last night a couple of my tiger barbs started acting strangely. They sort of hovered near the corners of the tank tilted downward and breathing heavily. Only one or two of them were doing it, but now they all are - and only the tiger barbs. None of the other fish seem to be affected. Unfortunately I don't have another tank I could safely keep them in. I did recently add some fish, but they were from the same store (but a different tank). I've been doing weekly water changes, and actually just did one yesterday. I've also been using seachem purigen in the filter, so I don't think an over concentration of organics could have been the cause.
I read that, if it is gill rot, I should bathe them in a salt solution for 5 minutes each day until they're cured. Can they tolerate salt water? If so, what concentration of salt should I use? What would be the best way to treat them? Should I consider getting something like AP fungus cure since the whole tank is likely infected, though not yet showing symptoms? Is there any other disease/issue this could be?
Here is a picture: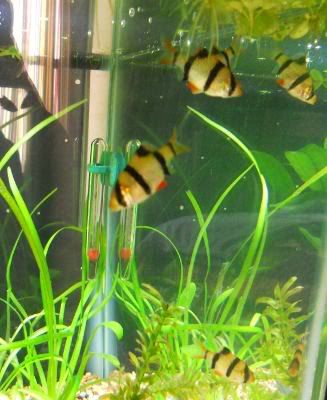 Like I said, they've been hovering like this, without moving much, since late last night. Their breathing has become very rapid as well.